A Look Back Through the Sparkling History of the World Poker Tour Five Diamond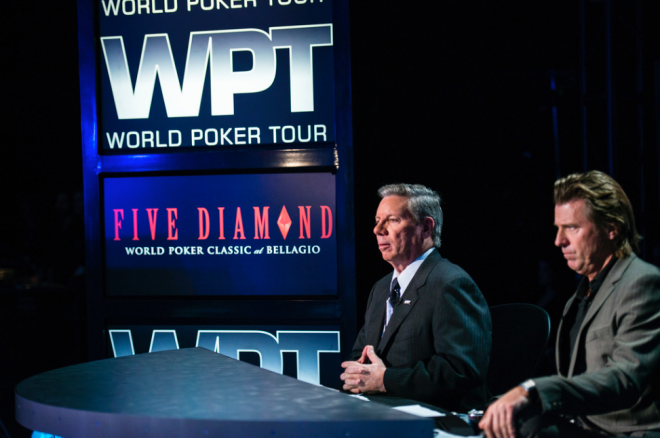 In early 2002, poker had yet to hit the big time and put its mark on American television. The Chris Moneymaker boom was still more than a year away, and while many fondly recall those World Series of Poker broadcasts as the formative moments of poker on TV, the World Poker Tour was filming with hole card cameras before Moneymaker even grinded his way through a $40 satellite to win his WSOP Main Event seat.
Season 1 of the WPT took place beginning in May 2002 and stretched to April 2003. The very first of 14 events on the schedule was the Five Diamond World Poker Classic, held at Bellagio in Las Vegas. Now in Season 14, the WPT has returned each and every year since.
In this retrospective, we'll look back at the history of WPT Five Diamond.
2002: First of Three for Gus Hansen
The inaugural WPT event drew 146 runners for $10,000 apiece, and payouts back then were quite top-heavy compared to most of today's tournaments — $556,460 of the $1,416,200 prize pool went to first place, or almost 40 percent.
The list of players who booked cashes among the 18 paid spots could double as a list of televised poker stars of the near future — guys like Freddy Deeb (3rd - $139,120), John Hennigan (4th - $83,472), Scotty Nguyen (6th - $48,692), Amir Vahedi (12th - $16,694), and Todd Brunson (16th - $13,912). It was even the final recorded cash to date for 1992 WSOP Main Event champ Hamid Dastmalchi (14th - $15,303).
Fittingly, two future legends collided heads up with Gus Hansen prevailing over John Juanda ($278,240). It would be the first of three WPT titles for Hansen.
2003: Another Bridesmaid Result for Dewey Tomko
In its second iteration, the Five Diamond World Poker Classic moved from the opening event to a slot in December in the middle of the schedule, its home to this day. Entries more than doubled to 314, and eventual household names Erik Seidel (19th - $17,458) and Phil Laak (12th - $34,970) made deep runs.
Hansen made a spirited run at a repeat win but fell in third for $276,426, leaving Americans Dewey Tomko and Paul Phillips heads up. Tomko, who had twice finished second in the WSOP Main Event already, found himself the bridesmaid again for $552,853 while Phillips got just over $1.1 million.
2004: Daniel Negreanu Makes His Mark
The third Five Diamond tournament saw a major change as the buy-in was increased to $15,300. Despite the large jump, attendance still rose from the previous year to 376.
Jennifer Harman (4th - $299,492), Nam Le (6th – $152,468), Hasan Habib (7th - $108,906), and Johnny Chan (8th - $87,125) all made the final table, but it would be a pair of televised poker's most recognizable faces battling heads up. Humberto Brenes' animated table presence made him a perfect fit for the cameras, but he would be no match for another talkative pro.
Daniel Negreanu put down some major building blocks for his legend with his second WPT title of the season, this one for over $1.77 million, while the Costa Rican got $923,475.
2005: Patrik Antonius and Doyle Brunson Can't Get the Win
Tournament organizers decided to stick with the $15,300 price point for 2005, and an unprecedented prize pool of $8,075,250 was built as a huge turnout of 555 showed up. For the first time, the winner would get north of $2 million — $2,078,185 to be exact.
Laak made the final table but went out sixth for $160,995, while the legendary Doyle Brunson narrowly missed a second WPT title when he busted third for $563,485. A foreign superstar nearly took it down for the third time in four years, but Patrik Antonius ($1,046,470) fell to fellow Scandinavian Rehne Pedersen. The Danish player has since never come close to such a score.
2006: Pass the Sugar To Joe Hachem
The only major change for the Five Diamond in Season 5 was a slight increase in rake for a total entry fee of $15,400, but that didn't stop attendance from nudging up to 583.
Haralabos Voulgaris would make the second of three WPT final tables and finish eighth for $135,315, followed by Justin Bonomo in seventh for $152,230. Negreanu nearly added another WPT title to his trophy case, but went out third for $592,000, leaving what looked to be an epic mismatch on paper: Joe Hachem, who had won the previous year's WSOP Main Event for $7.5 million versus Jim Hanna, a man with zero career cashes.
Sure enough, Hachem prevailed for a cash of just over $2.2 million while Hanna banked a hair under $1.1 million. The Aussie's win made him the fourth holder of a WPT title and a WSOP Main Event title, joining Brunson, Nguyen, and Carlos Mortensen.
2007: Dave "Devilfish" Ulliott Takes Third, and Eugene Katchalov Triumphs
Numbers continued to grow in 2007, as 664 turned for a prize pool that nearly hit eight figures ($9,661,200).
Negreanu made yet another deep run when he finished 14th for $96,335, but it was his fellow WPT Champion's Club member Dave "Devilfish" Ulliott who got even closer to another taste of WPT gold. It wasn't to be as his third and final WPT final table appearance ended in a third-place finish for $674,500, what would prove to be the biggest cash in the career of the late British legend.
Another outstanding European player, Ukraine's Eugene Katchalov, took it down for $2,482,605, making it five foreign champions in six years at Five Diamond.
2008: The Year of Chino Rheem
Entries fell for the first time in Five Diamond history in 2008, as the field dropped to 497 for a prize pool of $7,231,350.
Mike "The Mouth" Matusow narrowly missed the televised stage of six, where his talents would perhaps be suited best, earning $100,880 for ninth. Steve Sung made his second final table at the event — he finished ninth in 2006 — and got fourth ($396,205), following notable named Hoyt Corkins ($216,175) and Amnon Filippi ($288,235) out the door.
Chino Rheem, who had qualified for the first-ever WSOP November Nine earlier that year and busted seventh for $1,772,650, added a second seven-figure score to his career year by taking down Five Diamond for $1,538,730. He beat fellow American Justin Young ($936,760) heads up.
2009: Daniel Alaei Defeats Josh Arieh
The trend of growth that had ended with 2008 portended a much sharper decline in 2009, as just 329 showed out, a decline of 34 percent.
Despite the small numbers, or maybe because of it, 2009 produced one of the most stacked final tables in WPT history. Of the final 10, only the late Chad Batista has a live tournament record south of $1 million, and he tallied $952,496 with millions more online. When the most obscure name at the final table is former WPT champion Eric Hershler, it's certain to be an impressive lineup.
Two-time bracelet winner Daniel Alaei, who has since added three more to his collection, reigned supreme for $1,428,430. In descending order of finish from second to 10th: Josh Arieh, Faraz Jaka, Shawn Buchanan, Nguyen, Steve O'Dwyer, Joe Cassidy, Hershler, Curt Kohlberg, and Batista.
2010: Antonio "The Magician" Esfandiari Banks Second WPT Win
Perhaps wanting to shake things up with numbers falling sharply the previous two years, tournament organizers dialed back the buy-in the previous level of $10,300. Numbers rebounded to 438, and the the tournament also had a much flatter payout structure with 100 places paid.
Another strong final table saw that year's WSOP Main Event runner-up, John Racener (4th - $232,271), Vanessa Rousso (3rd - $358,964), and online legend Andrew Robl (2nd - $549,003) put up career-best WPT results. An old champ from back in Season 2 conjured his second title though, as none could top Antonio Esfandiari, who pocketed $870,124.
2011: My Name is Dempsey, James Dempsey
The Five Diamond stuck with the lower price point for 2011, and numbers held about steady with 413 runners for a prize pool of just barely over $4 million, the smallest since 2003.
In another parallel to the second iteration of the Five Diamond, Esfandiari put together the strongest title defense since Hansen's third-place finish. "The Magician" ultimately disappeared in sixth for $119,418. Andrew Lichtenberger (4th - $218,933), Vanessa Selbst (3rd - $338,351), and former WSOP November Niner Soi Nguyen (2nd - $517,478) also fell short as England's James Dempsey ended the trend of American residents winning, banking $821,612 in the process.
2012: Three Final Tables in a Row for Esfandiari
After three years of disappointing turnouts, the Five Diamond rebounded to 503 in 2012, the best turnout since 2007.
Numerous storylines converged at the final table, foremost among them the return of Esfandiari for the third straight year as he sought a third WPT title. It wouldn't come as he got fourth for $329,339. Lichtenberger also repeated his final table trick but he fell one spot earlier this time for $234,197. Canadian pro and former WPT champ Buchanan made the final table for the second time but lost heads up to American Ravi Raghavan, with the latter banking $1,268,571 and the former $746,502.
2013: Dan Smith Scores the Victory
After a peak in 2012, it was another valley in 2013, as a field of 449 showed up for a prize pool of $4,355,570.
Dan Smith had emerged as a star in the poker world with a monster 2012 that saw him book more than $3.7 million in cashes, but 2013 had looked like a sophomore slump. Smith didn't waste one of his last chances for a big score, besting Australian legend Gary Benson ($672,658) heads up for $1,161,135 in first-place money. Eddy Sabat (third - $436,160), Barry Hutter (fifth - $219,165), and Joe Serock (sixth - $175,766) also made final table appearances.
2014: Chicago Kid Mohsin Charania Shines Bright in Las Vegas
The trend of yo-yoing numbers continued in 2014 as 586 entered, the second-best turnout in Five Diamond history.
Two WPT Champion's Club members, Jared Jaffee and Keven Stammen, bubbled the televised final table in seventh and eighth, respectively, but one club member still remained — Mohsin "chicagocards1" Charania, who had shipped a WPT the previous year and had two other final tables to his credit. He tackled a televised final table that included German high roller Tobias Reinkemeier (6th - $218,842) and two-time bracelet winner Brett Shaffer (3rd - $562,736).
Garrett Greer, a veteran of three previous WPT final tables himself, was Charania's heads-up opponent, and the two chopped up the majority of the remaining $2.34 million in prize money almost equally. Greer was undoubtedly still hungry for his first WPT win, but Charania denied him to join the two-time winners' club.
*Image courtesy of the WPT.
Get all the latest PokerNews updates on your social media outlets. Follow us on Twitter and find us on both Facebook and Google+!