Fabrice Soulier "Feels a lot of Pride" in Becoming the Manager of GPL's Paris Aviators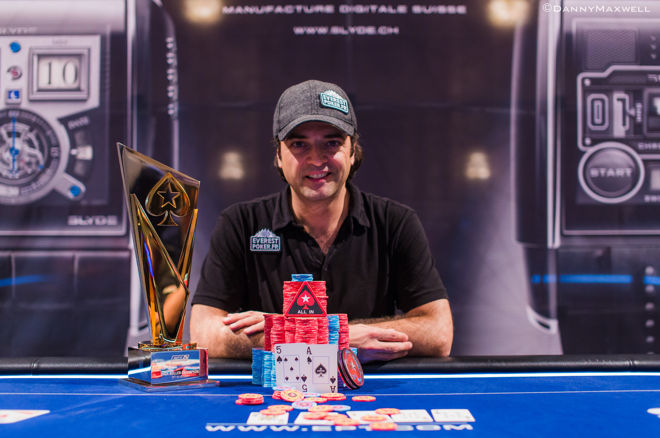 In less than two weeks, the Global Poker League (GPL) will conduct its inaugural draft at the SLS Hotel in Beverly Hills, which also is the home to the American Poker Awards and American Poker Conference.
On Friday, PokerNews, in conjunction with the GPL, released the names of the 203 players, which combined have over $560 million in career tournament earnings. These players will be available to be drafted on Feb. 25, 2016, by the league's 12 franchise managers.
One of those managers is Fabrice Soulier, heading up the Paris Aviators. PokerNews recently spoke with Soulier about his thoughts on the GPL along with his involvement in the league.
Soulier, age 46, needs little introduction, especially to those living in France. According to Hendon Mob, Soulier has worked his way to third place on the French all-time money list with over $5.8 million in live tournament earnings. That includes a World Series of Poker (WSOP) gold bracelet win in 2011 in the $10,000 H.O.R.S.E. Championship for $609,130. Soulier also has had success playing online and is currently a team pro for Everest Poker.
As one might expect, Soulier was honored with his appointment as the manager of the Paris Aviators. His relationship with Alex Dreyfus, the brains behind the GPL, helped make his decision easy.
"I feel a lot of pride," Soulier shared. "I supported GPL since the beginning, and I think it can be a very big project. I hope it's going to be. I know the person in charge, I'm quite close with Alex Dreyfus, and it helped me make my decision to accept the Paris Aviators management. I like the idea of having a Parisian team, but what can I say, it's also a lot of work. I said yes right away, then I was thinking, 'Sh*t, I have to travel a bit more and going to have to work to do interviews, to write blogs, and it's going to give me some work.' But, sh*t I love the game, am dedicated to the game, and have done some things like this in the past in the media. I created a website with different video content and was not paid for it."
Soulier added that being a part of the GPL is not about the money, but more for the pride.
"We are getting paid a little bit for GPL, but its not for the money that we do it," Soulier said. "It's a bit of pride, and I am going to have to work a lot, but overall I am happy about it."
While it is not mandatory that managers are part of the team of players that engage in the action during the GPL, Soulier shared with PokerNews that he plans to both manage and play.
"I am willing to be one of the players," said Soulier. "It didn't really look like an option on the website, but I asked Alex and he said you can be a player if you want. I think I am going to play."
Speaking with Eric Danis, he confirmed that although managers are not draft eligible, they can still play. Each manager will have the option to add themselves to their own team as a "wild card" pick.
While Soulier didn't want to share who he is thinking about drafting for strategic purposes, he did share that he wants his team to be not only hardworking, but also have a French color to it.
"I am not willing to discuss who I will draft in detail, because I don't think it would be good for the draft," Soulier said. "But, I would love to give a French color to the team. That's something that might be interesting. I want to have French speaking and a Parisian color to the team, but I probably don't want to have only French players, either. I want players that are skillful, have a good etiquette and a good image, know when to have fun, and know when to work."
Additionally, Soulier believes that the longterm success for the GPL is all about the money.
"I was talking to Alex about the key to success," shared Soulier. "I think the key is the money. Alex found some investors for the first two seasons. However, the money needs to come into the league from other investors or sponsors [for it to be successful]. I think the winning key is to attract new sponsors other than poker websites. Poker players are willing to give some time for the league, but if the league wants to keep the best players in it, it's going to be money problems. If we don't make money with it, then I think it is not going to succeed."
PokerNews will have plenty of GPL coverage throughout the month, from more team manager interviews to coverage of the draft, so stay tuned.
Get all the latest PokerNews updates on your social media outlets. Follow us on Twitter and find us on both Facebook and Google+!