Las Vegas Moneymakers Manager Chris Moneymaker Ready To Inspire Another Poker Boom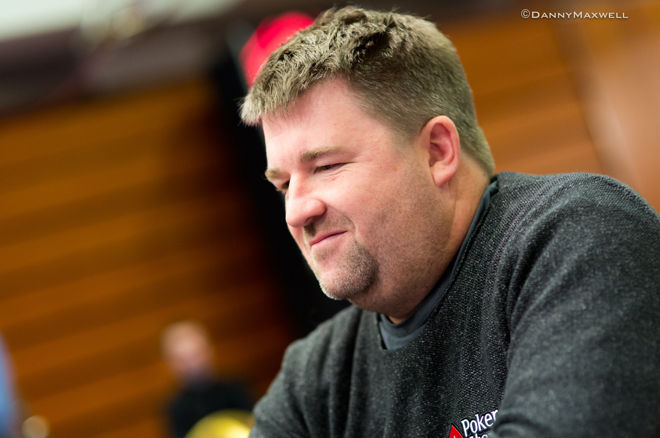 Earlier this year, the Global Poker League (GPL) not only announced their 12 teams, but revealed the dozen poker players who'll serve as managers for each team. One of those managers is 2003 World Series of Poker Main EVent winner Chris Moneymaker, who signed a two-year contract to manage, and possibly play on, the Las Vegas Moneymakers.
On Feb. 25, Moneymaker and other league managers, including Marc-Andre Ladouceur of the Montreal Nationals and Faraz Jaka of the San Francisco Rush, will gather at the SLS Hotel Beverly Hills to select the players of their teams in a draft that will be live streamed on Twitch.tv. The draft will coincide with the 2nd Annual American Poker Awards.
According to Alex Dreyfus, CEO of Mediarex Sports and Entertainment (MSE) and creator of the GPL, eligible players for the draft will be released by on Friday, Feb. 12. That means managers are busy making their preparations, Moneymaker included.
"Honestly, a year ago I had my team picked," Moneymaker told PokerNews. "I had three guys already picked out that were on the team. I spoke to them right away. Then the league sort of morphed and didn't launch right away. Since that time a lot has changed as far as format and the league itself. The people I had on the team lost their desire. I'd go with the same guys if they showed the same desire to be a part of the league, but my decision was made at this year's [PokerStars Caribbean Adventure] to scrap that team, and they were really solid top-notch players, because I want people who are behind the league, will support the league and do as much as they can to promote the league. People need to be passionate about the GPL for it to do well."
I've been pitched just about everything in the poker world over the years, this is the first thing, honestly, I was excited about it.
Moneymaker continued: "My team is going to be players who are hungry and want to be a part of it. I'm going to have some guys ranked high on the GPI, but also some players who maybe don't play the $10Ks at every stop, maybe they're circuit grinders, have a family, and are good enough to be in the top 1,000, not just the top 10. I'm looking for people with desire, who will do public appearances, and just be really active on the promotion of the league."
Speaking to Moneymaker it's clear he's not only excited about the GPL, but also invested. That's because he knows a good idea when he hears one.
"I've been pitched just about everything in the poker world over the years, this is the first thing, honestly, I was excited about it and really believe is the next thing," Moneymaker stated. "If there is a way to put poker back on TV in an interesting way other than a high-stakes cash game, then this is it. It's going to open it up to a new market and potentially make poker on TV watchable again. It's really hard to make good-quality poker content people are going to watch, especially those outside the poker world."
So how did the former accountant from Tennessee who changed the course of poker history come to be a team manager?
According to him, a couple years back he was at the Isle of Man and having a discussion with a PokerStars employee. The topic was a poker league, one that could help take poker in a new direction. Coincidentally, that idea would soon become reality.
"It's funny because we had that conversation and then I was down at the PCA doing a radio show," says Moneymaker. "I was talking to Alexandre Dreyfus and somehow the topic of sportifying poker and a league came up. This was in the infancy of the GPL. I was the first owner, the first one he pitched the idea to. I was excited about it. I've been waiting about a year and a half now to be an owner of the league, which has become more of a management role."
While Moneymaker will serve at team manager, he also has the option to be a player.
"I went back and forth as to whether or not I'll actually be a member on the team," he admits. "I think for Season 1 I am, but will end up giving up my spot on Season 2 to add another wild card. That has been the toughest spot to fill, the wild card. I offered an individual application on my own website, and I think over half the people who applied for the GPL also applied for my team specifically."
Moneymaker's team is certainly one of the more catchy ones, not only because it represents one of the world's premiere poker meccas, but because it's the only team to bear its owner's name.
"When talking with Alexandre early on, he wanted my name incorporated into the team, thought it made a lot of sense," says Moneymaker. "I live in Memphis, potentially moving to Columbus, not exactly metropolises, but everyone recognizes Vegas. I won my WSOP there. I have a lot of history there, so we thought it'd be a good fit."
In addition to his GPL duties, poker fans can expect to see Moneymaker, who is slated to sponsor the poker room at Hollywood Columbus, on both the live and virtual felt in the coming months. He'll be at most stops for Season 4 of the Hollywood Poker Open — a tour for which he serves as ambassador — before heading to Canada to play in PokerStars' SCOOP. He'll also be at the European Poker Tour Grand Final in Monte Carlo before heading to Vegas for the 2016 WSOP. However, right now his mind is on the GPL.
"I'm excited for the league. I think it has real potential to make a positive impact on poker. Like anything else it could fall flat, but hopefully people like it. You know, there are really no poker stars anymore outside of the game. Unless you win the Main Event no one outside of poker really knows who you are, and I'm hoping the GPL will change that by helping build the next generation of stars."
Stay tuned to PokerNews for ongoing coverage of the GPL as we near Draft Day, and special coverage of the Las Vegas Moneymakers as they head into their first season.
Get all the latest PokerNews updates on your social media outlets. Follow us on Twitter and find us on both Facebook and Google+!
Executive Editor US, PokerNews Podcast co-host & 2013 WSOP Bracelet Winner.