San Francisco Rush Manager Faraz Jaka "Very Excited and Bullish" About GPL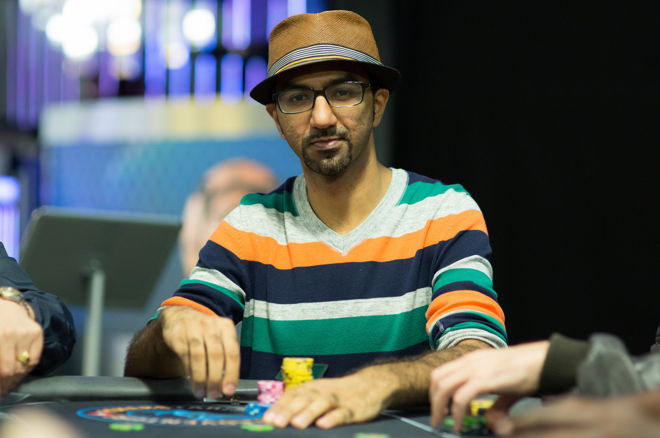 Faraz Jaka has been around the poker world awhile. This is a man with $5 million in live cashes dating back to 2007, including multiple World Poker Tour and World Series of Poker final tables, as well as WPT Player of the Year honors in 2010. Before that, he racked up nearly $4 million in online cashes as "The-Toilet 0," according to PocketFives.
Having been a part of the industry for so long, he has witnessed the rises and falls of countless poker tours, business ventures, and TV shows. Through more than a decade in the game, none of have made a strong positive impression on him, until now. The advent of the Global Poker League (GPL), the brainchild of Alex Dreyfus — CEO of Mediarex Sports & Entertainment and the man behind the Global Poker Index (GPI) rankings — grabbed Jaka's attention in a way no other poker innovation has.
"This is the first time I've genuinely being very excited and bullish about one of them," Jaka said. "I have some limited entrepreneurial experience and hearing Alex talk and answer my questions about the business model I can just tell he really knows what he's doing."
In October, Mediarex released a presser announcing the creation of the 12-team GPL, which Dreyfus described as an attempt to "sportify" poker and shift from a model focused on players to one focused on creating fans of the game.
"Just think about this," Dreyfus said at the time. "If people pay to watch video games, why wouldn't they pay to follow a spectacular poker game?"
Jaka described his relationship with Dreyfus as casual — the two would chat every year at the WSOP. Evidently, there was enough there for Dreyfus to reach out and offer Jaka the managerial position of the San Francisco-based franchise, nicknamed the Rush.
Asked if it was a snap-accept, Jaka said it was pretty close. He told Dreyfus he was interested and the two went over the details and reviewed the contract. At that point, Jaka decided to jump on board. He hopes many will follow in his footsteps in supporting the burgeoning league, whether for business reasons or not.
"I also just think its going to be fun, and if it is going to take off it needs the leaders of our industry to jump in and offer whatever they can offer to help," he said. "It benefits all of us, everyone in the industry, and I really think everyone should try to play their part to support it even if it's simply being a viewer and retweeting about it and spreading the word to their friends."
The appointment of Jaka might be seen as a curious one. Sure, he's been around a long time and is a successful and well-known player. But, the GPL managers are supposed to represent a locale — for example, Philipp Gruissem hails from Germany and will be managing the Berlin Bears. And Jaka is a man famously featured on CNN for living out of a suitcase and traveling the world.
As it happens, San Francisco is a city Jaka finds himself in quite often, one he does have ties to. He was born and raised in the Bay Area in San Jose and still finds himself there about four or five times a year to visit family and friends. He still plans to maintain his vagabond lifestyle, for the most part.
"This just means I might be taking a couple more trips there once our team goes deep in the GPL playoffs," he said.
Bravado aside, the GPL draft is fast approaching, and making such a run will require Jaka to make some sharp selections on Feb. 25. The top 1,000 players in the GPI rankings are eligible, and the cutoff to apply is Friday at 12 p.m. Central European Time, Dreyfus reminded the poker world via Twitter.
Like Marc-Andre Ladouceur, manager for the Montreal Nationals, Jaka didn't want to reveal too much about his strategy ahead of the draft, but he did allow that he's been thinking things over and discussing strategy with trusted friends. Managers have been provided with lists of early entrants to help with their planning, and Jaka singled out three qualities he'll be looking for in prospective team members.
First and most obviously, skilled poker players will be at a premium. Marketability, though, will also be a factor, something that may be overlooked by fans who simply expect teams to be composed of the top players in the world. Finally, Jaka is looking to build a team with chemistry, one composed of players who he thinks will be good teammates.
In a few short weeks, the poker world will get to see how Jaka's plans come together, as well as those of the 11 other team managers in one of the most ambitious projects ever seen in the industry. It's one Jaka hopes to see succeed, especially now that he's one of the ones laying the foundation.
"Being a part of something that has a chance to completely revolutionize the poker industry was exciting," Jaka said. "Having a guy like Alex behind it gives me a lot more confidence of its chances of working out."
Get all the latest PokerNews updates on your social media outlets. Follow us on Twitter and find us on both Facebook and Google+!