A Polish Prodigy Ready for the Big Stage: Dzmitry Urbanovich's Quest To His First WSOP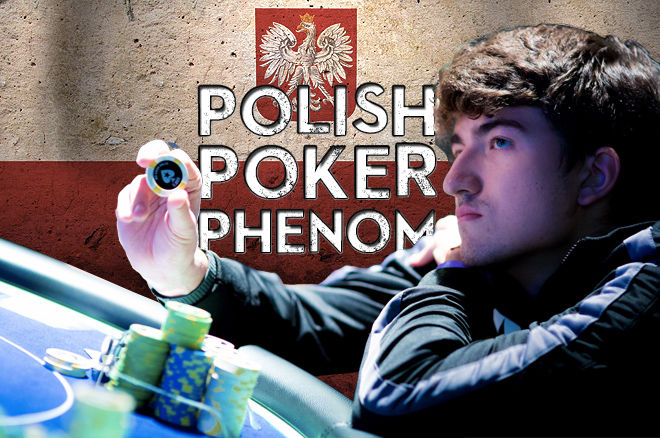 prodigy [prod-i-jee]
noun, plural prod·i·gies
a person, especially a young one, endowed with exceptional qualities or abilities.
In a time where poker is getting tougher and tougher, and many breaks in live tournaments are filled with chatter about fine-tuning one's heads-up display instead of spotting live tells, it's not common for a new player to burst onto the scene and start demolishing the established order. But that's exactly what happened during Season 11 of the European Poker Tour in Malta.
Dzmitry Urbanovich, playing under the Polish flag, came out of nowhere and won no less than four tournaments, including the €25,500 High Roller for €572,300. What some thought could very well just be another youngster on a heater, the months to come proved Urbanovich to be nothing less than a poker prodigy.
Though Urbanovich himself was secretive about it at first, it was soon found out he was the brain behind the "Colisea" account on PokerStars.
The account that had already racked up titles in the Spring Championship of Online Poker (SCOOP) and the World Championship of Online Poker (WCOOP) events and was known as one of the better players in the online poker realm. The puzzle pieces started to be put together, and it became quickly apparent Urbanovich had all the qualities to be poker's next star.
In the months that followed his success in Malta, Urbanovich proved himself to be truly one of the best. He made multiple final tables and established himself as one of the regulars on the high-roller circuit of the EPT. His biggest scores came from runner-up finishes in both the EPT Grand Final Super High Roller (€1,446,600) and the EPT Barcelona Super High Roller (€841,500), but there was still more to come. Just last month, in February 2016, Urbanovich conquered his biggest title, as he triumphed in the EPT Dublin Main Event, taking home €561,900. While the prize money wasn't the largest he's earned from a live tournament, it was true realization of an elite accomplishment from being victorious in a major tournament with such a large field of skillful players.
Now, the World Series of Poker (WSOP) is on the horizon. The schedule was recently released, and every year poker media from around the world preview the WSOP with an article on who to look out for. Generally speaking, it's a question of who turned 21 this year and is ready for their baptism of fire?
Urbanovich turns 21 in May, and his first visit to Sin City is to follow shortly after. Surely, Urbanovich is on top of everyone's list of WSOP rookies, and it comes with good reason. But, like others before him, this means added pressure to perform.
Last year's fan and media favorite was Fedor Holz, and the young German answered the high expectations with a third-place finish in the $10,000 Six-Max No-Limit Hold'em for $268,463 and a deep run in the Main Event where he took 25th for $262,574. Additionally, Holz stretched his cherry-popping WSOP success to WSOP Europe, where, in his home country of Germany, he recorded two cashes. One of those was a six-place finish in the €25,600 High Roller for €96,625.
Can Urbanovich do the same this year? That is, can he live up to the hype?
Deep runs won't be enough to satisfy Urbanovich himself, because he aims for gold — three pieces of gold, to be exact. That's right, not only does Urbanovich plan to come to the WSOP and be successful, but he wants to win three WSOP gold bracelets. That's a feat that comes few and far between, with George Danzer being the last to do it in 2014. Before him it was Jeff Lisandro in 2009, Phil Ivey in 2002, Phil Hellmuth and Ted Forrest both in 1993, and Walter "Puggy" Pearson in 1973. To point out the obvious, that's some extremely impressive and elite company. And as someone not to shy away from his confidence, Urbanovich is putting his money where his mouth is, betting Vanessa Selbst $10,000 at 200-1 odds that he can win three bracelets. If he does, we'll be calling Urbanovich "the $2 million man."
PokerNews spoke at length with Dzmitry Urbanovich — who goes by "Dima" to his peers — about his results, experiences in the game, and the upcoming WSOP.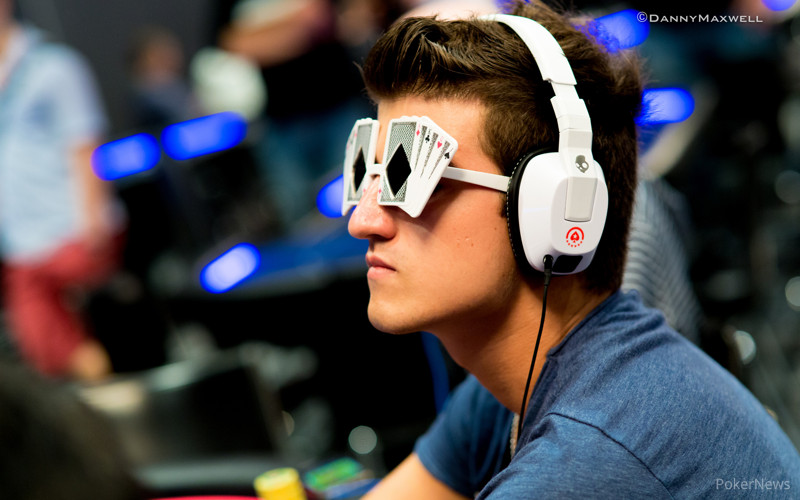 Growing Up in Belarus and Getting Started in Poker
Urbanovich was born in Belarus and came into contact with poker on a very young age. On weekdays, he stayed with his grandparents because his parents were working, but on the weekend he would return home and watch poker till the late hours of the night. Urbanovich, only six years old at the time, was mesmerized by the game and remembers very vividly watching players battle it out on the felt in a game he didn't truly understand just yet.
His first interaction with the game didn't spark a ton of interest. Still a schoolboy, he soon lost touch with poker as he life carried on. After the poker show he watched on Friday nights stopped airing, Dzmitry focused on different things.
A few years passed, then at the age of 13 he was again grabbed by the mysterious card game. While surfing the web, Urbanovich saw several advertisements to give the game a try for free, and also ads to get a starting bankroll of $50. Many of us can relate to these days, as it's often how we got our feet wet in the poker pool. Urbanovich was skeptical at first, looking back and saying, "I thought it was fake. It can't be true that they're giving away $50 for free. How could that be possible?"
Once a legitimate website he often visited had the same advertisement, Urbanovich decided to give it a try. The account he made was not under his own name. Being only 13, he used that of a relative to get things started.

"While I was waiting for the site to transfer me the free $50, I was playing with play money," Urbanovich said. "At one point, I switched to a different table and didn't realize I already had gotten the money. Without me knowing, I was playing $0.25/$0.50 for real money."
Urbanovich was playing on a site that displayed his hand strength at the bottom of the screen, and that was really what he was going by most of the time. He quickly lost $45 of the $50 he had gotten for free, not realizing it was real money he was burning through. In the Hollywood version of this story, Urbanovich would have spun up the remaining $5, but in reality he lost it the next day and busted his account.
The stories of youngsters receiving a free bankroll and immediately running it up only to never look back are plentiful. Urbanovich's story isn't that, as one by one the starting capitals were dusted off before things really started clicking. After several failed attempts, Urbanovich would give it another try, registering a new account in a different name. Again, and again, and again, he'd repeat this process. He wasn't winning, but he was learning.
When the free bankrolls dried up, he eventually tried to build up a bankroll on Full Tilt playing freerolls. He drastically improved, and things finally started to go well.
"I started learning strategy, watching videos and reading articles," he said. "Back in those days, I was studying many hours a day, basically all day long. If I wasn't playing, I was studying!"
For a year and a half, Urbanovich was playing mostly freerolls or tournaments with the lowest of buy-ins. When he finally had some money, he started broadening his horizon. All formats and all variants; he mixed multi-table tournaments with cash games and sit-n-gos, and he played razz, badugi, triple draw, and whatever other game was running in the stakes he was comfortable with. Sometimes he would focus on one thing, only to grow bored of it and switch to something completely different.
Urbanovich began to do better and better. That's not to say that it was an easy road, though, because he said he "busted" his account at least 10 times. That is to say, he lost everything but a few dollars of what he had. Once, when he was only 16, he burned through his $40,000 bankroll in a day, only to be left with just $2,000 and having to start all over again. Where others might have freaked out over losing such a huge sum of money at such a young age, Urbanovich wasn't fazed.
"If you have an actual $40,000 in front of you and you give it to someone else, yeah that hurts," he said. "For me, they were just figures on the screen. It didn't do me so much, really."
When Urbanovich finished high school, he moved to Poland to study computer science at Łódź University. After his first year, he moved to Warsaw to continue his studies. While he did well the first year and passed easily, he no longer had the motivation in his second year, as poker gained a more important role in his life. He didn't really enjoy his studies and, in large part because he was doing better and better at the game, he quit school to focus solely on poker.
"Colisea" and the Live Grind
On his 18th birthday, Urbanovich registered his own account on PokerStars. He picked the name "Colisea," because he thought it sounded interesting.
"It doesn't really mean anything, but I like it," he said.
Five days later he played his first live poker tournament.
What looked like a newcomer to the poker world both live and online had actually been years in the making. Urbanovich was already well-rounded, he had a bankroll, and was as eager to play as anyone.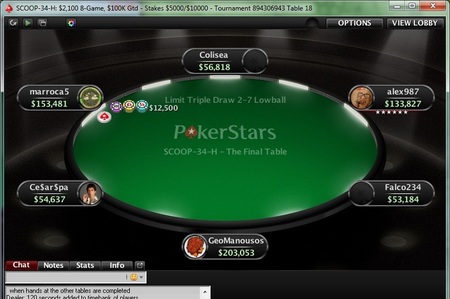 Soon the European Poker Tour lured. He started out with the smaller buy-in tournaments, skipping main events and focusing on side events during visits to Barcelona and Deauville. Next up was EPT Vienna at the lavish Hofburg Imperial Palace, an event Urbanovich qualified for online. On the starting day of his first-ever EPT main event, he gathered a massive stack of 163,400 in chips after starting with 30,000 — one of the biggest stacks in the room. Everything went right, despite being seated on one of the tougher tables in the room.
EPT champion Ruben Visser, seated two to his left, informed himself that day who that new Polish player on his table was, as he was impressed by his aggression and feel for the game. Years later, Visser still vividly remembers the day he first met Urbanovich, mostly because of one particular hand where Urbanovich bluffed the Dutch EPT champ with ten-eight in a five-bet pot.
"He really owned me in that pot," Visser said with a smile when asked about it during the EPT in Dublin last month.
One swallow does not make a summer, and bright days weren't particularly ahead for Urbanovich. He imploded quickly on Day 2 of the tournament and was out.
"After half an hour, I only had 120,000 left," Urbanovich remembered. "I was tilted and tried to win my chips back. Then I got down to 80,000, which was still above average at the time, and I now was really super tilted. Then I quickly busted."
Looking back, Urbanovich thinks the experience was a good one, as it showed him things he had to work on. He brought his mother to the next EPT in Sanremo, Italy, and proved her he wasn't just fooling around. He cashed in the EPT Sanremo Main Event in 74th place for €8,434, his first EPT main event cash, although he had a few smaller live cashes on record prior.
Taking Malta By Storm with Six Final Tables and Four Wins
The string of cashes that followed his first EPT main event cash is impressive, but there's one tournament that really sticks out to anyone glancing over his HendonMob page.
One year ago, on Sunday, March 15, Urbanovich chopped the Sunday 500 for $83,047, only to fly to Malta for the EPT Season 11 stop right after.
While Urbanovich wasn't ready to parlay his huge online score into a €25,000 High Roller ticket, his friend Piotr Franczak convinced him otherwise. Franczak pushed him to enter, and bought a big chunk of action, having faith in his friend's edge in the field of giants, and it would prove a decision that changed Urbanovich's life.
While he wasn't thinking about the money while playing, the bigger buy-in did improve his focus. With more on the line, he was thinking and analyzing at the top of his abilities. The young "converted" Pole won the event outright for €572,300, making no deal with Connor Drinan in heads-up play. It was the start of a run never seen before on the EPT, and one that resulted in a record of six final tables and four victories.
Thinking back of that week in March last year still brings a smile to Urbanovich's face, and he's still forever grateful Franczak convinced him to enter the high roller.
"If he wouldn't have said that, I would not have had this amazing year," Urbanovich said.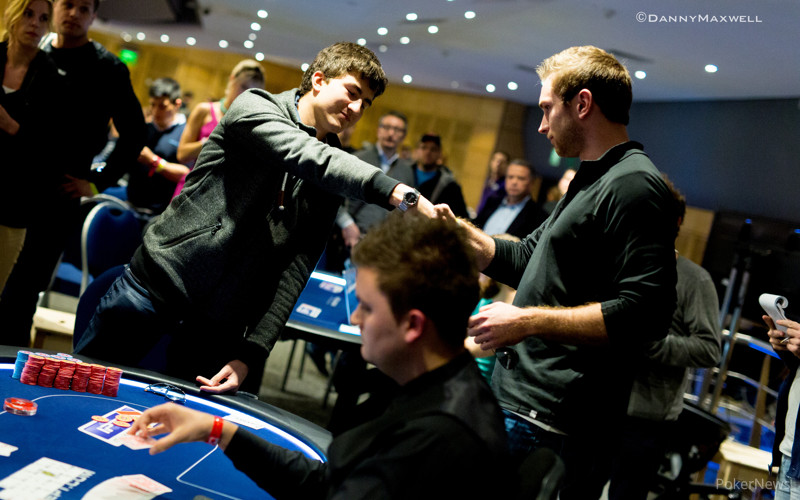 Silent Sharks
During EPT London in 2014, Urbanovich had met Franczak for the first time. Franczak was playing the final table of a £1,100 turbo side event, and Urbanovich and his Polish friends were on the rail to support him. Urbanovich, who feels as Polish as any of them, started to hang out with the group more and more. It was the start of a friendship that soon developed into a strong online presence by the group.
They started the Silent Sharks, a group on Facebook with the sole focus of promoting poker in Poland. Besides Franczak and Urbanovich, the team exists of top Polish pros Przemyslaw Piotrowski, Jose Carlos Garcia, Jaroslaw Sikora, and Polish rapper Wojciech Łozowski. Just recently, Kacper "JOKER" Pyzara joined the team. The group has over 7,000 members, and the tournaments they organize in their private home game on PokerStars are usually full in capacity. They post photos and videos during live events, and they have bounties on their heads as they play online in their group.
It's mostly Polish players in the group, but the popularity of some of its members makes for an international collective. While the updates are in Polish right now, the photos of bundles of cash have attracted people from all over the world to follow along with the Silent Shark "gang." During the last event online, 18 nationalities were represented. The fact that people are interested is no strange thing, as the added prizes to the league are serious incentives for anyone to play, with bounties and packages to live events up for grabs.
It all helps boost Urbanovich's popularity. Now it's not just the Polish, but rather the entire world that's really looking over his shoulder as he makes his way to Vegas for the first time.
$2 Million Prop Bet with Vanessa Selbst
Though his biggest cashes come from no-limit hold'em, it's by no means the favorite game of Urbanovich. In fact, Urbanovich is different than most young players on the scene by preferring live over online play and other variants of poker over the fan-favorite no-limit hold'em.
"I don't enjoy hold'em," he said. "There's not much apart from hold'em, so I do play it a lot. I prefer playing mixed games, actually; stud, draw, some Omaha. I can't really say what my best game is, because people might stop playing me in cash games. But it's not hold'em, I can tell you that."
While the European Poker Tour has massively improved on the diversity of the games being offered during a large poker festival, there's no better place to play different variants of poker other than hold'em than at the World Series of Poker in Las Vegas. Each summer, the poker world embarks on the bracelet quest in the desert of Southern Nevada, and this will be Urbanovich's first time. He turns 21 in May and has been preparing himself for his first stint at the WSOP.
The world is eager to find out if the debutant can live up to the highest of expectations, not just because of him being a first-timer, but mostly because of a bet he made with Vanessa Selbst, who holds three gold bracelets herself. It all started at the PokerStars Caribbean Adventure (PCA) last January.

"It was four in the morning and we were drunk," Urbanovich recalled. "I don't really remember how it started, but she said something like 'I'll give you 50-1 that you won't win three bracelets.'"
Despite his state of intoxication, Urbanovich didn't bite just yet.
"She asked me what kind of odds I needed, and I replied that I wanted to think about it," he said.
Selbst wasn't having any of that. She wanted to make the bet then and there. Eventually, Urbanovich and Selbst agreed on odds of 200-1 for with Urbanovich putting up $10,000. That meant that if Urbanovich wins three gold bracelets at the 2016 WSOP, he'll bank an extra $2 million from Selbst. If he doesn't, he'll lose $10,000.
"The next day, I woke up, sobered up, and thought the bet was OK," Urbanovich said. "I wanted to make some bets anyway, so I was happy with what we agreed upon. For sure I could get better odds, but I still like the bet. It's all about motivation, and $2 million is enough motivation for me!"
World Series of Poker
Despite his eagerness and the bet with Selbst, Urbanovich is still figuring out what exactly he wants to play this upcoming World Series.
"I'll have to see how many days all the events are, what the expected fields are, and the like," he said. "Maybe I even have to multi-table something. We'll see."
One of the events that seems it would fit Urbanovich like a glove is the $50,000 Poker Players' Championship, a mixed-game event that draws the biggest, brightest, and most highly-skilled stars of the game.
"Sounds like I'm going to win it," he said when PokerNews asked him about that specific event.
Clearly, confidence isn't a problem.
"I'm gonna skip most of the hold'em events, unless there's hyper turbos at the right time that don't clash with other events," Urbanovich said. "Maybe I'll play the $5,000 Six-Max, and obviously I'll play the Main Event. Maybe the $10,000 Limit Hold'em as well. The heads-up and shootout events are also good for me, as you don't have to spend too much time on those."
Urbanovich was still up in the air about the $300,000 Super High Roller Bowl at ARIA. This week, news broke that the event has sold out already, which makes it easier for him to focus entirely on the WSOP and the big bet that's supposed to keep him locked inside the Rio through out the summer.
Though the schedule is a bit vague about it — "It will indeed take place in 2016 in grand fashion; however, it won't be in Las Vegas as part of the summer schedule" — the WSOP schedule press release dropped the hint of the return of the Big One for One Drop, which Urbanovich has already thought about. That tournament comes with a staggering buy-in of $1 million.
"I'm happy to play, but it's one million!" he said in both shock and excitement. "Yeah, I'll sell action, so if someone wants to buy action, I would love to play. I guess it's softer than the $50,000."
Back home, Urbanovich says he likes to party "literally every day," but there's no parties on his schedule this summer. The focus will be solely on poker. Though there has been no mention of it so far, he's open for bets that limit him from doing any partying or drinking alcohol, or added incentive to make it a big summer poker-wise.
During EPTs, he sometimes invites friends over to party with him, especially when he makes a big final table. For the WSOP, he plans to do the complete opposite. No friends. No parties. In fact, he plans to travel to Vegas alone in order to be as focused and isolated as possible. He said no distractions are allowed this summer. It's just grinding that he plans.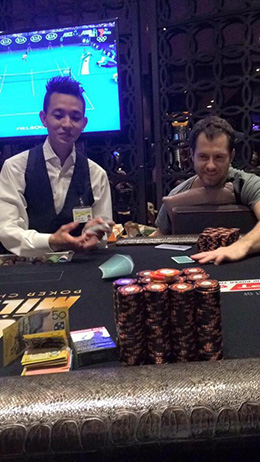 For some, the grind of the summer can really take a toll, and there have been plenty of horror stories regarding how much it can beat up a poker player. Urbanovich isn't afraid of a six-week stint at the World Series solely playing poker, though. He isn't scared by those stories. From everything we've seen since he's entered the spotlight, Urbanovich is a beast when it comes to the grind. He's obsessed with the game and accustomed to long hours and not much sleep. His schedule for the last year and a half has been strenuous, flying from one city to another and playing nothing but poker each day. While that can certainly take its toll, for Urbanovich, it's preparation. In fact, during his run to victory in the EPT Dublin Main Event, he only went out for a quick bite after the Main Event days ended, so he could get back to the venue for the nightly €5,000 turbo side event.
With partying out of the question, what about cash games? They're extremely lucrative during the WSOP, and Urbanovich is no slouch there, either. But, he told us those are off limits, too.
Dropping them from his agenda this summer is a big deal. Just this past January, during the Aussie Millions, he played for 36 hours straight with the likes of Dan "jungleman" Cates, Tony G, Brian Rast, Benjamin Pollack, Jason Mercier, Jason Gray, and Richard Ashby. His goal of the cash games Down Under was to win AU$250,000 that he could then use to enter the LK Boutique AU$250,000 Challenge. He failed and was up only AU$100,000 at the point when he couldn't keep his eyes open anymore. As a result, he went to bed and didn't register the event. Because playing cash games distracts him from playing tournaments, and tournaments will be his focus this summer, Urbanovich said you won't find him in the cash games.
A Feel Player
Anyone who's seen Urbanovich play at the final table knows he can look disinterested at times. Stoic, if you want. When he makes a huge bluff, he can be seen casually taking a bite of an apple. When he faces an over-shove with a medium hand, he often leans back and takes a sip of tea without looking particularly flummoxed by what's going on. It's as though he took a page from Jamie Gold's book of eating blueberries during the 2006 WSOP — just as casual, but without the theatrics and chitchat.
Does this mean this extremely bright poker mind, someone who seems to turn anything into gold he touches on the felt, is just bored?
"It depends," he said. "Sometimes it's a trick, sometimes it's not. I just don't want to give away anything. But most of the time, I'm just really not impressed."
Urbanovich is a chronic latecomer, too. What poker player isn't? Urbanovich isn't just late to the start of events, though. He seems to never be back on time from a break, either.
"I'm always late at the beginning of a level," he said. "I'm always back from break late. I don't care. If you miss a hand, who cares? You can get a good hand, you can get a bad one. You're losing really small because of that, so it really doesn't matter."
Needless to say, we won't be seeing Urbanovich sprinting through the halls of the Rio on his way to the Amazon Room this summer.
While Urbanovich has an online background, and has studied the game as much as any of the new-age poker phenoms, he still relies on feel to make some decisions. Not in a hand maybe, but when the moment comes to decide wether to play a tournament or not. He either feels it, or he doesn't. Urbanovich told us he isn't someone who forces himself to play.
During the last EPT festival in Dublin, for example, Urbanovich was a no-show on Day 1 of the €25,750 High Roller, a tournament everyone expected him to show up to. While the high rollers were battling it out in the far right corner of the tournament room, Urbanovich was playing the €200 Chess/Poker Mixed Tournament in the back, a variant where you have to play both chess matches and poker. He finished runner-up for €1,480, one of the smallest cashes on his résumé.
"I had no feeling about the 25K, so I skipped it," he said. "On Day 2, there was a €500 Quadruple Stud event, so I thought that was good training for the WSOP. If I don't feel it, I don't play."
He played the Main Event the day after, and went on to win it for €561,900. What's that for WSOP preparation?
Want to stay atop all the latest in the poker world? If so, make sure to get PokerNews updates on your social media outlets. Follow us on Twitter and find us on both Facebook and Google+!