Inside Gaming: Macau Economy Hurt by Casino Revenue Decline; Caesars Increases Resort Fees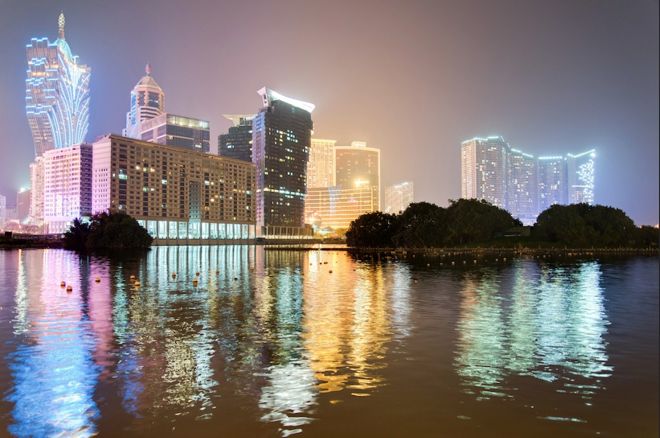 This week's Inside Gaming looks at how the ongoing decline in Macau's gaming revenue is affecting the island's economy as a whole, reports on Caesars upping resort fees at several Vegas properties, shares news of Caesars CEO getting approval for a gaming license, and relates the latest positive figures regarding gaming revenue in Native American-owned casinos.
Gaming Decline Brings Macau's Economy Down 20% in 2015
Macau's economy is fueled primarily by tourism, with the many casinos operating in the Special Administrative Region of the People's Republic of China having been a primary incentive for many to visit over the past decade-plus.
It's little surprise, then, that a nearly two-year long slide in gaming revenue has negatively affected Macau's economy as whole. Bloomberg Business reports this week that Macau's economic output fell 20.3% in 2015, a direct consequence of the decline in gaming services and tourism. According to Bloomberg, "about $46 billion of market value were wiped out from the city's six casino operators last year."
Multiple measures and domestic policies enacted by President Xi Jinping to reduce corruption and eliminate certain types of graft and extravagance have impacted not only Macau's gaming industry, but also other areas including travel, catering, hotel, and high-end retail.
Once highly-active casino junket operators responsible for facilitating the visits of high-stakes gamblers to Macau's casinos have curbed their operations significantly. For VIP clients such junkets often handled moving funds, settling debts, managing loans, and other matters, but reforms focused on preventing money laundering made some of these tasks less simple to perform, dissuading many high rollers from traveling to the island to gamble.
February marked the 21st-straight month that gross gaming revenue declined in Macau. According to the Gaming Inspection and Coordination Bureau, casino revenue in February 2015 totaled 19.542 billion pacatas, while in February 2016 the figure was 19.521 billion pacatas. The difference — worth about $2.6 million USD or just 0.1% — is easily the smallest decrease in revenue since declines began June 2014.
Bloomberg notes how last month's Lunar New Year holiday helped increase the number of mainland Chinese tourists coming to Macau in February, thus helping to ease the slide. Meanwhile analysts have suggested VIP gambling revenue will rebound over the next year.
Ferry over to Bloomberg Business for more about Macau's economy and the near-term prospects for gaming on the island.
Caesars Increases Resort Fees at Five Vegas Properties
Know those "resort fees" that show up on your hotel bills, sometimes adding considerably to the total? Guests at five Las Vegas hotel casinos will begin seeing that line add up to even more going forward after an increase in resort fees at Caesars Entertainment properties went into effect on Tuesday.
A Caesars executive confirmed to The Los Angeles Times that the resort fee will increase to $32 per room per day at Caesars Palace, Nobu Hotel, The Crowell, Paris, and Planet Hollywood, with a 12% tax added to the fees as well.
Resort fees are mandatory, covering amenities like in-room wi-fi, free local calls, and use of fitness centers, regardless if guests use them. "No explanation was provided for why the fees are increasing," added the Times.
The fee increases come following the announcement in January by MGM Resorts International of their intention to begin charging for valet and self-parking, a move some thought might encourage other Strip properties to consider following suit.
Check in over at The Los Angeles Times for any further questions about your bill.
Gaming Board Grants Initial Approval to Frissora for Gaming License
In other Caesars-related news, Mark Frissora, CEO of Caesars Entertainment Corp., was given initial approval for a gaming license from the Nevada Gaming Control Board this week. The approval comes a little over a year after the announcement that Frissora would be succeeding longtime Caesars CEO Gary Loveman, a position he assumed officially in July 2015.
The Board was unanimous in its recommendation of the license following a discussion that included Frissora's answering questions concerning his earlier position as CEO of Hertz Global Holdings, Inc., a position he held from 2007-2014.
As VEGASINC reports, among the items discussed were statements from Hertz regarding accounting errors occurring prior to Frissora's departure which had led to the need for the company to restate its financial statement for 2011 and to restate results from 2013 and 2014. In an SEC filing the company had also included comments about Frissora's "management style and temperament [having] created a pressurized operating environment."
Before the Gaming Control Board, Frissora "disagreed with that characterization, casting himself instead as a transparent person and an open communicator who drove up employee satisfaction." However he also stated he might have "slowed things down" so as to help ease burdens upon the company while at Hertz, adding that he was "making sure those kinds of things can't happen here at Caesars."
A final ruling regarding the license will come later this month.
To have more questions answered about the Caesars CEO's meeting with the board, go meet with VEGASINC.
Latest Report Shows Native American Gaming Revenue at All-Time High
Finally, according to a newly-released report, Native American-owned casinos earned an all-time high of $28.9 billion in gaming revenue during 2014.
As outlined in the Executive Summary of Casino City's Indian Gaming Industry Report, the industry "experienced modest growth of nearly 2%" nationwide, bettering its performance in 2013 and marking a fifth straight year of growth for Indian Gaming.
"Indian gaming now represents 43.5% of the nationwide casino gaming market, just below the commercial casino segment at 44.2%," the summary continues. Racetrack casinos constitute the remaining 12.3%.
Some states experienced markedly better growth than others in Indian Gaming in 2014. For example, while Wyoming enjoyed a 13% increase year-over-year, Idaho was down 9%. "Overall 20 of the 28 states with Indian gaming experienced gaming revenue growth in 2014," with Wyoming, Alabama, South Dakota, Iowa, and Alaska the fastest growing states, and Idaho, Connecticut, New York, Mississippi, and New Mexico declining the most.
Non-gaming revenue also grew to an all-time high of $3.8 billion, up approximately 5% over the previous year.
For more figures and analysis, you can leaf through a flipbook version of Casino City's Indian Gaming Industry Report.
Photo: Skyline, Tristan Schmurr. Creative Commons Attribution 2.0 Generic.
Want to stay atop all the latest in the poker world? If so, make sure to get PokerNews updates on your social media outlets. Follow us on Twitter and find us on both Facebook and Google+!