Learn More About the Aspers Cash Game Festival Starting This Week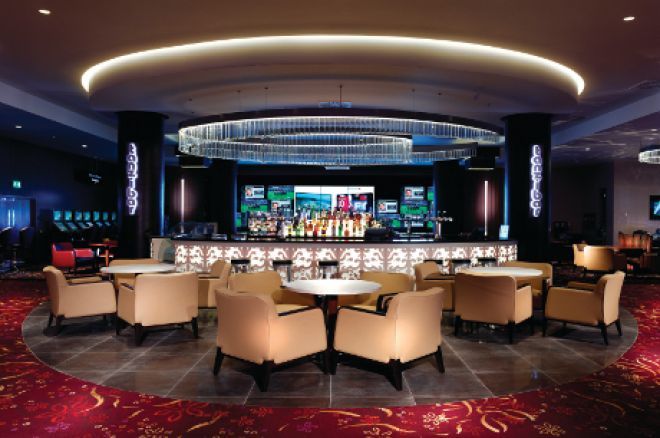 History is about to be made in the United Kingdom, as the Aspers Casino Westfield Stratford City in London will be hosting the country's first-ever Cash Game Festival. Complete with 120 hours of non-stop ring-game action, the event will run from March 30 to April 3, 2016.
The PokerNews Live Reporting team will be covering the festival with player interviews and recaps of some of the most exciting action. Aspers Casino Westfield Stratford City Head of Poker John Scanlon shared with us some of what players can expect when attending the festival.
Scanlon explained that the festival came to fruition after just a quick conversation with the owner of the Cash Games Festival brand, Martin "Franke" von Zweigbergk, following the success of the festival in Tallinn, Estonia, at the Olympic Casino late last year.
"Martin 'Franke' von Zweigbergk, the owner of Poker Icons and the Cash Games Festival brand, reached out to me following some recommendations and we had a quick 10-minute chat," shared Scanlon. "We both liked the direction of where we wanted to take things, so we made a partnership."
While many of the players will be flocking to Aspers from the United Kingdom to take part in this historic festival, Scanlon is expecting others to join in on the exciting action from many other European countries, too.
"We are expecting 70 to 100 Scandinavian and Estonian players to be coming over," commented Scanlon. "We have had some requests from Poland, Germany, and France as well."
The Cash Game Festival isn't designed to attract professional players, but rather poker enthusiasts that love an action-packed, fun environment.
"The concept isn't to attract many professional players," stated Scanlon. "We are actually aiming to attract people that play higher stakes cash games that aren't professionals. We have a lot of businessmen coming over where they just want to play in an environment to have some fun."
That being said, the festival will be featuring many lower stakes games as well, and, for the first time, the casino will be hosting six-plus hold'em.
"The games being offered will start at £1/£1 all the way up to £10/£25," commented Scanlon when asked about the spread. "I don't think the games will be bigger than that as £10/£25 is already a big game. There will also be six-plus hold'em for the first time with conjunction with iPoker."
Cash-Game Tournaments Will Be Introduced for the First Time
Scanlon shared with PokerNews that, for the first time, cash-game tournaments will be included in the festival, a concept he invented.
"We are also going to be running cash-game tournaments, which is a slightly different concept," shared Scanlon. "It will run as a single-table sit-and-go where players will play cash games as normal, but there will be a buy-in to it. At the end of the time period, which will be two hours, players will split the money based on how much they won in the cash game."
The games are planned to be offered at two stakes — £1/£2 (£50-£250 buy-in) and £2/£5 (£200-£500 buy-in) — with players given the chance to rebuy to the max at anytime. The stakes will remain the same throughout the tournament, with the main difference being an ante will kick in for the last 30 minutes, which should potentially create more action while the tournament clock is winding down.
There will be no other tournaments being run during the Cash Game Festival, meaning there will be more seats for players to join in on the exciting ring-game action.
"We have 34 tables," Scanlon said. "We would normally have 18-20 cash-game tables with the other tables for tournaments, so this time we are doing all cash games, which is why I came up with the concept of the cash-game tournaments to create an environment where players can play more cash."
Player Benefits and Experience
The Aspers Cash Game Festival will not only attract players due to the exciting action, but also due to the many great promotions they are running during the five-day period.
Some of the benefits include:
Gold Member Benefits when playing poker — complementary tea, coffee, and soft drinks; 50-percent off all other drinks, including alcohol, and 50-percent off the poker food menu
Free, secure in-house parking
Frequent high-hand bonuses
Scanlon also wanted players to be aware if they were traveling from outside the UK that they should bring cash with them.
"I also need to remind all traveling players that by law the casino can only accept UK debit cards, traveling players are advised to bring cash, talk to their bank about raising their daily withdrawal limits, or contact the casino before traveling to request a bank transfer," Scanlon advised.
Aspers Cash Game Festival Coverage
As we already mentioned, the PokerNews Live Reporting team will be reporting on the action at the Aspers Cash Game Festival. However, there will also be live streaming of a feature table each day during the festival as well.
"We have a feature table running every day starting at 4 p.m. local time running until about midnight," commented Scanlon. "We might even keep the stream running overnight. Marc Convey is going to be the commentator on the table."
Want to stay atop all the latest in the poker world? If so, make sure to get PokerNews updates on your social media outlets. Follow us on Twitter and find us on both Facebook and Google+!