Poker Players Excited and Ready for PokerStars Launch in New Jersey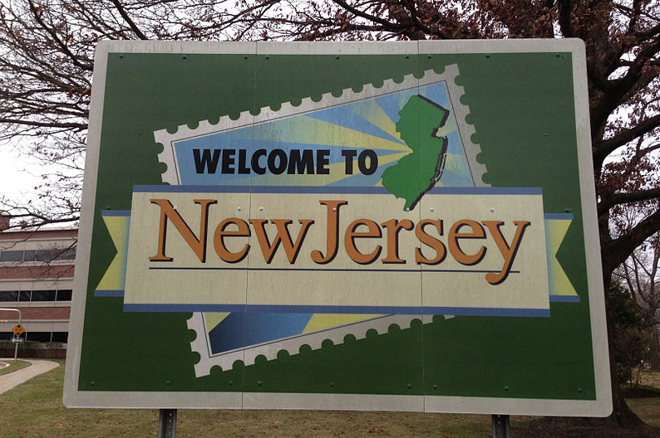 It's almost time. Monday, March 21, 2016, will mark the official launch of PokerStars in New Jersey. The site has been operating in a soft-launch phase since March 16, and ever since the official launch date was announced in late February, excitement has been building and building.
PokerNews will be in the Garden State for when the virtual doors open to world's biggest online poker site and we'll be working with PokerStars and several notable players to bring you special coverage of the launch. In the meantime, we reached out to New Jersey players via social media in hopes of speaking to a few anticipating Monday's kickoff. We spoke to six players, all former PokerStars players before Black Friday hit, and they're as ready as ever to get back grinding on the site.
"I think the return of PokerStars is great," said Matt Sullivan, who lives in Philadelphia but plans on taking some trips to New Jersey to play. "Above anything, name recognition will hopefully boost the activity of online poker in New Jersey. It's a shame that on some of the current sites traffic is so low, and I think PokerStars has the capability of dramatically increasing traffic on the tables."
Like so many US-based players, Sullivan had his online poker playing dreams stripped from him on Black Friday. Although he said he only got involved playing on PokerStars for two weeks before the Black Friday bomb was dropped, Sullivan enjoys the accessibility to quality poker events that online poker provides to the casual player.
"The best aspect of online poker is the availability of tournaments with so many structures," Sullivan said. "On top of that, the time commitment is great for more casual players. I don't mind sitting and playing a live tournament for 12 hours, but a majority of people want to be able to finish a tournament in a few hours."
In fact, all of the players we spoke to pointed to the accessibility online games provide to poker players, which is understandable. Not everyone is located within reach of a brick-and-mortar casino, and not everyone has the schedule that allows them to dip out for several hours to play live.
"I've loved the game for 38 years, but responsibilities and family take most of my time," said Robert Lynch, an avid PokerStars player for years prior to Black Friday. "I do not get to play live poker nearly as often what I would like. Online poker is always going — it's the availability."
Like Lynch, Craig Rubinstein pointed to being a family man that doesn't allow him to get to a casino when he'd like to play. But with online poker, you're just a few seconds and a few clicks away from getting into a game.
"I am a dad of seven- and five-year-old boys and can't play as many live tournaments as I would like," Rubinstein told PokerNews, who played mostly on Full Tilt prior to Black Friday, but did dabble a little bit on PokerStars. "This gives me the ability to play them on a daily basis, and works around my schedule."
Geno Raman, he too played recreational poker prior to Black Friday. Like the others, it seemed the quick ease of the virtual game best fit his busy schedule.
"I was still in college, playing football and working part-time," Raman said. "So I didn't have as much time to focus on the game years back."
That said, Raman has since turned to professional poker, and cites the freedom online poker provides as a career choice for a big reason he went with it, but there's another reason — a living, breathing reason — he likes online poker, too.
"The reason I chose to play poker professionally was because of the freedom it offers and the competitive nature of the game," Raman said. "Online poker compliments that freedom and offers players a training ground where they can sharpen their game on a daily basis without have to drive to a casino. Tournaments are also more affordable online and there is a ton of value to be had for your dollar. But most importantly, it gives me the opportunity to have my dog Ace on my rail. He is one of my biggest fans."
Trying Out PokerStars NJ During the Soft Launch
During the soft launch of PokerStars in New Jersey, most of the players we spoke to got in on the action, likely because they felt it'd be just too hard to wait for the actual launch come March 21.
"This is far superior than any of the other software running right now," said Brian Lim about testing out the PokerStars client during the soft launch. Lim said he played on PokerStars from 2004 to Black Friday. He also added that he is "very excited" about the launch and that he's someone who cares about the little things the PokerStars product brings to the table.
"For a player like myself, it is the minutiae, like personalizing your avatar and switching table visuals that make an impact on whether I want to continue to play on the site," Lim said.
"I have been playing during the soft launch, and to be quite honest, it's been great," said Danny Dagostino, who informed PokerNews he lives a one-hour car ride from the closest brick-and-mortar casino. "There have been many higher stakes cash games, and the software and speed is really up to par. I'm totally a fan."
Lynch also played during the soft launch. In fact, he said he played everyday of it.
"I am playing at this moment, and have played everyday of the soft launch," Lynch said. "It's fun, awesome, there's some small bugs, but it is going to be awesome."
For Raman, he attempted to sign up and get on, but ran into a couple of roadblocks. Nonetheless, he pointed to the quick response and help he received from PokerStars customer service that helped him work through the issues.
"I did attempt to play on PokerStars during the soft launch, but faced a few obstacles when trying to sign up a new account," Raman said. "The customer service at PokerStars quickly responded to this issue and is working with me now to get my information verified so I can ready to play when PokerStars goes live on the 21st. This is a great sign for things to come just in the department of customer service, which has been a big issue with current regulated NJ sites."
What Are Players Most Looking Forward To?
Looking ahead, March 21 will bring the official launch of PokerStars in New Jersey, but everyone is looking far beyond that date. It's about what the future holds and where the poker industry in New Jersey and elsewhere in the US can go from where thanks to the entrance of the biggest brand in online poker.
"I'm looking forward to the growth of regulated online poker, not only in NJ but across the US," Raman said. "I know this will take some time, but with PokerStars' entrance back into the US market, it is a sign of good things to come. I will be looking for PokerStars to take over the spotlight in NJ and give existing sites some competition, as well as providing NJ players with more opportunities, reliability, and security."
"I'm really just looking forward to having just the brand back again, especially in my home state," Dagostino added. "PokerStars is a leader in this industry and have been around the longest as far as online poker. I think they have the edge we need to get online poker fully legalized throughout our country."
Similar to Raman and Dagostino, Sullivan, who plans to make weekend trips to New Jersey for the Sunday major tournaments, also points to the success of the brand. Like the others, he has high hopes for what PokerStars can do for the future.
"Because I only drive to Jersey to play the bigger Sunday tournaments, I think for me I'm looking forward to general success for the company," Sullivan said. "The better they perform in Jersey, the quicker we can work on legislation in all the states and the end goal of being able to play with the whole world once again. I also hope that the return sparks more traffic on all the sites. It would be great if sit-n-gos at all levels were running 24/7 and cash-game tables at all stakes were constantly full of players. I think PokerStars has the ability to do this."
Lastly, Rubinstein is looking forward to the possible linking that PokerStars will be between live and online play, much like they do in other parts of the world.
"The most powerful poker brand in the world will be in NJ, and that has to be a good thing for us players," Rubinstein said. "I look forward to seeing how Resorts is linked in, and how PokerStars can run some local live tournaments as well."
As mentioned, stay tuned to PokerNews for continued coverage of the PokerStars New Jersey launch all this week, as we'll have special features and other content regularly.
For those looking to check out the PokerStars New Jersey daily tournament schedule, click here. For those looking to check out the PokerStars New Jersey Sunday tournament schedule, click here. And for further information you need to know about the PokerStars launch in NJ, click here.
*Image courtesy of Wikimedia Commons/Famartin.
Get all the latest PokerNews updates on your social media outlets. Follow us on Twitter and find us on both Facebook and Google+!