888poker's Jessica Dawley: It's Time to 'Go Big or Go Home' at the 2016 WSOP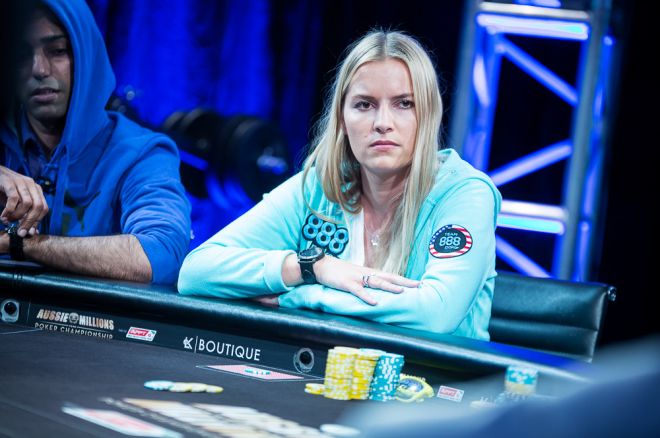 888poker Pro Jessica Dawley is coming into the 2016 World Series of Poker on a hot streak and ready to roll with it.
"I'm definitely on a momentous upswing, and in poker, momentum is everything," Dawley told PokerNews. "In any sport for that matter, when you get momentum going, you kind of have to ride with it."
She cashed three times at the 2015 WSOP, but things really heated up for Dawley in the Fall of last year when she booked a fifth-place finish for $92,206 at the Borgata Million and captured a career-best $110,304 score, finishing sixth at the Rock 'N' Roll Poker Open in Hollywood, Florida a month later.
Two cashes at the 2016 Aussie Millions to start the year, and a few more in South Florida, where the former Air Force intelligence analyst and Operation Iraqi Freedom, and Operation Enduring Freedom veteran calls home, and she comes into the 2016 WSOP feeling like she's running good and playing even better.
"At the beginning of my career, in like 2006/2007, I played a lot of tournaments for fun mostly," Dawley said. "I was trying to make money, but I realized I didn't really know what I was doing. Then I realized my meat and potatoes was cash games. That's how you make it this long in poker, you have to play cash to supplement your income. I played a few tournaments here and there, but I wasn't a tournament player. I didn't know shove charts, I didn't know a lot of that stuff, but last year before the World Series, I figured I would dedicate a lot of my time to tournaments.
"Especially being with 888, it's hard to be a cash game player with 888, because they need people that have notoriety and are seen. So last year I thought I would dedicate more of my time to tournaments, and it has definitely paid off. I'm definitely more in the black with tournaments now than I was in years past where I was sorely in the red."
Now, Dawley is squarely focused on the tournament grind and her eyes are definitely on the prize.
"Leading up to the World Series this year, I've put in so much time in tournaments that my mind is tournament focused. I haven't played cash for a little bit, and that's great for heading into the tournaments here."
Bracelets and poker glory may be what awaits winners of WSOP events, but Dawley isn't about all that.
"It has never been about the ring or the bracelet thing for me," she said. "Honestly, it's always been about the money. I used to be very competitive and I used to play sports. I stopped doing that for various health reasons, but I still always needed a competitive outlet. That's what poker gave me. But I really don't need that competitive outlet anymore. I don't care. If last place paid more than first place money, I would take last place every time. I just don't care. It's all about the money for me.
"I know a lot of people use poker to show off their egos or prove to the World that they are the best. Honestly, in poker there is a lot of luck involved. Yes, some of the top players continue to be up there, but I'm thinking maybe I'll just get lucky this summer. I don't care. I don't feel like I have to prove anything to anybody."
Dawley is certainly going to give herself the opportunity to "get lucky," as she's set to play a full schedule of events at the 2016 WSOP and beyond.
"This summer is going to be the biggest volume of any other World Series I've ever played," she said. "I think I'm slated to play 20 to 25 events. Every No-Limit event, all the $1,000's, $1,500's and events at other properties as well.
"For me, it's kind of a go big or go home situation, and I think it should be. Either you're all in and putting in the full series, playing everything, or you've got one foot in the door and you're kind of always looking back."
Looking forward is apparently what Dawley's all about these days.
"I love the beach," she said. "That's what drew me to Florida from Vegas and before the series this year, I rented a place on the beach where I could wake up every morning and be ten steps from the sand. That's the dream life for me, and hopefully after this summer, after I win a bracelet or go deep in the Main Event, I can buy a place at the beach and live the dream."