Microgaming, Unibet Grow Despite Online Ring-Game Traffic Decline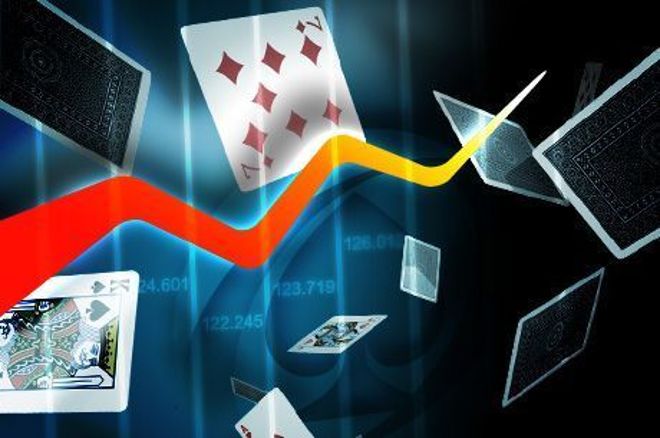 Real money online poker ring-game traffic declined by 18.5 percent from a seven-day moving average of 34,964 concurrent seats on Sept. 20, 2015 to 29,741 seats on Sept. 20, 2016 according to data provided by PokerScout via Poker Industry Pro.
Some of the decline can be attributed to regulation, with many poker rooms exiting several countries, thus decreasing the overall player base and player liquidity. Another reason is a shift in game play among recreational players to lottery-style sit-n-go format now offered by most major online poker networks.
Online Ring-Game Traffic Data
| | Poker Network | Sept. 20, 2016 | Sept. 20, 2015 | Increase/Decrease |
| --- | --- | --- | --- | --- |
| 1 | PokerStars | 12,557 | 15,474 | -18.9% |
| 2 | 888poker | 1,769 | 2,282 | -22.5% |
| 3 | Bodog | 1,316 | 1,750 | -24.8% |
| 4 | Winamax | 1,079 | 1,156 | -6.7% |
| 5 | partypoker | 888 | 937 | -5.2% |
| 6 | PokerStars Italy | 877 | 1,194 | -26.5% |
| 7 | iPoker | 857 | 1,445 | -40.7% |
| 8 | Microgaming | 853 | 659 | +29.4% |
| 9 | Winning Poker | 807 | 553 | 45.9% |
| 10 | PokerStars Spain | 731 | 962 | -24.0% |
| 11 | Unibet | 650 | 475 | +36.8% |
| 12 | PokerStars France | 748 | 598 | -20.1% |
*Based off a seven-day moving average.
Decline in Ring-Game Traffic for the Top Seven
The top seven trafficked ring-game online poker networks all declined in traffic. Despite the declines, there has been no shake-up in the top three spots when comparing online ring-game traffic data year-over-year for PokerStars, 888poker, and Bodog retaining the top three spots.
Ring-game traffic at the world's largest real-money online poker room, PokerStars, declined by 18.9 percent or just slightly more than the industry shrank as a whole. It makes sense that the reduction in ring-game traffic is similar to that of the entire market due to the huge market share enjoyed by the online poker room. PokerStars accounted for 42.2 percent of the real-money ring-game traffic as of Sept. 20, 2016 which is just a small fraction less than the 42.4 percent of the market it owned as of Sept. 20, 2016.
According to VP of Corporate Communications for Amaya Inc. and PokerStars Eric Hollreiser, PokerStars attributed some of its decline to its strategic shift from high-volume players to new and recreational ones with changes to the rewards program made at the beginning of the year.
"As you're aware, we are shifting our emphasis from high-volume cash players to new and recreational players," shared Hollreiser. "This was reflected in our Aug. 12, 2016 Amaya earnings call, where CEO Rafi Ashkenazi said, 'The changes to our poker loyalty program on PokerStars are having the intended effect on our poker ecosystem as we reduced incentives for high-volume players and enhanced the experience for new and recreational players.' As these high-volume players are almost, by definition, cash players, we expected to see a reduction in cash game traffic. During the same earnings call, Rafi also said 'In the second quarter, tournaments continued to comprise the majority of our poker revenue, with that percentage increasing year-over-year as some customers shifted away from cash (game) tables and spent more time (and) bankroll on single and multi-table tournaments.'"
Hollreiser further shared with PokerNews that this shift to tournaments is especially evident with the popular lottery-style Spin & Go games, where players can potentially win huge amounts of cash in a matter of minutes.
"Cash games have always been the specialty of the serious and professional player, whereas tournaments, with the potential of a big payout for a small investment, are particularly attractive to newer and recreational players," Hollreiser explained. "As we shift our focus to those players, it's not surprising that there's a reduction in cash game traffic with a corresponding increase in tournament (including Spin & Go) activity. This is simply a reflection of the changing nature of the game and the player demographic; it's expected and actually a positive sign for the health of our game, community and industry."
Even with this shift, PokerStars remains committed to ring games.
"To be sure, we remain committed to cash games and will be running promotions and innovating in this space in order to increase cash game volumes," Hollreiser said. "You'll see that in promotions, like the successful Card Hunt promotion recently."
888poker witnessed its ring-game traffic declining by 14.7 percent. During 2016, the world's second largest real money online poker room also revamped its loyalty program, before launching its version of a lottery-style game dubbed BLAST later in the year.
Just behind PokerStars and 888poker in terms of ring-game traffic is Bodog, who offers real-money games to players in Canada under its flagship brand name and gray market services to players in the United States under Bovada and more recently Ignition Casino. Some of the decline appears to come from player movement to its main competitor, Winning Poker Network (WPN), who also provides unlicensed services to players in the United States.
While Bodog declined by 24.8 percent year-over-year; over the same period, WPN increased by 45.9 percent. To look at it another way, Bodog declined by 434 ring-game seats while WPN increased by 254 seats.
Bodog could decline even further due to an announcement that Bovada will cease its online poker operations on Sept. 30 of this year, with that part of the business being sold to Ignition Casino. Since Bovada also offers online sports wagering and Ignition Casino does not, many of the recreational sports betters that dabble in poker action might find little reason to also deposit on Ignition Casino. This could cause a further decline as the transition takes place.
Partypoker, who climbed two spots from sixth to fourth place during the year, decreasing ring-game traffic by 5.2 percent. Partypoker also introduced its lottery-style game named Sit & Go Hero at the end of March 2016 and has placed more of an emphasis on its tournament games, evidenced by the growth of its Powerfest festival which grew from $5 million in combined guaranteed prize pools in its February 2016 edition to $10 million in combined guaranteed prize pools in its current version.
Meanwhile, the iPoker Network suffered the biggest decline among major online poker networks with a decrease in year-over-year ring game traffic of 40.7 percent, dropping from fourth to seventh place, according to the PokerScout Online Poker Traffic Report.
Microgaming Bucks the Trend
Despite the biggest online poker networks declining, both the Microgaming Poker Network (MPN) and Unibet Poker were able to buck the trend and increase its ring-game traffic.
MPN's ring-game traffic surged by a huge 29.4 percent helping propel it to eighth place in the PokerScout Online Poker Traffic Report. A month ago, MPN was actually in fifth place for the first time in the network's history.
One reason for the increase was the migration of two major online poker rooms to its network during the first quarter of this year. Grosvenor Casinos migrated from iPoker to MPN and the previously independent online poker room PKR Poker also joined MPN, while still offering its mostly recreational player base its award-winning 3-D software.
While still facing some of the same challenges other online poker networks face, MPN's ring-game traffic is surging because its long-term focus on network ecology is working. During the past year, MPN has created a more friendly environment for recreational players by allowing players to frequently change their screennames to avoid being targeted by stronger players. MPN also introduced a new rake scheme, which effectively lowered rake for the network's lowest-stakes players while increasing rake on its higher-stakes players.
"I think the reason we're growing is that we're focusing on the recreational market without taking anything away from more serious players," said Head of Poker at Microgaming Alex Scott to PokerNews. "Some of our competitors have made an effort to focus on recreationals too, but they have tended to do this to the detriment of regulars; I believe we have struck a good balance which has enabled us to keep the players we have while also attracting new ones. This approach has in turn helped us to attract new customers to our network, customers like PKR, who joined us in March."
Scott said the network plans to continue its growth in 2017.
"There is a lot to look forward to including a complete overhaul of our software and a whole bunch of new customers joining the network," he said.
Scott also shared that he believes the main reasons (below) for the overall decline in the industry are regulation, player shift to tournaments, and in some cases, less interest in poker.
1) Regulation: For example, MPN does not operate in Portugal due to the unfavorable regulatory environment and we all know the pains of trying to operate in segregated markets like France, Italy and Spain (MPN has exited all of these as we don't feel they are commercially viable).

2) A shift to tournaments: PokerScout is great, but the rankings are based on cash games only and hence they should be taken with a pinch of salt when it comes to ranking operators, especially those who appear close based on cash game traffic. MPN has a LOT more tournament players than cash game players. There has also been an industrywide shift to tournaments, particularly since the introduction of lottery products, like our Fish Party SNG.

3) Loss of interest in poker: In many markets, poker went through a growth phase where it was very fashionable. In Western Europe, that growth phase is over and poker is no longer the 'fad' it once was, so we have to look to other markets for growth.
Unibet Poker Grows Too
While Unibet Poker, sitting in 11th place according to the PokerScout Online Poker Traffic Report, was unable to crack the top 10 spots, it continues to grow ever since migrating away from MPN and creating its own poker network powered by Relax Gaming more than two years ago. According to PokerScout data, online ring games at Unibet Poker grew year-over-year by 36.8 percent from 475 seats to 650 seats.
Similar to MPN, Unibet Poker's focus has been on improving its ecology by making its network more attractive to recreational players than that of its competitors. Unibet Poker prohibits just about any form of third-party software including HUDs, poker tracking software and seating scripts along with providing attractive promotions throughout the year designed to keep players on the grind.
"One of the main reasons we decided to make our stand-alone site was that we were worried about how quickly new players lose today. Existing players are much better than five years ago, but new players are still new," Unibet Head of Poker Andrew West shared with PokerNews. "The increasing skill gap means that a player often doesn't survive long enough to realize that poker is a game they're going to enjoy. That's why the industry is slowly moving towards a recreational player model - it recognizes that new and casual players are much worse off than they used to be."
West said most of the industry is moving towards a recreational model and Unibet Poker is able to do this quicker.
"The measures by most sites are limited so far, but we built our client from scratch with this in mind," West explained. "That's why we don't have table selection or third party programs, but do have modern graphics, alias changes, very low rake at micro-stakes, missions, Challenges, etc."
West said that unless other major players in the industry take a more aggressive approach towards a recreational player model, the decline will continue.
"I expect the majority of the industry to continue to decline for as long as it adopts only a limited version of this strategy," West said. "I predict that the sites embracing it the most over the next 12 months will do the best."
Unibet Poker also expects growth in 2017 with a new poker client on the way . Beta testing is already underway.
"We plan to take these changes even further with the second version of our poker client, which we will release later this year. We expect to improve faster in 2017 than in 2016," shared West.
*Data courtesy of PokerScout and Poker Industry Pro.
Be sure to complete your PokerNews experience by checking out an overview of our mobile and tablet apps here. Stay on top of the poker world from your phone with our mobile iOS and Android app, or fire up our iPad app on your tablet. You can also update your own chip counts from poker tournaments around the world with MyStack on both Android and iOS.