Who Would You Induct Into the Poker Hall of Shame?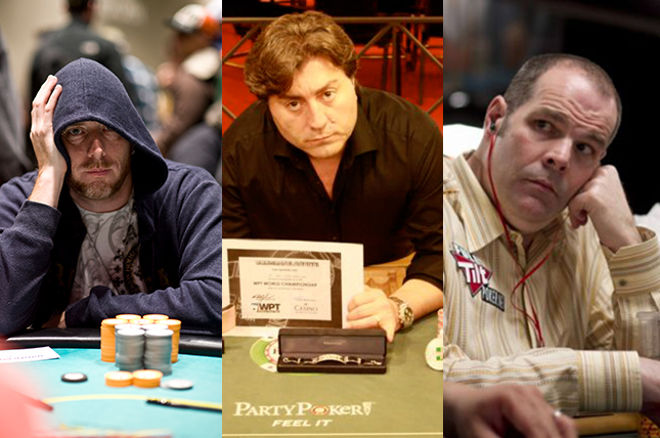 There has been much chatter about the Poker Hall of Fame in recent weeks after the World Series of Poker announced the 10 finalists for the 2016 edition.
It is the same every year once the finalists are announced: The poker community jumps on their soap box and gives their two cents about which players are on the ballot paper but shouldn't be and who has been snubbed (rightly or wrongly).
Everyone has a different opinion regarding who should be inducted into the Poker Hall of Fame, but one thing is for certain: None of the names below will ever be put up in lights, that is, unless the WSOP decided to create a Poker Hall of Shame.
Here are eight possible nominations for a Poker Hall of Shame.
Russ Hamilton
Russ Hamilton was named the main beneficiary of the Ultimate Bet scandal after an investigation by the Kahnawake Gaming Commission (KGC), a scandal that effectively stole more than $22 million from Ultimate Bet's customers with the help of a "super user" account.
The KGC said in its statement it had found 117 user names held by 23 accounts and that "the vast majority of the computer devices and IP addresses used by the cheating accounts were directly associated with Russell Hamilton. The vast majority of the cheating accounts transferred money through Russell Hamilton's player accounts."
In May 2013, audio recordings were released where Hamilton and his management team can be heard discussing the scandal and their plans to cover it up. During one of those recordings, Hamilton is heard saying, "I did take this money and I'm not trying to make it right, so we've got to get that out of the way real quick."
Hamilton won the 1994 WSOP Main Event for $1 million and his weight in silver.
Ray Bitar
Ray Bitar is the former CEO of Full Tilt Poker and was at the helm when Full Tilt had its operating license revoked by the Alderney Gaming Control Commission, then ultimately shut up shop. Full Tilt owed its customers $443 million, which to this day still hasn't been fully refunded, despite PokerStars making the funds available to the U.S. Department of Justice after it acquired Full Tilt's assets.
Bitar was arrested by U.S. authorities in 2013, his first return to the states since "Black Friday," and charged with a number of internet gambling offenses. Bitar pleaded guilty to the charges, spent a mere seven days in jail and was forced to hand over his assets, which were rumored to include $40 million in cash.
The fact that Bitar was a Class IV heart transplant candidate spared him additional jail time, but less than three years later, photographs emerged of Bitar's million-dollar wedding with him looking very much alive and well.
Annie Duke
With almost $4.3 million in live tournament winnings, Annie Duke finds herself third in the female poker players' all-time money listings, yet it is not her poker prowess that she's likely to be remembered for.
Duke was long associated with Ultimate Bet, representing the brand at live events among other duties, and even renewed her deal after the cheating scandal was revealed. In an interview with than PokerNews Editor-in-Chief John Caldwell, Duke said she was confident all of the "bad apples" from the old Ultimate Bet management were gone from the company after it was taken over, but this was not the case at all.
Duke, the sister of Howard Lederer, was also involved in the now-defunct Epic Poker League which promised a PGA-style league with tournament overlays and a $1 million freeroll. It never made it through its inaugural season, filing for bankruptcy with liabilities of $7.9 million and with only $38,000 in cash holdings.
Christian Lusardi
Christian Lusardi is currently serving a five-year jail sentence after he was found guilty of a counterfeit chip scandal in January 2014. Lusardi was competing in the Borgata Winter Poker Open, an event PokerNews was reporting on, when the tournament was suspended and then canceled after it became apparent fake tournament chips were in play.
Forty-three-year-old Lusardi was caught after his attempts to flush 494 T,500 and nine T25,000 fake chips down the toilet in his room at Harrah's Casino Hotel blocked the plumbing.
Lusardi was ordered to pay $463,540 to Borgata, $9,455 damages to Harrah's and sentenced to five years in jail for counterfeiting.
Jennifer Larson
Jennifer Larson was the founder of Lock Poker, another U.S.-facing online poker site that is no longer in business. Lock Poker aggressively marketed itself as a viable option for U.S.-based poker players wanting to play the game online.
However, it appears there was a severe lack of available funds at Lock Poker as was evident by not one U.S.-based player receiving a requested withdrawal for more than 12 months.
While Lock Poker's customers were left in limbo as to the whereabouts of their funds, it is alleged that Larson was living the high life using first-class travel and $500 bottles of wine with every meal.
Ali Tekintamgac
Germany's Ali Tekintamgac is another poker player unlikely to be inducted into the actual Poker Hall of Fame considering how he is in the middle of a three-year jail sentence for cheating at the poker table.
The Turkish-born German player came to the media's attention in 2010 when he won the World Poker Tour Spanish Championship in Barcelona for €278,000, then was denied his seat in the Partouche Poker Tour Main Event final table in Cannes later that year following allegations of cheating.
Tekintamgac enlisted the help of a spotter who posed as a member of the poker media, caught glimpses of Tekintamgac's opponents' hole cards and relayed the information to him.
Tekintamgac pleaded guilty during his trial when he faced charges of fraud and later was accused of running an international cheating ring. A judge at Augsburg District Court sentenced Tekintamgac to three years and five months behind bars on July 11, 2014.
Howard Lederer
Howard Lederer was one of the founders of Tiltware LLC, the company that launched Full Tilt Poker in 2004. Seven years later, Full Tilt was shut down by the U.S Department of Justice with the company owing $443 million to poker players, although Lederer earned a staggering $42 million from Full Tilt during that time. They had funds to pay Lederer and his fellow board members but not their players.
The poker community may never forgive Lederer for not revealing the bad shape the company was in when he and his fellow board members had the chance, something he could have done as revealed in his exclusive interviews with PokerNews known as the Lederer Files.
Had the Full Tilt scandal never happened, Lederer could have found himself in the actual Poker Hall of Fame due to his charitable activities and his WSOP bracelets and WPT titles.
Scott Tom
Scott Tom may not be a name that online poker players are familiar with, but perhaps the alias "POTRIPPER" is.
POTRIPPER was the Absolute Poker account that made a crazy ten-high call against "CrazyMarco" who held a nine-high, in a $1,000 buy in tournament. CrazyMarco felt he had been cheated by POTRIPPER and requested a hand history file for the tournament, which he received but didn't analyze until a few weeks later.
Upon investigating the hand history with fellow pro Jared Hamby, CrazyMarco proved without doubt that whoever was in control of the POTRIPPER account could see all of the hole cards of his opponent. Later investigations led to the Ultimate Bet/Absolute Poker cheating scandal becoming public knowledge and ultimately saw both companies dwindle into nothingness.
Had Tom not been greedy and decide to make some ridiculous plays, the scam could have remained hidden for months or even years.
It was tempting to add the likes of Chino Rheem and Erick Lindgren, among others, into this article, but their "crimes" to the poker world are more geared towards individuals rather than the poker community as a whole. With that in mind, the most obvious omission is the U.S. government for sneaking the UIGEA onto the back of the Safe Port Act to create Black Friday, but let's not stir the hornet's nest on that one, we don't want to CIA abseiling down the outside of PokerNews HQ now, do we?
Which poker player or entity would you induct to the Poker Hall of Shame from this list? Who did we miss? Let us know in the comments box below.
The views and comments in this article are by the author and do not necessarily reflect the views of PokerNews.com