PokerStars Festival NJ: Gagliano Wins Six-Max, Moneymaker Bags on Kickoff Day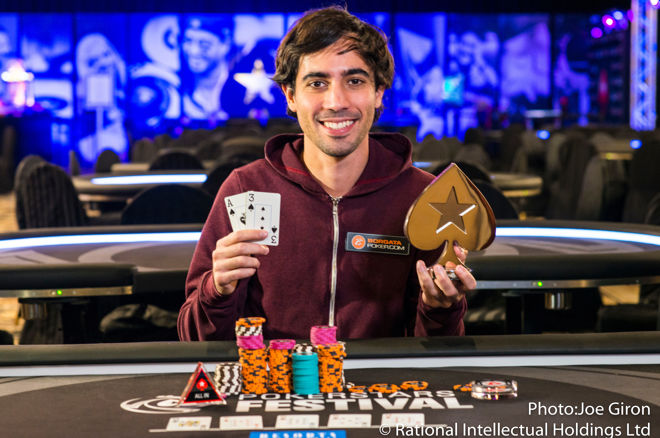 The PokerStars Festival kicked off today with several events, including a $2,000 Six-Max No-Limit Hold'em. The event drew nine players, and after five hours of poker, Michael Gagliano was the last man standing, outlasting the field for a first-place prize of $11,350.
Gagliano found himself on the lower end of the leaderboard early on when he flopped bottom two pair and ran into top set. However, his climb to the top began shortly thereafter. A short-stacked Darren Elias raised all in from the small blind with
and Gagliano woke up with kings in the big blind. His hand held up, and from there, Gagliano found two more crucial double-ups to take the chip lead.
Facing a raise and a call before him, Gagliano three-bet shoved with
. Jason Rivkin looked him up with
and Gagliano's hand held up once again.
With four players remaining, Gagliano was the smallest stack of the bunch, but won a crucial race against Jonathan Little to seize a chip lead he would never relinquish. Facing a raise and an all-in reraise in front of him, Gagliano called all in for 31 big blinds with
, racing with Little's
. Gagliano paired his queen on the flop and further improved to a flush to score the double. He eliminated Little a few hands later and David Vamplew shortly after that.
The king-queen hand gave Gagliano pause. He admitted in the immediate aftermath of the hand that he wasn't sure about his play. He reiterated that when speaking with PokerNews as he headed to collect his payout.
"I still don't know if it was the right call," he said. "I'll have to do a bunch of math later and try to figure it out. I know he shoves wide in those spots. It's probably the worst hand I'd put in there."
A key factor was the bubble. The next two players out would receive nothing, but if Gagliano was able to chip up in that high-leverage spot, he would be in great shape to cash. As he was the shortest stack, he felt compelled to gamble a little bit.
"With two paying, the jump from third to second is bigger than the jump from second to to first," he explained. "But, I was still the shortest so I figured I'd go with it. I'm gonna be shown a lot of small pairs and ace-ten, ace-five type of hands and I'll be ahead against a lot of other hands, too. I think it's a call but I think it's close."
The spot ended up working out for Gagliano and he wound up with about a 2-1 chip lead over Eli Ross going into heads-up play. Gagliano took it down a few minutes later when his
bested Ross'
.
Gagliano won a bracelet this summer for the first time, taking down the $2,500 No-Limit Hold'em event for a career-best $448,463. Despite his recent success in the live arena, he's perhaps best known for being one of the premiere online tournament players in the regulated New Jersey market, where he can be found regularly at final tables playing as "Gags30".
It should come as no surprise, then, that Gagliano qualified for the $1,100 Main Event here via an online satellite. In addition to firing that, he plans on checking out the games in the StarsFun Skills Zone and playing a number of the smaller turbos and side events, plus the high rollers, if the fields are looking good to him.
The return of PokerStars to U.S. soil is a welcome development in New Jersey for Gagliano, who hasn't played a European Poker Tour since 2012, if his memory serves.
"It's good for them to be back," he said. "Hopefully, the rest of the series will be good. They've got a nice room set up and I'm looking forward to seeing what PokerStars has to offer New Jersey."
PokerStars Aiming to Maximize Fun
One of the key concepts of the PokerStars Festival ideas, as outlined by the world's online poker leader, is making the events more than just a series of poker tournaments. Of course, there's a slew of events on tap, including the Main Event, a $5,000 High Roller and a number of smaller tournaments and turbos for those who don't want to grind long hours or take a big hit to the wallet. But, the promise of non-poker fun is certainly on the horizon as well, as PokerNews reported early Sunday.
"Overwhelmingly we just want people to have a bit of fun," said PokerStars Department Head of Live Poker Operations Neil Johnson. "You hear people say all the time that the fun is missing from poker a little bit and that's what we want to change."
Today, PokerStars staff began putting together the StarsFun Skill Zone. There, a number of games will be available, some of them featuring paid daily tournaments and others strictly for the entertainment of the players. Basketball hoops, pinball machines, mini golf, foosball and darts are some of the options available. Things promise to get underway in there Monday.
Skills-based gaming has been a bit of a hot topic in the industry in recent years and PokerNews will bring coverage of PokerStars' take on the idea when the room officially opens.
Chris Moneymaker Bags in PokerStars Cup
The $340 PokerStars Cup got underway with the first two of three starting flights. At the time of writing, Day 1b was still underway, but Day 1a saw a couple of PokerStars Team Pros punch tickets to Day 2.
Chris Moneymaker ran his 15,000 starting stack up to 69,200 and was one of eight players to survive the opening flight out of 41 runners. Victor Ramdin joined him with an even bigger stack of 111,000. Je Wook Oh, fresh off a chop of the World Poker Finals, bagged the lead with 128,700.
Moneymaker's legend was obviously built on going from a PokerStars satellite to 2003 World Series of Poker Main Event champion, so he's a fitting participant in PokerStars' landmark return to the U.S. He and the rest of the players return to the felt Monday evening for Day 2.
Finding a trustworthy room to play online poker can be a monumental burden. That's all the more true if you're just looking for a place to play poker for free. We've listed five of the best play-money poker sites to enjoy and help hone your skills.