¡Vamos Felipe Ramos! From the Slums to Playing Poker For Millions With Neymar (Part 2)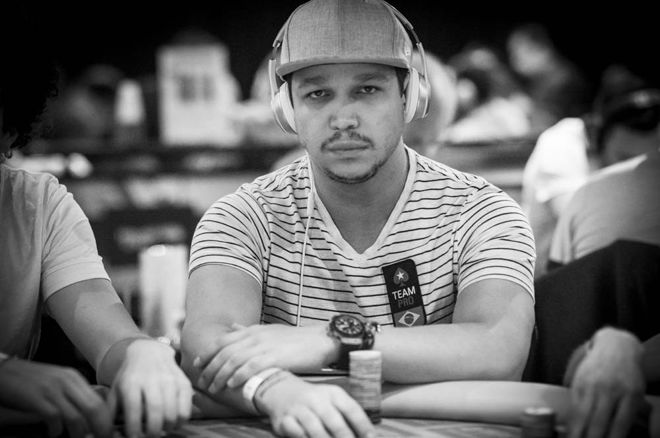 Yesterday we published Part 1 of ¡Vamos Felipe Ramos!, the profile of one of Brazil's most popular poker players: Felipe Ramos. We pick up the story in 2009 as Ramos goes to Las Vegas for the World Series of Poker.
Ramos, the Omaha Expert
The following summer, Ramos traveled to Vegas and made his first World Series of Poker final table in the $5,000 PLO event. On top of being the first Brazilian on a final table of a $5,000 event, he was also the first Brazilian to make the final nine in a Pot-Limit Omaha tournament. His deep run ended in sixth place for $67,663 and propelled him into the role of Omaha expert in a country just discovering the game.
Ramos, by now already writing strategy articles for numerous Brazilian poker magazines, wrote pieces on all the games he knew from five-card draw strategy to Stud game tips. Fan favorites were his pieces on Omaha. By the time the first Omaha tournament was organized at the Brazilian Series of Poker, Ramos was welcomed as the Omaha specialist. In fact, he remembers entering the tournament room and seeing half the participants reading the Omaha strategy article Ramos had written for Bluff Brazil.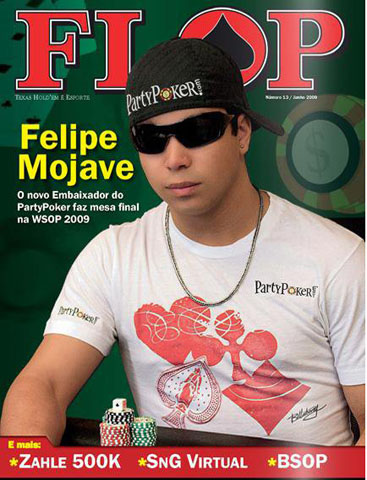 Partypoker saw Ramos' talent and signed him as a sponsored pro. Besides playing poker wearing their patch, he continued to write strategy articles for Brazilian poker magazine Flop, World Poker Tour Magazine and CardPlayer Brazil.
He did this not to gain some additional income, but to be more valuable to his sponsor. On top of that, he helped grow the game of poker in Brazil. For the first time, content in Portuguese was available and the poker market was officially under construction, especially as Ramos made his articles available for free on his website.
After making his first WSOP final table in 2009, Ramos followed it up with deep runs in tournaments all over the world. He cashed in the first World Team Poker event, made the final table of the English Poker Open in 2010 and became the first Brazilian WSOPE finalist, finishing seventh in the PLO event at the WSOPE in London. His star kept rising, as he went on to become the first Brazilian WSOP Circuit event champion lifting the trophy in South Africa.
Ramos wanted to upgrade his game and decided to move to Las Vegas. He wanted to play more live games outside of his online play and found Sin City was the place he needed to be. Even though Ramos was living in Las Vegas, his ever-growing fan base at home closely followed his results.
Ramos was one of only a few making headlines in his home country.
"We had very good local players that were better than me, but I was certainly on the rise," Felipe said. "I for sure was one of the most international players at that time. I wasn't the best; that was undoubtedly Alex Gomez who had won a bracelet in 2008 and had won the WPT Bellagio Cup the following year."
Ramos was still living in Las Vegas when Black Friday hit the poker world, the day the U.S. Department of Justice closed down the three biggest poker sites. Ramos, having left partypoker to join Full Tilt Poker as a red pro just before, had $60,000 stuck on the site. On top of that, he was owed a lot of money by the company for expenses he had fronted. He would never see that money again. Now, unable to play online in Vegas anymore, he moved back to Brazil.
Six months later, Ramos found a new sponsor in Lock Poker that also contracted Chris Moorman and Annette Obrestad. After the Full Tilt Poker debacle set him back considerably, Lock Poker would prove even worse. He left the company after a year. All signs pointed to the site going belly up.
As he left the company, he warned many followers and fans to not deposit any money on the site he had represented. Ramos himself, though, had $130,000 on the site and would never be able to cash out. It was another bankroll he would never recover, another big hit to his poker career.
Despite the setback, Ramos traveled to Vegas for the World Series of Poker. He made another two deep runs, finishing 10th in the 2011 $10,000 Seven Card Stud Hi/Lo Championship for $43,317 and took home another $41,637 finishing 14th in the $10,000 Pot Limit Omaha Championship.
Ramos was still playing all over the world, but whenever he was home in Brazil, he played as many local tournaments as possible. He added another 21 cashes in Brazilian tournaments in the years that followed, making numerous final tables and winning the Super High Roller Event in his hometown of São Paulo in 2013 for $100,000, the biggest score of his career to date. With every Brazilian flag on his Hendon Mob page, his fan base grew. With every update on social media, his legion of devotees expanded.
Hanging Out With Neymar
As Ramos' fame rose in Brazil and the game got more and more popular, he got into contact with a lot of people. One of them was Tomate, a huge star in Brazil known for playing during carnival, having a gathering of thousands and playing for sold out stadiums.
Ramos was a huge fan and was dumbfounded when Tomate messaged him, asking if he wanted to come by to play some poker.
"I said really, WTF?" Ramos said. "This is so nice! I'll never reach this guy normally. In other circumstances, this guy is so out of reach for someone like me. And now he contacts me? This is crazy!"
Tomate wasn't even the biggest star that Ramos was hanging out with, as the world soon found out he was friends with Neymar Jr., the captain of Brazil's national soccer team and star player of FC Barcelona these days. The two of them had friends in common and Ramos was soon enough teaching one of the country's biggest celebs poker at his place.
Ramos didn't tell anyone; the two were just friends and he wasn't going to show off knowing someone as famous as Neymar. After Neymar tweeted a photo, though, the "secret" was out. The already starstruck fans of Ramos had one more reason to adore their idol; he was hanging out with the crème de la crème of Brazilian celebrities.
Aprendendo um pouco mais com meu parceiro @FelipeMojave !!! ️️️️♠♥♣♦#Poker http://t.co/sLUqzlSZqQ

— Neymar Jr (@neymarjr)
After Neymar's tweet, Ramos' cell phone exploded with messages and his fanbase grew instantly with hundreds of poker fans from all over the world. Neymar's tweet and Instagram message showing him playing poker with Ramos, on top of his vocal support for November Niner Bruno Politano the year before, didn't go unnoticed.
Fans of the soccer player all over the world now knew he liked poker. Some of them must have been working for PokerStars because, in May of 2015, the world's biggest online poker room and one of soccer's biggest stars signed a sponsor deal. As Neymar's poker coach and friend and one of the biggest stars in the booming Brazilian market, it was only logical for PokerStars to sign Ramos at the same time, putting him in the roster of 'Friends of PokerStars' initially. Today, Ramos is a fully fledged Team PokerStars Pro, representing Brazil together with André Akkari and Team Online'sCaio Pessagno.
Numerous (former) sports stars had signed with poker companies in the years before, but it seemed most of them were just looking for some additional income after retiring, not really being invested in poker all that much. A lot of critics regarded PokerStars signing Neymar under that same umbrella. Ramos knew better.
"Neymar was and is a big enthusiast of the game," he said. "I mean, he named his dog "Poker," that should tell you enough. He really wants to play poker. He's different than some other guys that are just endorsing the game for money. He truly loves poker!"
Ramos remembers one of the first times the two talked about poker. Neymar Jr. already knew all the basics but he played it like most beginners: too loose when the stacks were deep, too tight when the stacks got more shallow.
"The first time I gave him some lessons I told him he had a crappy hand, but since he was on the button and the blinds were high, shoving to try to steal the blinds wasn't too crazy an idea," Ramos said. "He didn't understand at first because I had taught him what good hands were and what were not. The next orbit, though, he was on the button and he open-raised. Both blinds folded and he showed seven-deuce. He's was like 'Yes! This is what you mean right?!' He loved it!"
Ramos went to many of Neymar's matches, even after he made the transfer from Santos to Barcelona in 2013. Neymar, not shying away from a little superstition, believed Ramos brought good luck and insisted his friend be there when he played in the final of the Champions League in Berlin in June of 2015.
Ramos was happy to be in the stands for one of the world's biggest one-day sporting events, but he wanted Neymar to return the favor. And so the two friends agreed: Ramos would attend the 2015 Champions League Final between F.C. Barcelona and Juventus to support Neymar and Neymar would visit Ramos if he would make a deep run on poker's biggest stage, the World Series of Poker Main Event.
Ramos flew back to Vegas and had a little warmup with a deep run in the $3,000 PLO Six-Handed event where he finished 10th for $28,374. Ramos entered the Main Event on Day 1c, ending the first day with 38,550.
As the second, third and fourth day crawled on, it was clear Neymar had to make good on his word. Ramos entered Day 5 with 1,115,000 in chips, placing him in 56th position of the 237 remaining players. Neymar would have to return the favor.
As Ramos was sitting on one of the outer tables in an Amazon Room getting emptier and emptier, the railbirds suddenly got very excited.Neymar had entered.
While most Americans didn't recognize one of soccer's biggest stars, players and railbirds from all other countries were well aware. Neymar made good on his promise and supported Ramos for some time before the crowd got too big. Then he left his friend to concentrate on his game. Not before, of course, Phil Hellmuth snuck in a selfie or two.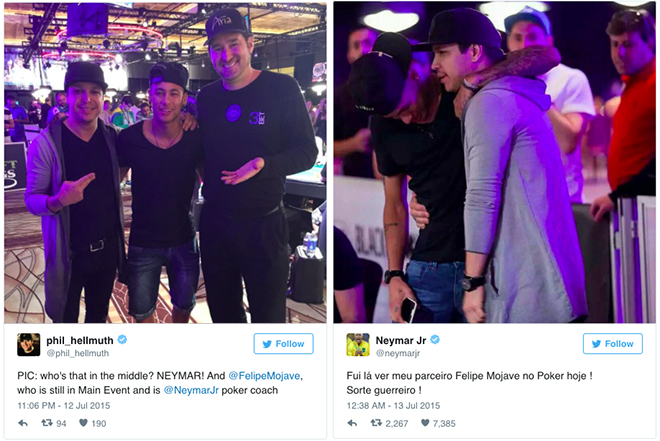 While Ramos had brought Neymar good luck in his Champions League Final (Neymar scored, F.C. Barcelona won), it didn't work the other way around. Ramos busted not much later after Neymar left the Rio All Suite Hotel & Casino. Ramos finished 136th of 6,420 entrants, good for $46,890.
Close But No Cigar
Another deep run, but the vuvuzelas still didn't have to come out for Ramos. He didn't have a seat at the November Nine final table yet, he had no bracelets and he had no plaque on the coveted WPT trophy. He's had plenty of chances to score big, but so far failed to close.
These weren't conceived as failures by Ramos though. He sees them as tests for his mindset.
When Ramos started coaching other players, that was one of key bullet points he had in his slides. Early success might even be a bigger danger to a player's career than going broke early on.
"Recovering from beats and struggling to become a winning player are better ingredients for a long poker career than a huge score early on that might blur someone's objective vision," Ramos said.
Still no title, though.
"I am one of the pros without a big title, that's true," he said. "I consider myself a good player, so I don't think it's really missing. I see these people's careers with one big result and then a whole lot of nothing. They play too big of games; they get over confident. I have some good results, but I'm still humble. I understand that if I keep getting close time after time, at one point I'll win one. Or two or three in a row. I don't care. Starting out with a peek is sometimes bad; my way, really grinding, is better I think. I like the consistency I have and I wouldn't trade it for one big score."
Consistency is something Ramos can certainly claim. Of his nine years in poker, eight years were profitable.
"I lost in 2011; that wasn't a good year for me" he said. "Even then, it wasn't even that bad. People watching me might think I'm always winning, but that's not true. Poker has a lot of variance. Even though I consider myself a player that copes with variance better than most, I think it's important to make this clear to people. So people that follow me on social media also share in the downs I'm experiencing."
While it surely wasn't just Ramos doing all the work with his seminars and coaching sessions, poker is booming in Brazil these days. The BSOP Main Events attract huge numbers and the yearly BSOP Millions R$3,000 Main Event had a US$367,829 first-place prize just last year.
If you look online, Brazilian Joao Pires Simao leads the PocketFives ranking of best online players. Poker is huge in Brazil and Ramos is one of its biggest stars.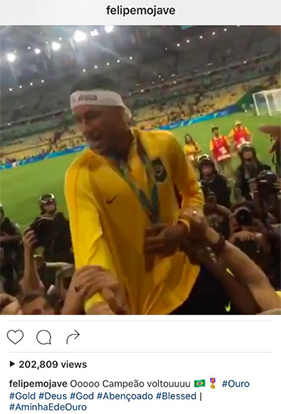 His over 31,000 followers on Twitter, 68,000 followers on Instagram and even bigger following on SnapChat, cheer him on whether he plays live or online and whether he wins or loses.
"I understood early on that I needed to give a lot of value to the company that's sponsoring me," Ramos said. "They don't want me to only play and do well; they want me to gather players and represent their brand the best I can."
If there's one thing Ramos is doing well besides playing the game, it's getting people enthusiastic about the game.
"I'm so grateful to people that follow me only because they like me," he said. "Poker is an individual game. No one is supposed to cheer for you, but still they are. I have this with fans from the beginning; its a relationship. I'm forever grateful!"
It's ingrained in the Brazilian culture to be enthusiastic and vocal about supporting people from Brazil, but it's no longer just Brazilians rooting for Ramos on social media. Besides updates in Portuguese for his Brazilian supporters, Ramos also does most of his updates in English and Spanish.
"I'm being very overwhelmed and surprised that people are getting inspired by me," he said. "When I'm producing more content in English and Spanish, I get this from other regions as well. Yesterday I got a message from a Dutch guy following my snaps; it's insane. That's so awesome, you know. I see the same attitude from everywhere now. People say '¡Vamos!' to me. The Brazilian way, our nature of being supportive, is contagious!"
---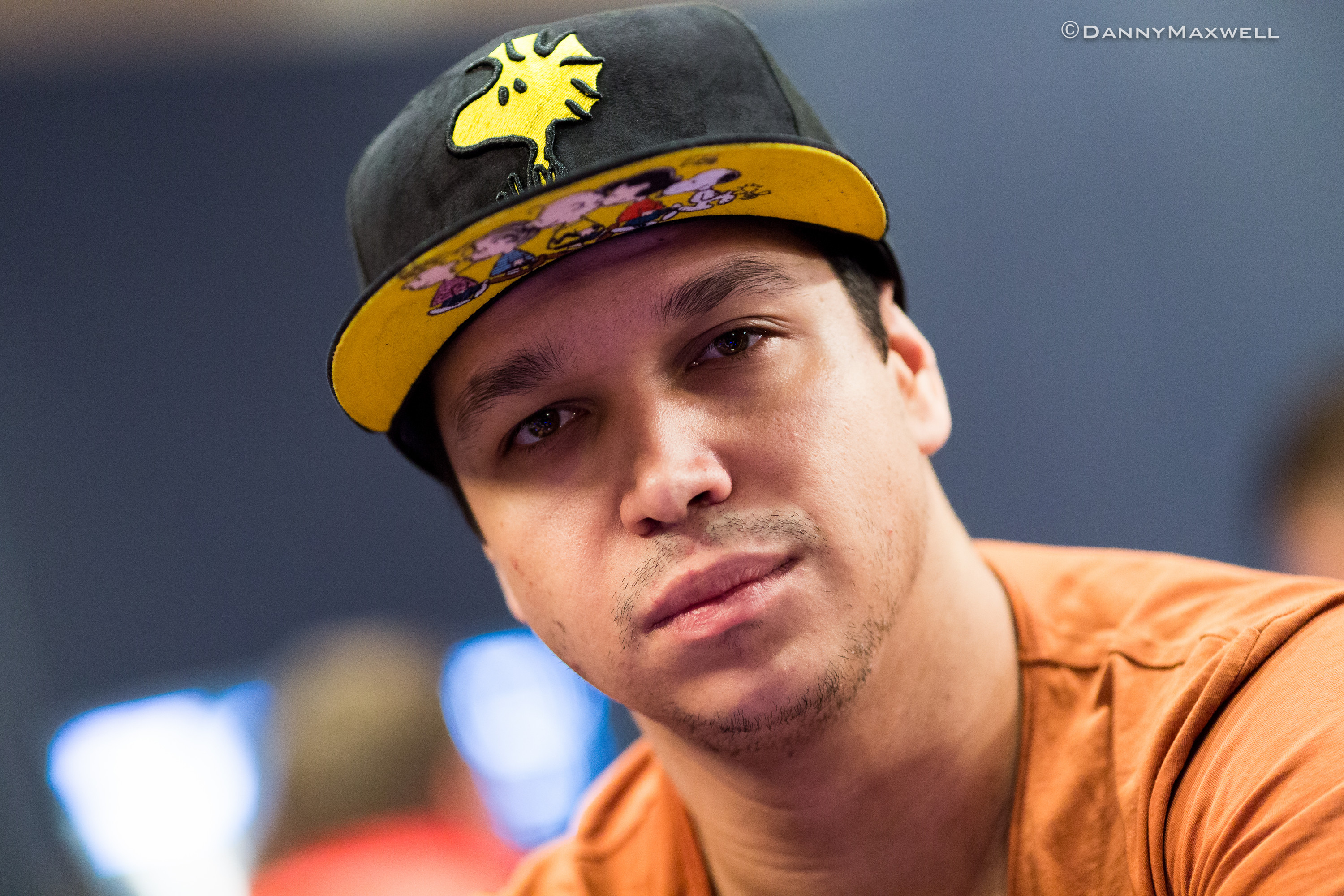 Photos by Danny Maxwell (PokerNews) and Alin Ivanov (World Poker Tour).
---
Be sure to complete your PokerNews experience by checking out an overview of our mobile and tablet apps here. Stay on top of the poker world from your phone with our mobile iOS and Android app, or fire up our iPad app on your tablet. You can also update your own chip counts from poker tournaments around the world with MyStack on both Android and iOS.