UK Qualifier Living The Dream at PokerStars Festival New Jersey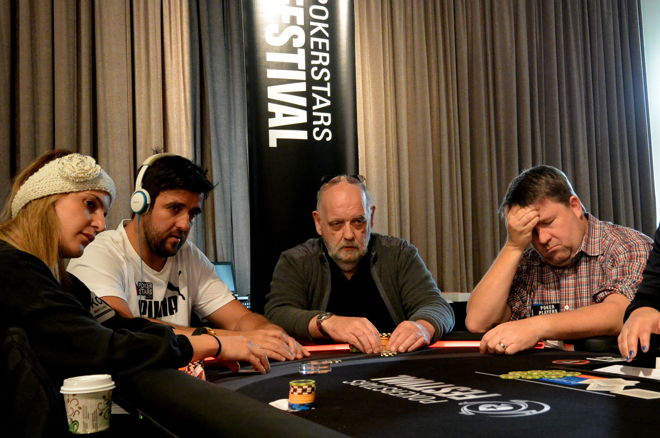 It may seem like a long way from the Northwest of England to Atlantic City, but PokerStars has helped bridge that gap this week.
Before Black Friday forced the world's largest online poker site out of the US market, it bridged a lot of gaps, offering American players the chance to qualify for big live events at great destinations around the world for pennies on the dollar.
It's one of the things many U.S. players say they miss most about the site, but with PokerStars' online product returning to New Jersey earlier this year and its first live event on U.S. soil in almost six years going off in Atlantic City this week, it's something that's coming back in a big way.
Dozens of players have qualified online for the PokerStars Festival New Jersey Main Event, which kicked off at the Resorts Casino Hotel on Wednesday. Of those who qualified online, 73 came from the New Jersey site and three came from the global PokerStars site, including one from Liverpool, England.
"I was at home playing a couple of tournaments and happened to see there was a qualifier," explained Peter Smyth, 60. "There were three packages and only 10 or 11 people in. I've been to Atlantic City before and I've got good memories of being here, having cashed in a couple of tournaments at Borgata. I haven't played much live poker in while, so I thought, why not? There were 12 players in and you could reenter once, so basically, if nobody else came into it, there was a big overlay and I was lucky enough to win one of the packages."
Smyth, who is a SuperNova player on PokerStars, hasn't had much luck with early side events on the schedule, but he's certainly enjoying Day 1a of the Main Event and some of the perks only a PokerStars event can offer.
"At the moment I'm sandwiched between two PokerStars pros," he said with Chris Moneymaker on his left and Andre Akkari on his right. "I'm the meat in a PokerStars pro sandwich. There's a Scottish pro in seat one as well, so it's really a triple decker."
The field is relatively small, with under 70 registered at the time of publication, but with the concentration of pro players and PokerStars Team Pro members, Smyth says it's a tough one.
"That's the only problem," he said. "Today is a 68-player field and for a $1,000 buy-in, this would have to be one of the strongest 68-player fields there's ever been. There's a bunch of Team PokerStars Pros and a lot of other pros here as well. Really, I'm just pleased to be here."
Now retired, Smyth comes from a gambling background, having worked as a trading director for one of the largest gambling companies in the UK, deciding what bets they booked and what betting strategies they took. In retirement, he's played a lot of poker, and although he's got close to $200,000 in live tournament earnings, his experience is mostly online.
"I went through a stage where I played a lot of live poker, but I don't think I've played much in five years," Smyth said. "It's so much easier to sit at home. I'm 60 now, and it is, it's just easier to play from home. I can play a $1,000 tournament every night of the week from home in my slippers and pajamas as well. But I do like the traveling."
To that end, Smyth has won seats to events like the Aussie Millions and the World Series of Poker through online satellites in the past. He's also recently taken a few shots at December's European Poker Tour Prague event, although he has yet to win a seat.
"It's obviously not a free way to travel, in the sense that you're going to enter some tournaments and not qualify, but for a poker player who is keen to play live occasionally, it's great to have the opportunity," he said. "You have to be very careful when you sit at home playing. It's very easy to spend hour after hour in front of the screen. Sometimes, before I know it, I've played 13 hours in a row sitting at home. So it's nice to get out to play a little live poker now and again and get away from that for a while."
Smyth likes to mix up his online poker game with live games so he can interact with people.
"It's also a lot more social. I told those guys I was the meat in a PokerStars Pro sandwich and they got a real kick out of it," he said. "You can't do that when you're playing online, so this is really a great way to take a break from all that."
Finding a trustworthy room to play online poker can be a monumental burden. That's all the more true if you're just looking for a place to play poker for free. We've listed five of the best play-money poker sites to enjoy and help hone your skills.