Preview: PokerStars Championship Heads to Macau for the First Time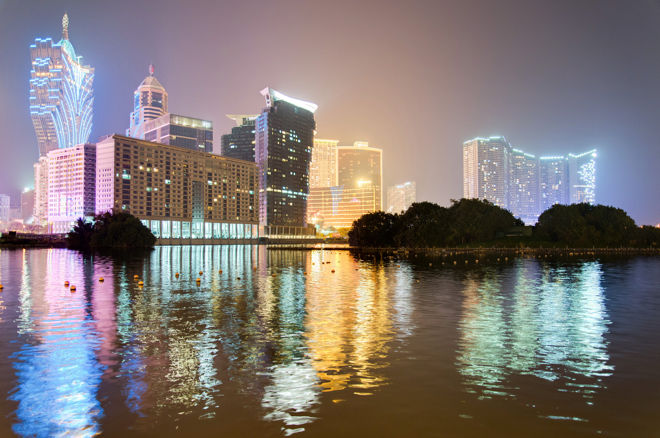 There are a million ways to enjoy yourself in Macau and it doesn't stop at the poker tables.
From gambling to shopping, excursions to entertainment, there's truly something for everyone in the City of Dreams. You can even hit the heights by jumping off the world's tallest bungee jump, like PokerNews' Sarah Herring did in 2013.
If you are focused on the poker, however, then the forthcoming PokerStars Championship in Macau should have an event for you too, whatever your bankroll. Following successful stops of their rebranded tour in the Bahamas in January and Panama earlier this month, PokerStars welcomes players to one of the gambling capitals of the world.
Macau has long been the haunt of cash game professional such as Sam Trickett, Phil Ivey and many others. For years, that cash game scene was one of the best kept secrets in the game, before we spoke to 'Hong Kong Tom' Hall.
Macau is now a well-known destination for poker tourists, who have become even more familiar with it in recent days thanks to PokerStars Team Pro Jake Cody's latest vlog from Macau (below).
Bridging the Gap
Macau sits to the west of the Pearl River and is bordered by China. Just 40 miles from Hong Kong, Macau is an autonomous state. It is one of the richest places on Earth, and its economy isn't just welcoming to gambling, but reliant on it, with Macau the center of the gambling world to millions.
But it's not just the 'Vegas of the East.' If you were to live in Macau, you'd have one of the highest life expectancies based on your location. Maybe statisticians haven't been one-outed on the river!
The Macau Peninsular itself is one of the most visually stunning places on Earth, and added to the fact that the weather is likely to be subtropical, Macau brings the heat in every way.
Dreamers Awake
The venue for the PokerStars Championship Macau, City of Dreams, is a stunning complex set in a leafy area of what is a sprawling Eastern hub. There are luxury hotels for an extravagant stay, with shopping, dining and theatrical and cinematic entertainment all around.
Although Macau may not be totally familiar to fans of the European Poker Tour, the venue was regularly visited by thousands of players on the Asia Pacific Poker Tour (APPT). British player Sam Razavi enjoyed playing that tour so much he won their Player of the Year on numerous back-to-back occasions, advocating both personal and professional success when he married and moved out to Cebu in the nearby Philippines.
The Absent Champion
Before we tell you why the Top 10 tournament winners from Macau's City of Dreams are not quite as reflective as you might think, take a look at the complete list.
Top 10 Players at City of Dreams, Macau
| Position | Player | Country | Earnings at City of Dreams |
| --- | --- | --- | --- |
| 1 | Niklas Heinecker | Germany | $4,456,885 |
| 2 | Jeff Rossiter | Australia | $3,313,990 |
| 3 | Steve O'Dwyer | United States | $2,342,316 |
| 4 | Sorel Mizzi | Canada | $2,117,452 |
| 5 | Isaac Haxton | United States | $1,721,667 |
| 6 | Pratyush Buddiga | United States | $1,617,441 |
| 7 | Zheng Tang | China | $1,613,367 |
| 8 | Ryan Fee | United States | $1,282,975 |
| 9 | Yuan Li | China | $1,131,793 |
| 10 | Andjelko Andrejevic | Serbia | $1,125,722 |
While the German Niklas Heinecker is the biggest winner in Macau's tournament history, his cash of $4,456,885 for winning the 2013 GuangDong Asia Million event, beating Jeff Rossiter (second on the list) heads up, was his last live tournament cash.
That could mean either Steve O'Dwyer (third) or Sorel Mizzi (fourth) could overtake such names and establish themselves as the benchmark for tournament players in Macau with victory in a Main Event or Super High Roller.
O'Dwyer already told us he plans on playing a lot of tournaments in the next few months.
PokerStars Championship Macau Schedule
The tournament action kicks off with the PokerStars National Championships between March 30 and April 3, costing HK$8,800 to enter and having a HK$2,00,000 guarantee.
There is also a PokerStars Cup for the third consecutive leg on the tour, which is a bargain HK$3,300 to enter and kicks off a day later than the National Championships, ending on April 3 too.
The PokerStars Asia Open is a two-day tournament on April 2 and 3 which costs HK$5,500 to enter and has a HK$100,000 guarantee, while the second shot clock tournament of the festival takes place on April 4. A one-day tournament, it costs HK$206,000 to enter. For players with a limited bankroll, there is a three-day event between April 7-9 costing HK$2,200 to take part.
Cash games are legendary in Macau, with the stakes available varying from low to the ultra-high stakes of legend. There is a huge cash game scene in the City of Dreams and the biggest pots of the festival will undoubtedly be at the cash tables during the PokerStars Championships.
Here are the highlights of the schedule that PokerNews will provide live coverage for during the third PokerStars Championship. The Main Event winner will be crowned on April 9.
| Date | Event | Buy-in |
| --- | --- | --- |
| April 1-3 | HK$400,0000 Super High Roller (Shot Clock) | HK$400,000 |
| April 3-9 | PokerStars Championship Main Event | HK$42,400 |
| April 4 | HK$206,000 Single-Day High Roller | HK$206,000 |
| April 5-6 | HK$82,400 PLO High Roller | HK$82,400 |
| April 7-9 | HK$103,000 High Roller | HK$103,000 |
Need-to-Know Basis
The minimum age for players in Macau is 21 years old. You'll want to make sure that you have the necessary funds on you if you're flying into Hong Kong from around the world. The only direct flights into Macau come from Asian countries.
The Hong Kong to Macau ferry costs between HK$180-300 and changes very frequently, but there are two terminals. Unless you're staying for more than a month, you shouldn't need a Visa.
After exciting events in both the Bahamas and Panama, Macau is surely going to be a stop on the rebranded PokerStars Championship tour that once again captures the imagination of some of the biggest and best players in the world.
Lead image courtesy of Tristan Schmurr/Flickr