Calling the Clock with Tito Ortiz Sponsored by KO Watches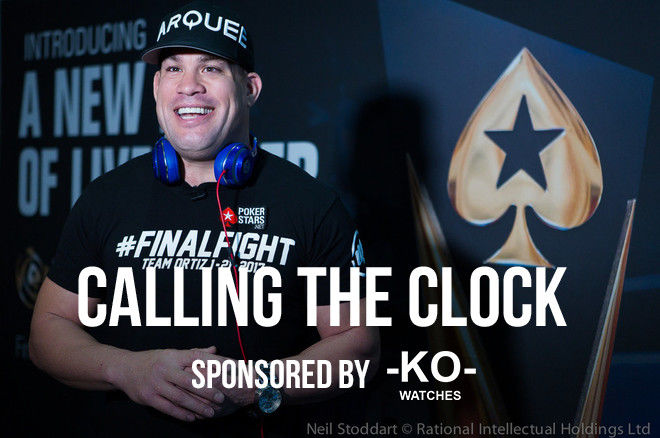 Beginning as a cutting-edge brand active in design, manufacturing and distribution of quality-finish watches from young Mexican entrepreneurs, KNOCK OUT -KO- Watches works to distinguish itself with its quality and clean design, allowing people to use time they have as they wish and without interruption. With our sponsor, KNOCK OUT -KO- Watches in mind, we're now going to "Call the Clock" on Tito Ortiz.
PokerNews' Sarah Herring called the clock on Tito Ortiz, giving him two minutes to answer as many questions as he can at PokerStars Championship Panama.
Paige VanZant or Miesha Tate?
Miesha Tate.
Best thing about being a fighter?
The feeling of glory.
Worst thing about being a fighter?
Injuries.
Favorite person from Celebrity Apprentice?
Lennox Lewis.
What was your worst injury?
L45S1 in my lower back.
No idea.
That's only eight surgeries that I've had. That's actually two bottom disc vertebras fused together.
No big deal. He just keeps it going. Sitting at a poker table –
It's actually easy to sit down and do this instead of being on my feet all the time, so it helps.
Yeah, that's a hard life you're living. If you were putting on a fight card right now, who would headline?
Conor McGregor.
And?
He knows how to sell a fight. Look at him, he's fighting Mayweather so it's easy money.
Conor McGregor versus me. Let's go. OK. Most starstruck you've ever been?
Reggie Jackson.
Who would you hire to be your poker coach?
Gosh, that's a hard one.
He doesn't need a coach.
I really don't need a coach because it would take away from the game as I really play it.
Who would you most want to fight in poker?
Daniel Negreanu.
What's your proudest accomplishment?
Having my children.
I can get that, maybe. Hottest Disney princess?
Hottest Disney princess? I don't know even know any. Wow.
OK. Favorite Disney movie?
I have both boys, so it's totally different. Umm, Lion King.
What's the biggest misconception about you?
People see me as a fighter as being a bad boy, but I'm an honest man who's just really nice to people, I think.
Just a teddy bear.
A big teddy bear.
What's your go-to karaoke song?
Favorite karaoke song…
Give us a little taste.
It has to be "Straight Outta Compton."
Oh!
Yes.
Such as?
[indistinct] named Ice Cube. I'm down with the Niggas With Attitude. I got my bought off and my sawed off. Squeeze the trigger and bodies are hauled off.
When the clocks stops, time comes to life. Get your hands on a Knock Out -KO- watch right here.
Everybody needs an account at one of these online poker rooms! They're the biggest, the best, and we get you the best poker bonuses. Check out our online poker section for details on all the online poker rooms around.