Brothers in Cards: Hinkles Reflect on Hold'em Success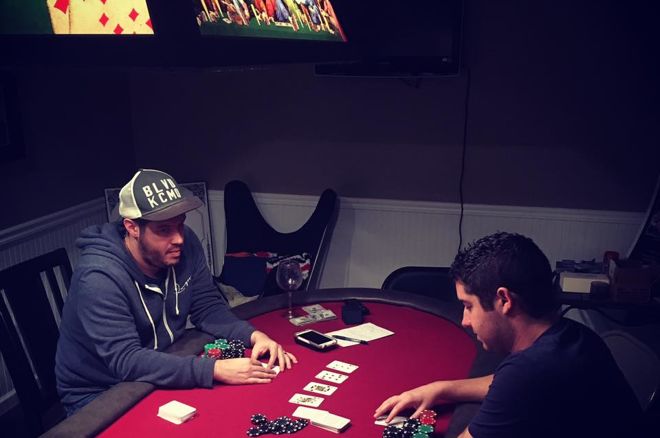 Grant and Blair Hinkle are among the most successful poker-playing siblings in the game and the Kansas-born cardsharps have been on quite a run recently.
36-year-old Grant works as a risk and compliance management consultant specializing in governance, but does some serious poker-playing on the side. In January, he won the $1,675 WSOPC Choctaw Main Event for $375,427 and his career winnings now sit at $1.6 million.
His younger brother Blair, 31, won the HPT Thunder Valley in October for $223,411 and the $1,125 NLHE WSOP Circuit event in Council Bluffs, Iowa, for $26,181 in April.
Blair boasts $4 million in tournament winnings. The Hinkles grew up in a competitive, card-playing family, and learned to play in their father's neighborhood game that rotated to different homes.
PokerNews spoke with the brothers, who have one WSOP bracelet each, about poker and growing up in the Hinkle home.
What makes your brother such a good poker player?
Grant: Blair has always excelled at math and strategy. When he was in high school he would take a bus to a local college to take advanced math courses his high school didn't offer.
He is great at quickly adjusting to his table and coming up with a strategy to extract chips based on his opponents' playing styles and tendencies. He also has great observational skills that allow him to pick up on many subtle differences in his opponents' movements or betting patterns when they are strong or weak.
Blair: Well Grant has a lot of characteristics that make him a great poker player. I would say his strongest are his aggression and game flow recognition. He really does a great job of mixing in just enough bluffs and then switching gears at just the right moment.
I really love when he is applying a lot of pressure to the table and then picks off a bluff from a player that finally decided to fight back.
Out of 10 heads-up matches between you guys, who would win and why?
Grant: Blair would probably win seven out of 10. He is a much better player than I am. I would be more likely to make a big mistake and he would be much quicker at adjusting to whatever style I am playing. I would win some just from the variance involved, but he would not be an opponent I would feel comfortable playing in a serious heads-up match.
Blair: That's a tricky one. I have more experience in heads-up sit & gos, but he has been running hotter as of late. I'll still give myself the slight edge and say I win six out of 10.
You guys are competitive. Did you guys ever fight growing up? Any stories about doing anything particularly crazy?
Grant: Yes. I am six years older than Blair and was into pro wrestling from ages 8-12. I would practice the wrestling body slams and suplexes that I learned on him.
Later on I invented a game called "Beat up Blair" where we would start chanting that over and over again. He would take off running and we'd chase him all around the house.
We were pretty good kids so mostly it was normal sibling arguments or fights that would get us in trouble. Nothing too crazy related to trouble.
Blair may have gotten in more trouble with our younger brothers as they were all closer in age. I can remember peanut butter war inside the house and some BB gun fights in which they were allegedly involved.
Blair: I'm not really sure if you could call it fighting as I am six years younger; it was mostly me getting my ass kicked. Grant created the game "Beat up Blair" and recruited my two younger brothers to participate. That didn't go well for me.
One thing I do remember was wrestling with Grant and getting destroyed, but I never gave up. He kept getting me in head locks and telling me to tap out, but I was determined to beat my older brother.
Eventually he got worn out and just gave up on it. That felt like a win for me! I think that type of mentality has helped me a lot in life and in poker.
I can't think of much that we got in trouble for. I was always following him and wanting to do what he did. I basically accepted any chores he wanted me to do so that I could hang around him and his friends every once in a while.
Then he went off to college and myself and younger brothers moved to Kansas City. Grant and I didn't really bond as much until the poker boom hit and we were both getting into it at around the same time.
Any other memories stand out growing up?
Grant: Blair and I spent our summers growing up at our Papa Animal's crazy exotic animal farm in Kirksville, Missouri.
Our grandpa was a doctor and then in retirement started an exotic animal farm that had zebras, camels, llamas, ostriches, emus, fainting goats, zedonks, elk, antelope, African deer, buffalo, miniature donkeys, exotic birds, coatimundis and the occasional dangerous animal like a young lion or bear that needed a temporary home from an animal control capture.
We would "help" him do chores in the mornings, which meant riding around on the four wheeler with him.
Then the rest of the summer days would be filled with our cousins swimming, playing hide and seek around the barns with baby camels and zebras giving away our hiding spots or marathon sessions of kickball in the yard – save for the occasional road trip to the next exotic animal sale or our cousin's baseball tournament.
Blair: This memory keeps popping into my head for some reason. When we used to play baseball, Grant created a backstop out of some lawn chairs and then would have me stand in the box while he would pitch.
He would throw it as hard as he could from about 60 feet away. Needless to say, I got beaned a lot. That year I started playing machine-pitch baseball. For some reason I always flinched at the plate as the machine pitched. Needless to say, I only played one year of baseball growing up.
The Hinkles will be back in Vegas next week no doubt looking for a bracelet each, minus the "Beat up Blair."