Inside Gaming: Demolition of Fremont Landmarks Scheduled, NJ Revenue Up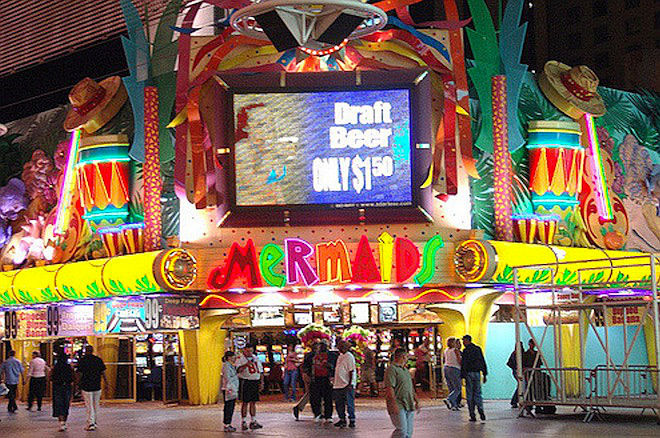 This week's installment of Inside Gaming shares news regarding the scheduled demolition of a block of buildings in downtown Las Vegas including two long standing casinos (now closed), reports on a positive month of May for Atlantic City, and follows up on the story of a woman who thought she won nearly $43 million in a New York slot machine only to be rewarded with a steak dinner.
Demolition of Las Vegas Club and Mermaids Set for July
Vital Vegas this week shared an update regarding activity happening in downtown Las Vegas, specifically the block bordered by Fremont and Main where the currently closed Las Vegas Club, Mermaids Casino and Glitter Gulch gentlemen's club are located.
Demolition of all three structures, along with a parking garage, two more towers and an office building, is scheduled to begin in mid-July in order to make way for the building of a new hotel-casino by owners Derek and Greg Stevens. The Stevens brothers currently own and operate both The D Las Vegas and Golden Gate Hotel & Casino, also located in downtown Las Vegas.
The multi-phase leveling of the block's structures is scheduled to be completed by November 2017.
Preparation for the demolition has involved careful handling and planned-for restoration of some iconic signage associated with the properties, including the famous "Vegas Vic" and "Vegas Vickie" neon signs. Some of the signs will go back up, while others will be given away as part of the new casino's promotions, explains Vital Vegas.
One other interesting piece of business also will be happening at both the Las Vegas Club and Mermaids prior to the demolition. Both properties will be reopened temporarily later this month to offer brief periods of slot play in order to satisfy a gaming regulation requirement that slot play be made available to the public at least eight hours every two years.
For those curious to make one last visit to the two clubs, the planned-for temporary opening is set to occur June 27-28.
The Las Vegas Club first opened way back in 1930 and was the site of the first neon sign on a hotel-casino in Las Vegas. The Las Vegas Club closed in August 2015. Mermaids first opened as the Silver Palace in 1956, going through several name changes before becoming Mermaids Casino in 1999. Famous for fried Twinkies and other sweet treats, Mermaids closed its doors in June 2016.
New Jersey Casino Revenue Up for May
On Wednesday came a new monthly report on casino revenues from the New Jersey Division of Gaming Enforcement, and the numbers were positive as the state's casinos collectively enjoyed a 2.5 percent increase in revenues year-over-year.
Revenue from the seven operating casinos totaled $208.3 million for May, up from $203.3 million in May 2016. Not counting the now-closed Trump Taj Mahal (which closed in October 2016) the increase is even higher among the seven casinos — 10.7 percent year-over-year.
Adding to the boost was online gaming revenue, up 27.3 percent over a year ago to total about $21.1 million for the month.
Casino revenue is up for the year-to-date as well, with the $971.8 million through the first five months of 2017 representing a 1.8 percent increase.
"With a solid performance to date and now on the cusp of the busy summer season, the Atlantic City casino industry seems well positioned to capitalize on these positive trends," commented NJDGE director Dave Rebuck as reported by the Press of Atlantic City.
Looking at individual casinos, only Bally's Atlantic City was down for the month and just slightly, decreasing 0.3 percent.
Meanwhile Caesars Atlantic City enjoyed the largest percentage increase of 23.6 percent, followed by Tropicana Casino & Resort Atlantic City's 20.7 percent increase. As usual, the Borgata led the way with its casino win of over $68.3 million, nearly a third of the overall total.
Woman Sues New York Casino for Not Awarding $42.9 Million Slots Win
Last November we shared the story here of a patron of the Resorts World Casino in New York who thought she'd hit a $42.9 million jackpot on one of the casino's slot machines, but was informed instead that the machine had malfunctioned and she would not be collecting the windfall. As a consolation, the casino offered her a free steak dinner.
At the time the patron, Katrina Bookman, and her lawyer indicated their intentions to file a lawsuit against the casino. On Wednesday they followed through on that intention, filing a suit alleging Resorts World Casino was "negligent" with the maintenance of their machine and caused "mental anguish" to Bookman, reports CNN Money.
The complaint additionally names the casino's parent company Genting New York LLC and slot machine maker International Game Technology as defendants. Bookman's lawyer "says he plans to seek at least $43 million in damages."
Photo: "Mermaids, Fremont" (adapted), Mark Hardie, CC BY 2.0.
Everybody needs an account at one of these online poker rooms! They're the biggest, the best, and we get you the best poker bonuses. Check out our online poker section for details on all the online poker rooms around.