Inside Gaming: Wynn Palace Slow Start Affect 3Q Numbers; Cubs Win Means Sportsbooks Lose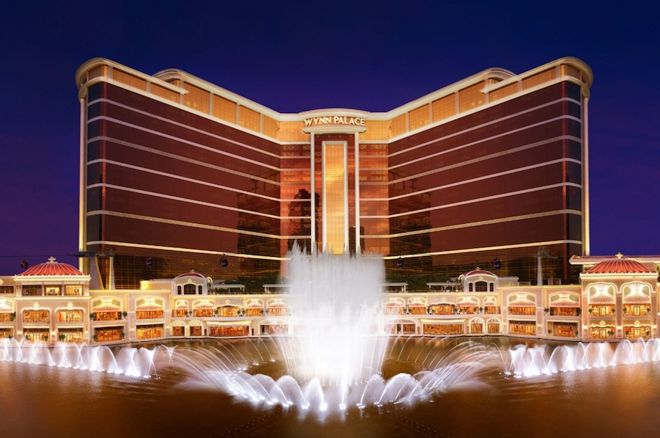 This week's installment of Inside Gaming tells of lower-than-expected performance by Wynn Resorts for the third quarter thanks largely to its Macau operations, reports on who the sportsbooks were rooting for in Game 7 of the World Series, and shares the story of a $42.9 million slot machine win that wasn't.
Wynn Resorts Reports Disappointing Third Quarter for Macau
Yesterday shares of Wynn Resorts stock fell markedly following the release of disappointing third-quarter performance numbers the day before. According to CNBC, the 3Q report shows Wynn's Macau operations took a hit thanks to the lackluster performance of its new $4.4 billion Wynn Palace on the Cotai strip that opened in August.
Says Wynn Resorts President Matt Maddox, "the ramp-up at Wynn Palace is clearly taking a little longer than expected."
Industry analyst Harry Curtis alluded to the saturation of the Macau market being at least one cause for Wynn Palace's slow start. He also described "Wynn's lack of mass marketing" as a "mistake" when considering the "fierce competitive dynamics in the market."
The parent company's adjusted earnings were up 9 percent for the quarter year-over-year, up to $305.4 million from $279.9 million. Meanwhile adjusted earnings for Wynn Macau (Wynn's other Macau operation) were down 7.3 percent from $162.8 million to $151 million, and on the whole 3Q numbers came in decidedly below projections, thus prompting the stock fall on Thursday.
CDC Gaming reports on a conference call from Wednesday afternoon in which Steve Wynn additionally highlighted ongoing construction around the Wynn Palace involving the building of a light rail and work on other hotels as having negatively affected Wynn Palace's early performance.
"What we have is an anomalous situation where we are currently being enclosed by either barricades or construction blockades of one kind or other," said Wynn, adding that such work has "tended to isolate our property on all four sides and has made access to the Palace highly encumbered."
Not everyone necessarily believes the nearby construction issues are the issue. Responding to Wynn's "rant," SFGate presented Macau numbers for other operators being hurt by the opening of multiple hotel casinos over the last two years.
"So maybe this isn't about construction," suggests SFGate. "Maybe it's about the fact that there are too many tables for too few gamblers."
Collectively, Macau casinos experienced their first positive revenue month in over two years in August, then enjoyed even-better increases of 7.4 percent in revenue in September and 8.8 percent in October, giving hope to some for a turnaround following the lengthy slide, although many observers are wary about being overly optimistic just yet.
Meanwhile, following the hit to Wynn Resorts stock yesterday its price has rebounded in early trading on Friday.
For more on Wynn Resorts' 3Q, see CNBC.
Cubs Win! Cubs Win! Vegas Sportsbooks Lose
Did you watch the thrilling Game 7 of the World Series in which the Chicago Cubs ended a 108-year title drought by beating the Cleveland Indians 8-7 in 10 innings? It was a game that could excite any baseball fan, regardless of whether they had any money riding on the outcome.
That said, there were many who had a little extra investment in the game Wednesday night, including Las Vegas sportsbooks who could be forgiven for having rooted for a different result. As David Purdum reported this week for ESPN, gamblers were betting big on the slightly-favored Cubs heading into Game 7.
One sportsbook operator, CG Technology, had taken more than three times as much money on Chicago than on Cleveland. Meanwhile at the MGM's sportsbook the difference in the amount of bets placed was about 2-to-1 in favor of Chicago.
When the Cubs were down three games to one in the World Series, several sportsbooks had taken additional bets on Chicago at long odds, which added further to the loss when the Chicago completed the comeback. No team down 3-1 in a World Series had managed to win since the Kansas City Royals did it in 1985.
Even so, William Hill avoided paying out some big futures bets to a couple of bettors betting on Cleveland to win the World Series before and during the early part of the season.
Meanwhile, the Cubs have already opened as big favorites to repeat as champions in 2017, with the Westgate Las Vegas sportsbook listing them at 3-1, well ahead of the Los Angeles Dodgers, Washington Nationals, and Boston Red Sox, all at 10-1.
Read more about why the sportsbooks weren't so glad about the Cubs' win at ESPN.
Queens Gambler Thinks She Wins $42.9 Million, Only Gets Free Dinner
Finally, from ABC News comes the story of a slot machine player in the Resorts World Casino in New York who for a few fleeting moments thought she'd hit a $42.9 million jackpot, but alas all she got was a steak dinner.
Katrina Bookman had already begun to think about how she was going to spend the money on her family after believing she'd hit the jackpot in late August. But as casino representatives determined at the time and the New York State Gaming Commission ultimately confirmed, the slot machine had malfunctioned and thus the reported win was an error.
"Malfunctions void all pays and plays," is the disclaimer appearing on all Resorts World Casino slot machines, who gave Bookman a free meal for the trouble. However Bookman's attorney, Alan Ripka, believes the casino owes his client at least $6,500 — the maximum payout for the Sphinx slot machine she was playing.
"The machine takes your money when you lose," said Ripka. "It ought to pay you when you win."
Bookman has said she plans to file a lawsuit against the casino.
Read more about the big win that wasn't at ABC News.
Photo: Wynn Palace
Everybody needs an account at one of these online poker rooms! They're the biggest, the best, and we get you the best poker bonuses. Check out our online poker section for details on all the online poker rooms around.