Inside Gaming: Pennsylvania House Passes Online Gambling Bill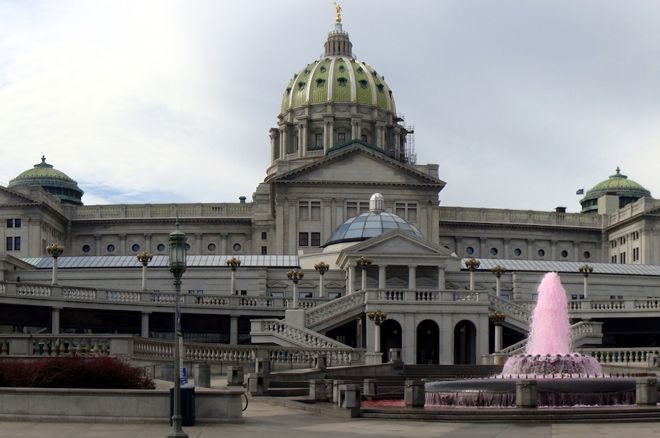 This week's installment of Inside Gaming shares news of new legislation passed by the Pennsylvania House that if made law would significantly expand online gambling in the state, reports on the progress of the TEN Atlantic City casino as a deadline to open approaches, and follows up last week's story of the deadly attack on a Manila casino.
Pennsylvania House Passes Expanded Online Gambling Bill
On Wednesday lawmakers in Pennsylvania swiftly passed legislation designed "to expand casino-style gambling to the internet, airports, bars and elsewhere," reports the Associated Press.
The bill, passed by the state's House by a close 102-89 vote, "represents perhaps Pennsylvania's biggest gambling expansion since it legalized casinos in 2004."
The state's Senate did pass a less expansive gambling bill in May, although it isn't clear whether that body will support the new bill passed by the House, nor whether Governor Tom Wolf will be in favor of the bill either.
One potentially controversial item included in the bill — and not appearing in the one voted upon in the Senate — is the allowance of up to 40,000 slot-machine like terminals across the state, with businesses allowed to operate a maximum of five.
"Most casinos opposed that provision, but largely backed other elements that would let them create an internet portal to bring their games to online audiences," according to the AP.
The bill's House backers argued in favor of the significant tax revenue such additional gambling would generate for the state. As is the case for states across the United States at present, Pennsylvania is in the midst of negotiating a new budget and seeking ways to reduce deficits while not increasing existing taxes.
"There is a lot of good in this bill for everyone," noted Rep. Mike Sturla who voted in favor of it.
Meanwhile opponents to gambling expansion in the state highlight potential negatives associated with making gambling more accessible to more of the state's citizens.
For example, Rep. Gene DiGirolamo opposed the bill, believing an increased proliferation of video gaming terminals "would do further harm to people who don't have money to spare in the form of gambling addition," explains PennLive.
"This has the potential to be a disaster for our children, our families and our communities," DiGirolamo said.
The House-passed bill would allow the Pennsylvania Lottery to provide its games online. It would also provide for the regulation of fantasy sports contests.
Owner of Former Revel Casino, Now TEN, Continues to Hope for June 15 Partial Open
In April we were reporting here how Glenn Straub, owner of the former Revel Casino in Atlantic City that has been renamed TEN Atlantic City, had plans to open at least part of the property by June 15.
That date is now less than a week away, and according to the Press of Atlantic City's reporting this week, Straub remains optimistic about opening "about 40 percent of the former Revel Casino Hotel by June 15." That said, "experts in the hospitality field are doubtful he can make that deadline."
Indeed, among the long list of items remaining on Straub's to-do list is the selection of a casino operator, something Straub says he intends to do this weekend. The new operator will need to be licensed by the state, as Straub himself is not obtaining a license as he'll be acting as the landlord only.
Also still needed is "city permission to open the building and 500 of its 1,500 hotel rooms," something that a city official says shouldn't take more than a couple of days to process. Obtaining a new temporary certificate of occupancy, the hiring of additional staff, establishing contracts with restaurant owners and ensuring the new ropes climbing course that is being installed meets safety regulations are among the other hurdles left for Straub.
While the non-casino portion of the property may be ready to open, observers have expressed doubts about how quickly the casino can be staffed and ready to go.
"Straub conceded he only expects slot machines to be working by the opening, not table games," says the Press of Atlantic City.
Resorts World Manila License Suspended Pending Attack Investigation
Finally, a follow-up on Resorts World Manila, the site of a horrific scene last week that resulted in 38 deaths following a lone gun-wielding attacker committing arson in an apparent botched robbery attempt before committing suicide.
On Friday, the Philippine Amusement and Gaming Corporation (a.k.a. Pagcor) has suspended Resorts World Manila's license to operate "pending investigation and final determination" of the casino's liability for the attack, reports the Philippine Daily Inquirer.
The regulator seeks to determine the casino's "compliance with all security, safety and gaming operations requirements" at the time of the incident.
The casino has been closed since the attack took place last week. Most of the hotels on the property are in operation, save the one to which the attacker fled and eventually killed himself.
Resorts World Manila had already announced an intention to remain closed at least until June 15.
Speaking more generally about casino safety, Pagcor stressed the need "to strengthen security and safety measures and protocols — especially in tourist areas and public places."
Photo: "Pennsylvania Capitol East Wing panorama" (adapted), Niagara, CC BY-SA 3.0.
Finding a trustworthy room to play online poker can be a monumental burden. That's all the more true if you're just looking for a place to play poker for free. We've listed five of the best play-money poker sites to enjoy and help hone your skills.