Ruane, Hallaert on Verge of WSOP Main Event History; 85 Return for Day 6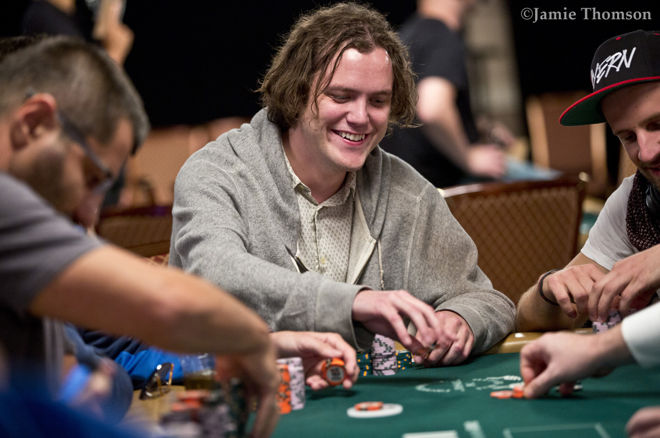 There's something about a back-to-back run to the World Series of Poker Main Event final table that is truly amazing. Maybe it's the big fields. Maybe it's the multi-day, grueling stretch to get there. Maybe it's the immense amount of skill along with the extreme amount of luck it takes to make it there. The last to do it was Mark Newhouse, who finished ninth in both 2013 and 2014.
As Day 6 of the Main Event approaches, we have a chance to see something truly amazing that hasn't been done in the modern day era of the Main Event. Michael Ruane (3,450,000) and Kenny Hallaert (4,370,000) could both return to the final table, just one year after their last appearance. With only 85 players remaining, both Ruane who finished 4th last year for $2,576,003 and Hallaert who finished 6th for $1,464,258 have a chance to do it again.
Ruane said that apart from making a few mistakes at the end of the night, it was an indescribable feeling to be running deep again. "It feels great. I'm just mad right now because I just messed up a few hands at the end of the night. But to be here again is super surreal. The energy you get in the Main Event is like no other tournament you could play. It's super exciting."
"The energy you get in the Main Event is like no other tournament you could play. It's super exciting."
As the day began it seemed as if it might be the Red Wedding for former November Niners. Chino Rheem and Matt Giannetti dropped in the first level of the day, and they were quickly followed out the door by Tom Cannuli who fell before the dinner break. Hallaert also fell to a short stack early in the day, dropping from 4 million down to just 600,000, but he resurged and was able to finish with 4,370,000 chips, pulling in an average stack for Day 6. Along with Ruane and Hallaert, former November Niners Ben Lamb (2011) and Antoine Saout (2009) are returning for Day 6 as well. Saout, who bagged 8,260,000, also made a deep run last year, coming in 25th place.
"The field is different every year," Saout said about his competition this year. "But it's the Main Event and there's a lot of amateurs and some pros. I drew some good tables yesterday. But the deeper you go, the tougher it gets."
Cannuli and Rheem were only a small part of the cast of characters who did not make it through the day. Fan favorite Charlie Carrel made work of the feature table, chipping up to over 5 million chips, but at the end of the night, he ran kings into Alexander Gleenblatt's aces to be eliminated. Carrel, along with the likes of Max Pescatori, Vitaly Lunkin, Randy Lew, Sam Stein, Dominik Nitsche, Aaron Massey, and Davidi Kitai, did not make it through the day.
Another fan favorite to hit the rail today was Mickey Craft. Craft made quite the impression on the tournament over the last five days, and his last day was no exception. He had a rollercoaster of a day, running up his stack to over 4 million, then dropping down to 900,000, only to double back up. It was on his final hand that Craft called a raise from Ruane with seven-deuce offsuit, and flopped top pair against Ruane's overpair. Craft did not improve and he was eliminated from the tournament, but that wasn't the last that he was heard from. Less than an hour later Craft returned bearing shots of tequila for his former tablemates.
"I just want to say thank you to everyone for everything," Craft said. "I just wanted to make a little fun of poker. Whether you go out with king-queen or seven-deuce, it's all for fun. I just wanted to make a little light of these guys day and to say thank you."
"This guy is obviously the most crazy fun dude in the tournament and he's getting a lot of attention and he's just all in with seven-two off."
"I was just thinking that this would just be like some twisted Divine Comedy situation where this guy's destined to hit a two on me," Ruane said about Craft's bust out. "I mean you just play the game, but this guy is obviously the most crazy fun dude in the tournament and he's getting a lot of attention and he's just all in with seven-two off. And I'm like all in essentially and it's like, 'Oh my God, this is like written in the stars that this guy is going to hit a two. I'm sure ESPN would love it … And I'm standing there like, this moment just can't be real, like this is not happening."
Also falling today were the last of the ladies in the Main Event. The day started with Kathy Liebert falling at the feature table. She was followed by Juicy Li, Tracy Nguyen, and Jessica Ngu until Yuan-Yuan Li was the last woman standing. Ironically, Li ran into the queens of Wesley Pantling while holding two tens, and she did not improve. Li's 105th place finish earned her $53,247.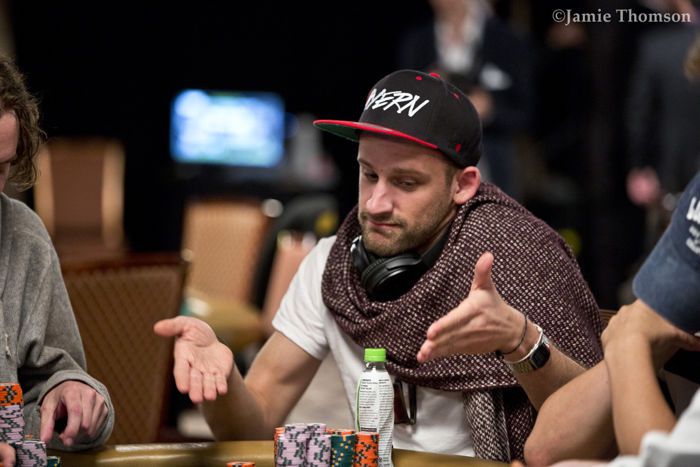 Coming back Sunday as the king of the hill is Robin Hegele. He finished the night with 9,990,000 chips, just under the 10-million-chip mark. Hegele had a beast of a day, starting off quick holding pocket aces against ace-king. From there he moved up and down the chip counts, eventually finishing the night as the chip leader. Trailing close on Hegel's heels is Max Silver (8,665,000), who earned his first World Series of Poker bracelet earlier this year and ran deep in the Main Event last year as well, finishing 33rd.
"I'm surprised that I'm the chip leader," Hegel said. "I did not expect that. Right now I'm super happy playing poker. It's like 'What is the chip lead?' It's just a number. It's just a ranking on the leaderboard."
"The confidence is high in both my limit and no limit games," Silver said when asked about winning a bracelet earlier this year. "But no, I don't think it changes much. I'd like to finally win a bracelet in no-limit hold'em, so maybe this is the one. It was actually a really smooth day. The start was a bit rough when I was kind of short, but from there it was no pots over two million and a lot of medium pots and I chipped up, which was lucky, no stress."
Hegele, Ruane, Silver and Hallaert will join the rest of the remaining players at 11 a.m. PDT for Day 6 of Event #73: $10,000 No-Limit Hold'em Main Event. PokerNews will be here to cover it all, so make sure not to miss a thing as we continue to unfold the story of this year's Main Event.
Everybody needs an account at one of these online poker rooms! They're the biggest, the best, and we get you the best poker bonuses. Check out our online poker section for details on all the online poker rooms around.