Inside Gaming: Japan Considers Casino Regulations, Macau Revenue Up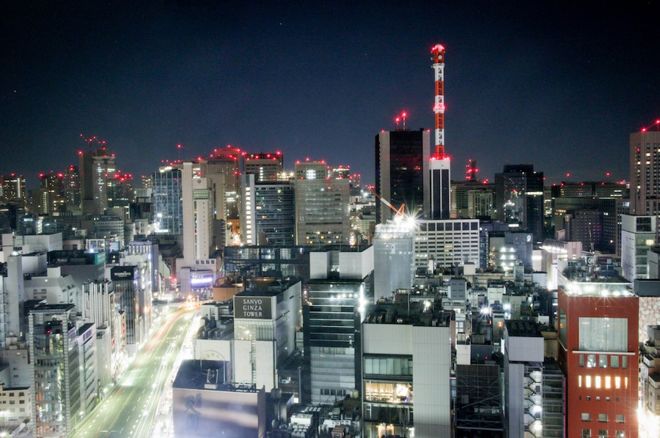 This week's installment of Inside Gaming reports on Japan's tentative efforts to introduce casino-style gambling, tells how the rebound in Macau's gaming revenue has helped the Special Administrative Region as a whole, and shares some of the new recommendations for responsible gaming from the American Gaming Association.
Japan Officials Outline Regulations for New "Integrated Resorts"
Recent news that the World Poker Tour will be holding an event this November in Toyko comes during a week when the industry's attention had already been directed toward Japan. That's because on Monday the Japanese government released "an outline of regulations for so-called integrated resorts, or IRs, that feature casinos," The Japan News reports.
Last December a law promoting such IRs came into effect, a first step toward lifting the country's ban on casinos. That law required the government to submit an "IR implementation bill" within a year, with this week's issuance of regulations being part of that process.
The regulations include numerous guidelines and restrictions that would govern such integrated resorts, including one requiring them "to include casinos, hotels, international convention and exhibition halls, recreation facilities such as museums, and domestic tour desks." Visitors (aside from foreign tourists) will pay "entrance fees" as well, "with the proceeds used for regional revitalization and other public purposes."
There will be limits placed on the number of visits Japanese nationals can make to IRs. There will also be limits on the amount able to be wagered per visit and a prohibition against automated teller machines in the casinos. The regulations also require that "a ceiling will be set on the number of IRs across the country and on their floor space."
A new "casino control committee" will be established in Japan's Cabinet Office that will issue licenses and oversee the IRs' operations. Measures to prevent money laundering and other abuses will be implemented as well, with the IRs also required to develop programs designed to prevent gambling addiction.
The government hopes to strike a balance that will suit both opponents of casino gambling and those who favor stimulating the nation's economy via the introduction of such IRs.
Reuters reports initial response from some foreign operators has been mixed, with some "pushing back against moves to regulate the proposed introduction of big-ticket gambling in Japan." For example, a proposed 15,000-square-foot limit on casinos strikes some as too restrictive and likely to "neutralize the economic impact of resorts."
"The current plans risk missing the mark on achieving public policy objectives," an unnamed casino executive told Reuters, adding that the regulations as proposed would impose limitations "serious enough to halve the maximum investment we're willing to make."
The advisory panel responsible for establishing the regulations is expected to submit its final proposals to Prime Minister Sinzo Abe soon.
Gaming Revenue Provides Government Fiscal Surplus in Macau
Remaining in the Far East for the moment, Macau as a whole enjoyed an economic boost during the first half of 2017 thanks primarily to revenue drawn from gaming-related taxes, reports GGRAsia.
The Macau government fiscal surplus was up 15.3 percent year-over-year during January-June 2017. From a total revenue of MOP54.83 billion over the six months (1H), MOP45.23 billion or 82.5 percent came from direct taxes from gaming. The increase in gaming taxes collected is up 14.2 percent year-over-year.
Casino gross gaming revenue has been up for 2017 1H, up 17.2 percent when compared to January-June 2016.
GGRAsia notes that the credit ratings agency Fitch Ratings Inc "said in February this year it expected Macau's gross domestic prodect to grow by 2.5 percent in 2017 'supported by improving gaming revenues from new casino openings.'"
Last year saw the opening of the new Wynn Palace Cotai in August, followed by the Parisian Macao opening in September. Meanwhile the new MGM Cotai opening has been delayed multiple times, most recently to the fourth quarter of 2017.
According to Macau's Gaming Inspection, and Coordination Bureau, July marked yet another positive month for "Monthly Gross Revenue from Games of Fortune" with a 29.2 percent increase in revenue for the month. That marks a 12th-straight month of revenue increases for Macau's casinos following a greater than two-year stretch of monthly decreases from June 2014 to July 2016.
AGA Updates Responsible Gaming Code of Conduct
Finally this week the industry's most prominent lobbyist and advocate American Gaming Association released an updated version of its Code of Conduct for Responsible Gaming. The AGA hosted a roundtable at Stockton University to present and discuss the recommendations.
The Press of Atlantic City reports that the new measures being suggested to help ensure consumer protection "include enhanced transparency around casino games' odds and payouts; enhanced transparency in advertising; and ensuring advertising and marketing will not misrepresent the probability of winning."
Recommendations from the AGA also cover improvements to ensuring responsible gaming as well as a recommendation to bolster training requirements for casino employees to follow appropriate procedures designed to prevent underage gambling.
"Responsible gaming practices are for everyone involved with gaming," said Russell Sanna, executive director of the National Center for Responsible Gaming and roundtable participant. "Our collective efforts to constantly improve responsible gaming will provide for a healthy industry that benefits local communities and our nation."
The updated AGA Code of Conduct for Responsible Gaming can be accessed on their website here.
Photo: "Cityspace - Toyko," dingcarrie, CC BY 2.0.
Everybody needs an account at one of these online poker rooms! They're the biggest, the best, and we get you the best poker bonuses. Check out our online poker section for details on all the online poker rooms around.