Quan Zhou About Bubbling the WSOP Main Event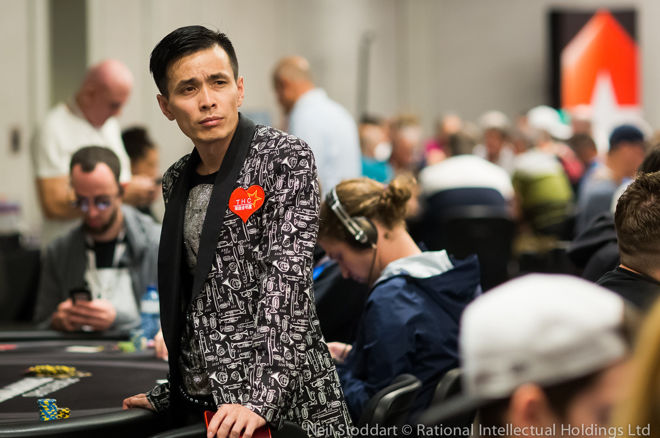 He plays the biggest games in the world, but his name didn't ring a bell for most poker fans. That has changed a bit this summer in Las Vegas. While he cashed in three WSOP events, it wasn't a deep run, final table, or win that secured Chinese poker player Quan Zhou a moment in the poker spot light. It was him bubbling the WSOP Main Event that was seen by the entire poker world.
Zhou is a regular in the Super High Roller tournaments all over the world, not backing down for anyone or any buy in. Here in Barcelona, he's playing the €50,000 Super High Roller to give you just an example of the level of buy ins Zhou is accustomed to.
We talked to him in one of the breaks on Day 1 about the hand that will go down in history as one of the craziest on the bubble of the world's biggest poker tournament. With the help of an interpreter, we got some of the reasoning behind the monster pot that went wrong for Zhou.
The bubble in the WSOP Main Event usually starts around the end of Day 3. In most years, multiple extremely short players eye each other while the blinds keep passing by. Some survive with nothing but an ante left, some are forced to make moves earlier. This year, though, the bubble ended up being a huge bluff in a pot worth 162 big blinds.
Playing 3,000/6,000 with a 1,000-ante, Belgian three-time bracelet winner Davidi Kitai opened under the gun for 14,000.
"I felt I needed to do something back."
"He opened a lot during the bubble; I think he opened like 90 percent of his hands," Zhou said. "He really played every hand. I didn't think he had a real hand."
Despite it being obvious that Kitai was using the bubble to his advantage, not many players were doing anything about it.
"He opened for just like a min-raise," Zhou recalled. "No one was doing anything, so I felt I needed to do something back. I think I have a lot of fold equity there because his opening range is so wide. So I three-bet."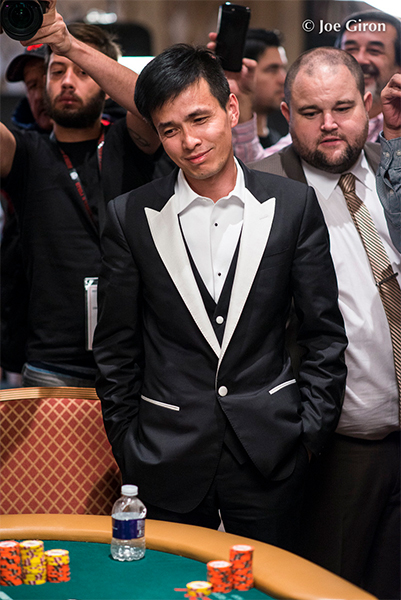 From middle position and with
, Zhou made it 32,000. Action folded around to Kitai who called out of position. The flop came
and Kitai checked. Zhou opted to check behind. "I check big hands behind there as well. Even tens I check behind, and those are in my range as well. If I triple barrel, he will pay a lot. So I checked because the board is quite dangerous."
As both players checked, the pot remained 82,000. The
hit the turn and Kitai led for 27,000.
"I thought that if he had a ten, he would bet more or check-raise," Zhou said.
Zhou chose to raise, making it 70,000 as he saw Kitai still as weak. Kitai wasted not much time calling, growing the pot to 222,000.
As the
completed the board, Kitai checked. Zhou shoved for a massive 376,000 (62 big blinds) into the 37-big blind pot. Kitai snap called. The two had to wait for the cameras to show up before the cards would be revealed. Zhou already knew what time it was, though, he knew he was out on the bubble of the biggest poker tournament of the year, in a monster of a hand.
After some other hands completed, tournament director Jack Effel moved over to Zhou's table, followed by a small battalion of ESPN cameras and poker media from all over the world. The red lights turned on; lights, camera, action!
Effel, never afraid of some spectacle, played showman and asked the players to turn over their cards. Zhou, who was already standing up, showed his
, Kitai tabled
. Zhou had nothing more than the tens on board and ace-high. Kitai had rivered a full house with kings, and Zhou was out.
"I don't care about the money, I'm just disappointed in myself because I made a mistake."
"I thought about that hand a lot," Zhou said, "I think I made a small mistake. Even though it's bubble time, and the guy's open range was very wide, I should've bet smaller. I overbet but I think a smaller bet would've been much better. I made a mistake. I regret it right now."
The money wasn't on Zhou's mind. Missing out on the $15,000 min cash wasn't the end of the world for Zhou who regularly plays in games where the buy in is much higher than that. Still, Zhou isn't happy with his play.
As the cameras started buzzing and tournament director Effel announced the hands over the speakers, all of the attention was on Zhou all of the sudden.
"The guy snap called, so I was a little bit shocked," he said. "I had never experienced that. I don't care about the money, I'm just disappointed in myself because I made a mistake."
To determine who would finish in 1,086th place (nothing) and 1,085th (a buy in for the 2018 WSOP Main Event), Zhou had to play Roger Campbell who was also eliminated on the bubble. Zhou won the blind hand, so he'll return to Vegas for sure next year to try again.
For now, he's concentrating on making his presence felt in the big tournaments at PokerStars Championship Barcelona.
"Now I just focus on the Super High Roller and after that I'll play the Main and the two single-day €25,500 tournaments."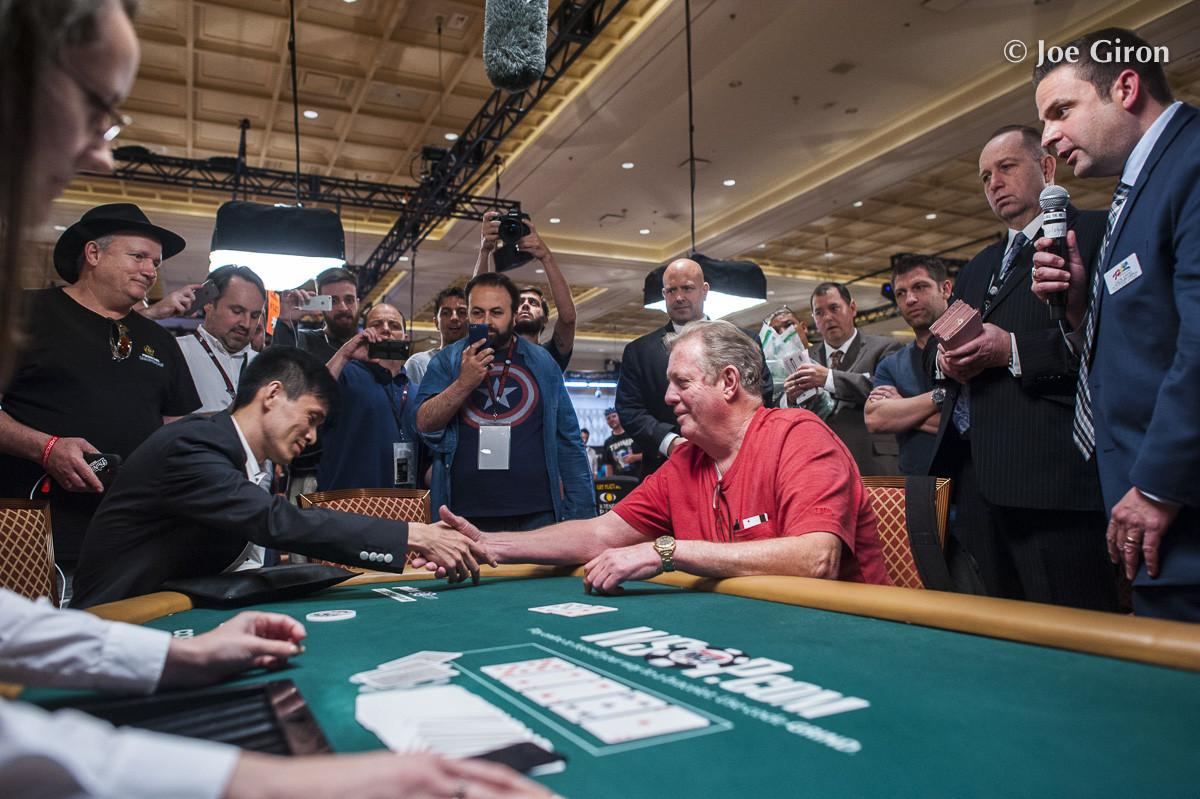 Unfortunately for Zhou, he busted the €50,000 Super High Roller on Day 1 and didn't buy back in. You can read the entire WSOP bust out hand in the 2017 World Series of Poker Main Event live reporting blog on PokerNews: Quan Zhou Bubbles the 2017 WSOP Main Event, Gets $10,000 Seat for 2018 WSOP.
Everybody needs an account at one of these online poker rooms! They're the biggest, the best, and we get you the best poker bonuses. Check out our online poker section for details on all the online poker rooms around.