Kevin Malone Lifts the Trophy at the Cash Game Festival Dublin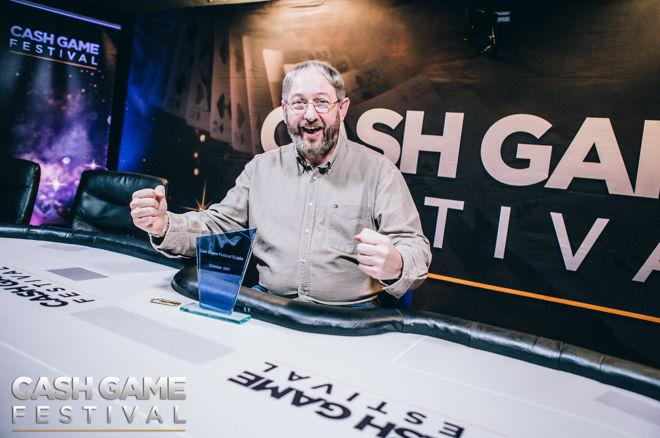 The 2017 Cash Game Festival Dublin at the Village Green Card Club has been a huge success. This is the first time the festival has appeared at a card club and with five tables at peak times, the venue's record for the most cash game tables running at once was tied.
Many different games were enjoyed through the festival including no-limit hold'em, pot-limit Omaha and Sviten Special.
The festival featured 10 televised feature tables — two per day. Ireland's Kevin Malone was the 2017 Cash Game Festival Dublin's most consistent winner at the feature tables by being the big winner on two separate occasions and also notching the two biggest wins in terms of big blinds.
In addition, Malone shipped the second-ever Cash Game Festival trophy for winning the most big blinds during a feature table session. He won two hospitality packages valued at €400 to the 2017 Cash Game Festival Tallinn on Nov. 15-19 at Olympic Park Casino.
Malone's run began when he was the biggest winner at the Day 2 €1/€2 pot-limit Omaha feature table after booking a profit of €1,100. This represented 550 big blinds which good enough for the lead almost the entire festival.
However, Malone didn't stop there. During the very last feature table with stakes at €1/€2 pot-limit Omaha, he won €1,735 (867.5 big blinds) to smash his own previous total. This also represents a new record, beating Jon Kyte's 853 big blind win he nailed down at the Cash Game Festival London when he won £4,265 playing £2/£5 no-limit hold'em.
Irish poker legend Andy Black, who has almost $5 million in tournament cashes including a fifth-place finish in the 2005 World Series of Poker Main Event for $1.75 million, also was among the big winners at a feature table. On Day 2, Black won €1,553 (310.6 big blinds) on a €2/€5 no-limit hold'em feature table.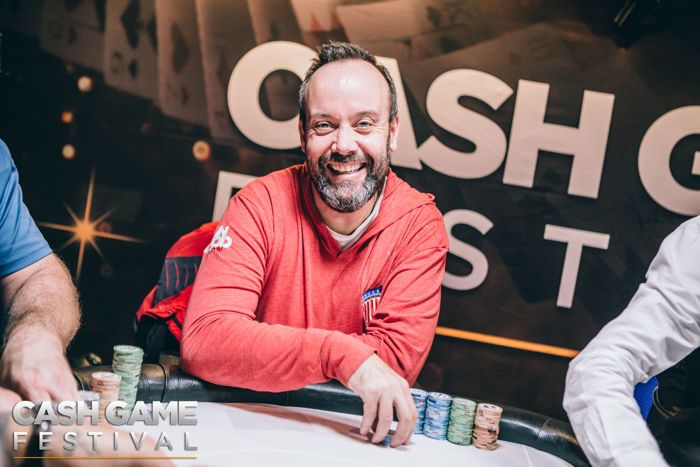 Here is a look at all of the big winners at the 10 feature tables during the 2017 Cash Game Festival Dublin at Village Green Card Club.
| Day | Player | Game | Profit | Big Blinds Won |
| --- | --- | --- | --- | --- |
| Day 1 | Ed Furniss | €1/€2 NLHE | €509 | 254.5 |
| Day 1 | Sascha Koal | €2/€5 NLHE | €794 | 158.8 |
| Day 2 | Kevin Malone | €1/€2 PLO | €1,100 | 550 |
| Day 2 | Andy Black | €2/€5 PLO | €1,553 | 310.6 |
| Day 3 | Gareth McMahon | €1/€2 NLHE | €380 | 190 |
| Day 3 | Jason Tompkins | €5/€10 NLHE | €1,600 | 160 |
| Day 4 | Larry Ryan | €1/€2 NLHE | €656 | 328 |
| Day 4 | Emmeth Hegarty | €2/€5 NLHE | €2,000 | 400 |
| Day 5 | Karol Wojciechowski | €1/€2 NLHE | €502 | 251 |
| Day 5 | Kevin Malone | €1/€2 PLO | €1,735 | 867.5 |
The Cash Game Festival is mostly about poker. However, every festival also features great activities away from the tables where players can bond. New friends were made while old friends from previous festivals got a chance to reunite and catch up. During the 2017 Cash Game Festival Dublin, players with the hospitality package enjoyed welcome drinks, Footsie Golf, a VIP dinner, a night at the greyhound races sponsored by betsafe, and a day at the pub.
Don't Miss Tallinn
If you were unable to make it out to the Village Green Card Club in Dublin, rest assured you will not have to wait long to enjoy the next festival.
The Cash Game Festival will wrap-up its nine-festival season with where it all began in Tallinn, Estonia. Festival organizers are planning for epic activities and expect 20 cash game tables running simultaneously.
You can sign-up for the feature table here. As has been the case for every Cash Game Festival throughout the year, the PokerNews Live Reporting Team will be on hand to report on all the events both on and away from the tables.
One player who will be going compliments of the house is Ireland's Ross Cullen, who won a random drawing for a package valued at €1,650 to the event.
Here's a look at a preview of the festival:
Have you ever wanted to write your own articles about poker? Maybe you've got some experiences or opinions about poker that you'd like to share. PokerNews is proud to launch The PN Blog where you can have a platform to make your voice heard. Learn more here.