Online Poker Crusher "cumicon" Retires With Walk-Off Epic Graph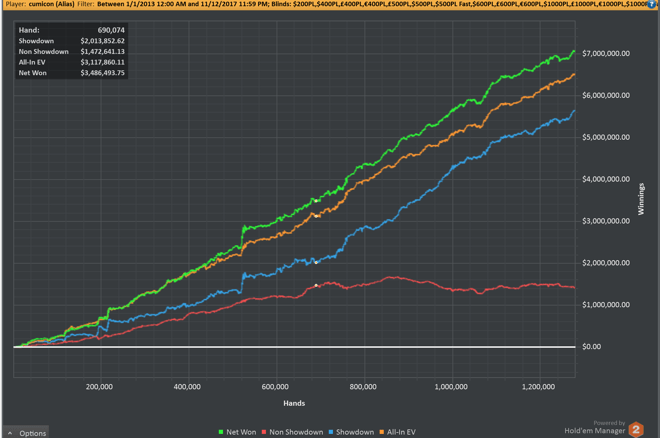 The poker world has been abuzz on what could have otherwise been a sleepy Monday morning after a long holiday weekend. That's because online pot-limit Omaha player "cumicon" announced via a TwoPlusTwo post that he's walking away from the game.
In doing so, he posted one of the sickest results graphs ever seen, as the lines paint a story of $7.4 million in heads-up cash game winnings across 1.3 million hands played between Jan. 1, 2013 and Nov. 12, 2017. The games occurred from $2/4 PLO up to $200/400 and everywhere in between, with the biggest samples at $5/10, $10/20 and $25/50 or equivalent levels.
And he may have even run unlucky. The expected value-adjusted winnings column in an accompanying chart says cumicon "should have" won $8.4 million.
According to his forum profile, cumicon is a 30-year-old man originally from New York.
"I am quitting poker and want to share my graph now that I don't need to worry about killing any potential action I might get," he wrote. "I always enjoyed seeing inspiring graphs posted on 2p2, so I'm happy to contribute mine."
Indeed, the graph is nothing short of incredible, especially given that most agree the games have been getting consistently tougher over the years. Almost every line on the graph — net winnings, showdown winnings, and all-in expected value — creeps steadily upward toward the $7 million peak with hardly a significant dip. Only the non-showdown winnings flatten out around $1.5 million.
Cumicon omitted his highest-variance results in nosebleed games since he said he sold significant portions of action for those. Don't worry, he or she won in those games as well to the tune of a little under $400,000.
What's more, cumicon claimed to have put in minimal work on his game away from the tables over the course of his tremendous run.
Given these results, cumicon appears to be one of the biggest winners in the history of online poker, ranking just behind some of the names Doug Polk discusses in the video below this story.
A number of other well-known online poker players chimed into the thread, expressing amazement.
"Unmatched level of both skill and work ethic," wrote Cole "CTS" South. "Big congrats and well deserved. "Good luck with whatever you get into next!"
"So ridiculous, can't even put it into words properly," Joe Ingram wrote.
While cumicon might not be the most recognizable name among poker fans, he certainly has made appearances in some of the biggest games online against top competition. PokerNews' own Railbird Report has featured cumicon a handful of times from when he ventured into the nosebleed PLO matches, most prominently when he topped the list of weekly winners after a match against Dani Stern. He has also butted heads with the likes of Viktor Blom and "BERRI SWEET."
On his way up, cumicon claimed to have played more hands against regulars than nearly anyone else, and his graph would certainly appear to support that claim with the sheer volume he put in.
Per PocketFives, cumicon also dabbled in tournaments with about $170,000 in total cashes. The most prominent of those was a 2010 final table score, when he topped a four-way chop in the PokerStars Sunday Warm-Up for $128,000.
At the close of what would appear to be the end of one of the most successful careers in online poker history, cumicon left no hints as to his identity or future plans. He simply asked that nobody pester him with coaching requests.
With that, he dropped the mic and left everyone to marvel at his glittering accomplishments on the virtual felt.