Kevin Hart in the Craziest Hand of Poker You'll See All Year
Watch @KevinHart4real show his big HART in this unbelievable hand from the brand new PokerStars Championship Cash Challenge Series. Catch more cash game action on @Channel4 at 00:05 Wednesday, January 10th. pic.twitter.com/2BL8CV0PrL

— PokerStars UK & IRE (@PokerStarsUK) January 7, 2018
This might be one of the craziest hands of poker you've ever seen, and it's all the "fault" of Kevin Hart. The comedian and PokerStars Ambassador was part of a cash game television show at the Poker PokerStars Championship Monte Carlo event last year where he battled with Daniel Negreanu, Faraz Jaka, Liv Boeree, Charlie Carrel, and qualifier Mila Monroe. And wouldn't you know it, it was the qualifier that made for the one of the most insane hands ever televised.
Just have a look for yourself, and you be the judge of what's going on here!
We spoke to Kevin Hart at the PokerStars Caribbean Adventure 2018 about that very hand that went viral yesterday. With the show not being out in full just yet, this segment is all we get to go on. But that already made plenty of headlines and thousands of interactions on Twitter. USA Today even devoted an article to it.
"You guys just got to see how much of a legend I am," Hart said with a huge smile. "No, I'm kidding. But it was probably one of the funniest hands that I've ever been a part of."
Hart started a serious talk on how his strategy had made him limp the king-three, but soon enough broke character and admitted to making a blunder: "I made a mistake. And then she made a mistake. It was a moment where she made a move, and then me doing something in return. I honestly thought I had the straight. I didn't, so when I saw my hand I said 'Oh wow. I just got the king!'
Hart had butchered that hand to a level hardly ever seen before on televised poker, but that was only half the story. Mila Monroe, his opponent in the hand, had a worse hand with just six-high to show for. "When she turned over her hand I thought, that's weird! What is that that you have there? Nothing? Wait, what?"
"What is that that you have there? Nothing? Wait, what?"
The monster bluff had gone wrong for Monroe. It would've worked if Hart had done one last double take on his cards, but now she was left with zero chips and just a good story to tell. But Hart didn't just rake in the pot, he did something not many times seen before, he gave part of the money back to the qualifier.
"She was such a sweet sweet women and we had so much fun at the table. So I bought her back in and let her play some more. You got to see the heart in Kevin Hart!"
Not just the people at home had their jaws drop when they saw the segment, the other players at the table were stunned as well. "The funniest thing is Daniel Negreanu's face when it happened," Hart said. "He keeps looking at the board to see what else is out there because he didn't understand what had gone down. She was the last person we expected a bluff like that from."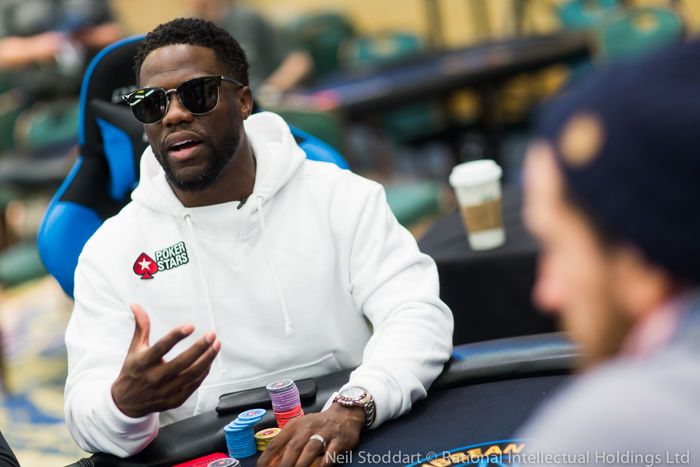 Hart has an explanation for what went through Monroe's head trying to bluff him. "That's what happens when I start talking to people. They do crazy stuff! That's the weapon within me! You might ask why would she do that? But it's because of what I did! When you keep talking, you make people go 'You know what, I'm gonna show him!' Next thing you know, I'm a champion!"
Usually, going broke in a cash game means you either reach into your pocket to buy back in, or you get up from the table (claiming you're going to get money but you never return to avoid the walk of shame). This time, though, Hart gave her $15,000 to stay in the game. Monroe couldn't believe it, as Hart remembers: "She was blown away ... she was blown away! She thought I was loaning her the money but I said no no, I don't want you to leave, I want you to stay. I'm a nice guy!"
"I'm making baby steps. I'm getting closer to the ultimate goal of winning."
The PokerStars Championship Cash Game wasn't a one-off for Hart playing poker, he's been at it for quite some time now. In between his busy schedule making movies and performing comedy shows for sold out stadiums, he's an avid poker player. He entered several high buy-in events, notably the Super High Roller Bowl at the Aria and Super High Rollers in Monte Carlo and at the PCA. And he's getting better at it.
"I'm progressing, I'm making baby steps. I'm getting closer to the ultimate goal of winning," Hart says about his hobby.
"The more you play with these guys, the more you start to understand them," Hart said about playing with some of the best players in the world in these super big buy-in events. "You see what people tend to have in certain spots. It's allowing me to play better, to pick my spots better. Ultimately, they still don't know where to put me or where to gauge my level of hands, because I don't show down too many."
For a lot of celebrity poker players, being flown out to events by tournament organizers, patience is usually not their strong suit. After a couple of hours, some of the celebs tend to lose interest. Not so much for Kevin Hart, he's grinded tournament days like a full-time pro. He made a deep run in the $100,000 Super High Roller at the PCA, eventually falling in 14th place, just a couple of spots shy of the money after playing for a day and a half. "I love the game," Hart says.
"For me, the patience comes with the competitive side. When you are competitive at that level, it makes you go above and beyond to find ways to compete. For me, sitting, grinding, understanding, are all part of my passion for poker. Me having a mental love for the game. I can sit at the table and be patient because I know, that's the last thing you expect. I can also entertain myself, talking and not getting responses from people that never talk. I do things with my time to look like I'm involved, while I'm actually not too involved."
In the very last hand of Day 1 of the Super High Roller, he doubled through Rainer Kempe with king-deuce against ace-queen all in before the flop. After the board had given Hart a winning pair, he started laughing and shouting how stupid Kempe had been to get it in with ace-queen. It was all in good fun, or at least that's what Hart's intension was. And, for just about everyone involved, Hart shouting you're stupid is a whole different world that let's say Phil Hellmuth doing the same. How does Hart get away with behavior like that?
To him it's simple: "Because I'm cute. Everybody knows it. When you're small and cute, you can do what you want. Nobody can get mad at the cute guy!"
"When you're small and cute, you can do what you want. Nobody can get mad at the cute guy!"