Faded Spade: The New Face of Cards?
Last year, Tom Wheaton lost his corporate job in sales and marketing. A part-time poker player, husband and father of two, Wheaton had to pull it together and come up with a plan. To go on the job hunt or start out on his own?
"The idea was always there; I just went full throttle to bring it to life."
He was in a tough spot made more complicated by an idea he had been mulling for some time; a new brand of cards that could potentially disrupt the playing card industry.
With a background in marketing, and experience grinding mid-stakes games in his precious little free time, Wheaton noticed that in the years since the poker boom that hooked him and countless others on the game, so much had evolved; the games, the players, the rules, production of poker content on television. But he felt that there was a gap; one thing that did not seem to be changing.
Enter his idea for Faded Spade; a new brand of playing cards that could help bring fun back to poker with their modern character designs and new custom index, made with high-quality durable plastic.
"It was a situation where you can either let it adversely affect you, or you can turn a negative into a positive. And the idea was always there; I just went full throttle to bring it to life."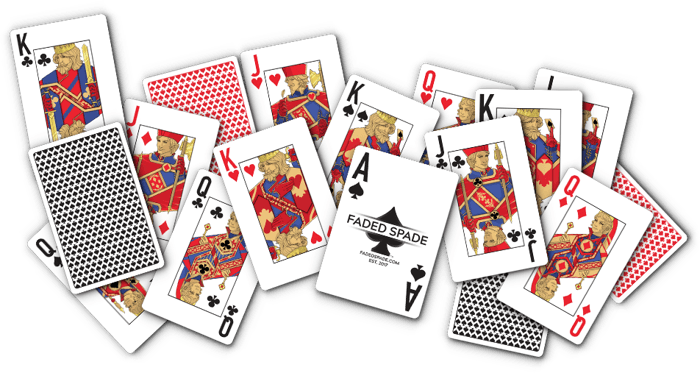 Fortunately for Wheaton, he not only had sales and marketing experience; he also had contacts in the poker industry from previous corporate partnerships and friends from the felt. It turned out that one of those connections would prove instrumental in bringing his ideas for the new brand to fruition.
Wheaton stayed in touch with many of his contacts from the World Poker Tour, including David Gitter, Adam Pliska, Warren Woodall and Donnie Peters, who provided friendship and guidance to Wheaton as he embarked on his journey, and he found a mentor in Gitter.
"We believe Faded Spade represents the highest quality playing cards on the market."
"I really believe everyone top to bottom in the organization are just genuine people that want the best for their players, and I believe that they're constantly on the tip of innovation. I mean, you look at things like the Action Clock, like Matt Savage and what he does with the TDA. I felt like if I could work something out with them, they could look at this as being innovative in terms of the playing cards of the future."
And work something out they did, as the World Poker Tour recently embraced Faded Spade as "the preferred playing cards of the WPT."
"We believe Faded Spade represents the highest quality playing cards on the market and that the brand's values represent that of our own, making the company a perfect partner of the World Poker Tour. We look forward to seeing the cards in action at final tables of WPT Main Tour events and are proud to welcome Faded Spade as the preferred playing cards of the World Poker Tour," said Adam Pliska, CEO of the World Poker Tour.

Good Timing
After developing the brand through research and development and consulting with poker contacts like the WPT and professional poker players, Wheaton's dream was looking more like a reality during 2017. And as his product was becoming more viable, the climate in the poker world started to feel primed for the new brand.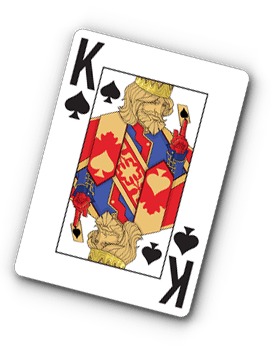 Wheaton calls the timing for Faded Spade to enter the market "uncanny," coming in the midst of a heated debate about playing card quality in prestigious events.
With uncontrollable variables like shufflers and human players that card manufacturers have to account for, Wheaton wanted Faded Spade cards to consistently handle well.
"No matter what, whether it's a shuffler or a dealer dealing Faded Spade cards, we want to make sure the cards are handling well, they're keeping shape, they're keeping form, they're keeping quality."
The first poker pro to show a genuine interest in the new card brand and provide feedback on the product, was Daniel Weinman. The former WPT champion told PokerNews he first took a look at the Faded Spade card designs after meeting Wheaton at the charity event Tiger Jam just before the summer of 2017, and found the designs to be "fresh and fun," with a quality on par with if not better than other top card brands he had used.
"I think the poker industry could definitely use some change, and why not start with something that is used in every hand dealt, but rarely mentioned outside of when imperfections in cards cause problems?"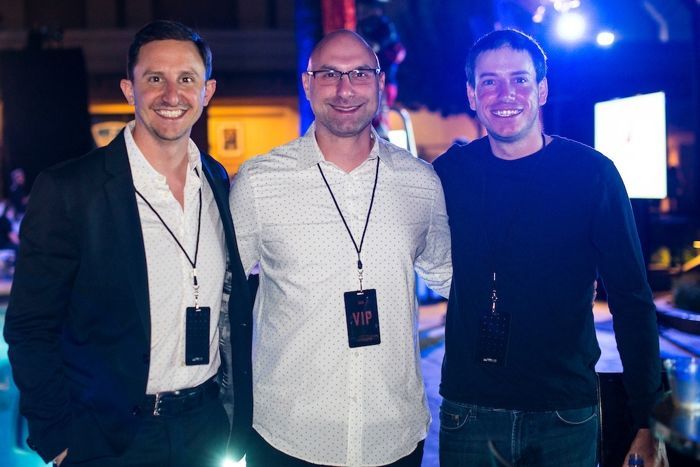 Differentiators
So what sets Faded Spade apart in an industry with relatively little variation in design and product? The three main elements that distinguish Faded Spade cards from the rest include an evolved face card design, a custom poker index, and high quality and comfortable feel deriving from materials used, according to Wheaton.
Regarding the modern design of the face cards, Wheaton explains they have depth, dimension, and character that bring them to life in a way that hasn't been done before. "They're in their prime, focused on the future; they're determined." This is in stark contrast to other designs that he describes as "flat" and "tired-looking."
Weinman: "I think the poker industry could definitely use some change, and why not start with something that is used in every hand dealt."
His company's focus on the innovative face card design, along with their vision to become the cards of today's players led to the tagline, "The new face of cards."
The custom index, Wheaton explains, is a size in between traditional poker card index and jumbo size that looks great whether you are looking at the cards in the hole or the community cards on the board.
The final distinguishing characteristic represents an important one in terms of Faded Spade's prospects of success in the playing card industry; quality of materials used. According to Wheaton, Faded Spade uses 100% absolute casino grade plastic, which provides what he sees as a great balance of flexibility and thickness.
"A lot of playing card companies out there, they can say 100% plastic, but sometimes the cards are produced at a very thin quality. Or sometimes they're so thick that they're not flexible. So what we did, through R&D, is choose plastic materials and production techniques that result in thick and flexible cards."
Next Steps
Now that the brand is fully developed, Wheaton explained that they are planning to launch in stages throughout 2018 and beyond. First, they have produced and launched their consumer poker-size playing cards. The next stage of the rollout, already in motion, is the Faded Spade RFID cards being used at streamed and/or TV final tables.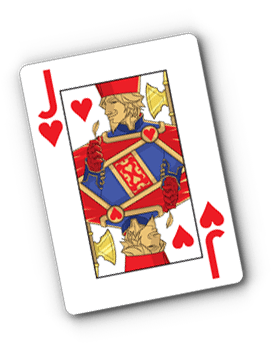 They are planning to debut the Faded Spade RFID cards as early as the 25th edition of the WPT LAPC Main Event final table coming up on March 1, with hopes of having the cards present at additional WPT final tables in the remaining World Poker Tour schedule this year and beyond. Faded Spade poker-size cards were also used for the recent charity poker event the WPTFoundation co-hosted with Latitude in the Super Bowl-hosting city of Minneapolis.
The next stage for Faded Spade is to become the preferred cards for poker rooms across the globe, which Wheaton explains is no simple feat. In addition to the red tape that one must traverse to get into card rooms, there's also the engineering that must be done to get the cards to the specifications that will satisfy poker room directors.
According to Wheaton, it's ironic, but most poker rooms actually use bridge-size playing cards in rooms. These cards are typically a quarter inch less wide than poker-size, which is necessary due to better adaptation with automatic shufflers.
"Faded Spade was formed out of pure poker passion"
His company is spending more time to develop their poker room cards to assure they get the thickness, size and index just right, with the goal that players around the world will be peeling back Faded Spade cards in their regular casino poker games by April.
As far as the future of Faded Spade goes, Weinman hopes they're here to stay. "I could easily see Faded Spade taking over a large share of the poker playing card industry. The designs are modern; a stark contrast to the same playing card that we've been using since before the poker boom began. I've tested a few decks at home, and find the cards easy to handle and fun to play with. In my experience, they also seem to be more difficult to mark than some of their counterparts, even with rigorous play."
Wheaton is equally optimistic. In his own words, "Faded Spade was formed out of pure poker passion," and it is that passion that he believes will continue to propel his company and brand as the playing cards of the future.