Felipe Ramos: A Friendly Face in the "Sport" of Poker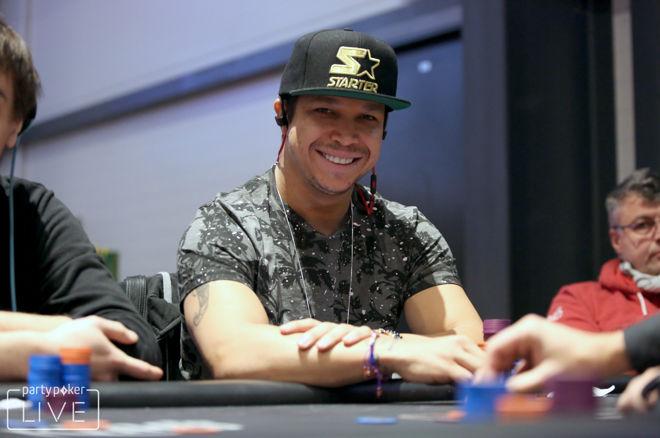 Go watch Felipe Ramos play poker and it's obvious within about five minutes that few can match his love of the game.
His passion, enthusiasm and positive attitude at the tables stand out and create an impression. Always up for a chat and a smile, exactly the kind of opponent you wish to come across at your tables if you were an amateur who qualified for a major tournament.
A movie title that best describes the Brazilian would be Jackie Chan's "Mr. Nice Guy." His smile is almost a trademark, and you will never see him jump out of the seat in frustration after having lost to a one-outer on the river. Instead, he shakes hands with the opponents, typically wishes everyone good luck and grabs his belongings.
Growing the Game
It's that encouraging experience that makes one become tempted to try again at another poker event, during a period in which poker, in general, wouldn't mind seeing new faces emerge and more casual players stick around. Ramos does a lot in his home country to attract new players and appreciates the opportunity to be a role model.
Despite regulations and limitations by the state, Brazil is a booming market in the poker scene right now, and several well-known players such as Bruno "Foster" Politano, Andre Akkari, Joao Simao, and Ramos are on the forefront of the waves that the country has been making of late on the international circuit. There are several projects with poker schools and live study sessions in a land that is full of passion for sports. None other than football superstar Neymar Jr. has received poker lessons from his close friend Ramos.
Providing poker education is a natural part of the process for Ramos, and plays a vital role for the future development of the game.
"Help people out to start in the game, because we need to get bigger, we need new players," he said. "The game will only run and be successful in the long run if we teach people how to play. Overall, try to make people understand that poker is legal and a very good activity for you to practice."
Ramos' Views on Poker
On social media, Ramos describes himself as coach, host, writer, environmentalist, spiritualist, proud Brazilian, world citizen, and space traveller. In 2017, the Global Poker Index (GPI) ranked Ramos as the best player in Latin America, and he racked up the most unique Hendon Mob flags during that time, while recording his career-best score of $220,000 in the partypoker Caribbean Poker Party Main Event at Punta Cana.
"I am really trying to improve my game — not only my game but also my situation in life," he said. "I am trying to become a better learner in many situations. You get a little better every day, and you also get a little boost to your confidence. I think the new results right now are mainly because of the confidence and the new strategy that I have learned so far."
The new year hasn't been too shabby so far either, as another two six-figure paydays boosted Ramos' cashes in live events to more than $2.4 million. It's almost as if there is truth to the saying "you reap what you sow." The key to it is consistency, and the willingness to improve every day to gain an edge. This pattern can often be seen in professional sports and Ramos makes a case to consider the card game as a sport.
"The game will only run and be successful in the long run if we teach people how to play."
"Poker is definitely a sport," he said. "Actually, poker is more of a sport than any other sport in my humble opinion. I try to make people aware of the numbers, of the facts. Poker is a better sport than other sports, as that game has so many aspects, so many elements.
"Many people neglect the physical aspect of poker. I am a poker player that tries to keep healthy. If you don't have your body in shape, your mind won't work as properly."
Of course, the mental side also plays a vital role.
"The meta games are much higher than in other sports," Ramos pointed out. "There is a lot of strategy aspects in sports. At a poker table, let's count that times a thousand, two thousand. Because I never have only one opponent, most of the time I have more opponents, different chip stacks, different ranges.
"I need to go over an equation that can be so big, so high to solve."
Ramos admits to being very competitive by default, and it seems fitting that he decided to raise the stakes over the last few years by taking part in high roller and super high roller tournaments more frequently. Some of the biggest names in poker can be found in these very games and on top of that, many young online players are taking a shot.
"Poker is more of a sport than any other sport in my humble opinion."
"It is much different than other events," he said of the nosebleeds. "It took me a big while for the adaptation, to play better in this field. There is never a comfort zone when playing against the best in the world. Small field, big buy-ins, so good luck me."
This humble approach doesn't stop right there, though, as the Brazilian remains well aware of his responsibility to represent the game of poker away from the tables. While the card game continues to gain more enthusiasts all over the world, many of the prejudices towards poker as a form of gambling remain in the eye of the public.
"I understand this is very difficult for people that do not play poker to figure it out," he said. "This is the job of every poker player, even if you don't call yourself a poker ambassador or if you only love the game, is to give information to other people so that they can respect our work and that it's our job. Then they can figure out that poker is a sport, and maybe we can be in a much better situation for our sport in the future."
The Traveling Life
One easy way to share the knowledge and the personal experience at and away from the poker tables comes in the form of social media platforms such as Facebook, Twitter and Instagram. While most poker sites have not caught up to the full potential of these mediums just yet, there are plenty of dedicated card aficionados who regularly share updates about their trips with their followers and Ramos is one of them. He does so in his native language and in English.
Ramos continues to play and continues to check off boxes en route to accomplishing a personal goal: travel to as many places as possible.
"I think in the poker lifestyle, the best thing is to explore," he said. "As advice for people that come into poker, please try to make the most out of your poker trip. It is not only about playing poker, it's about living the poker life.
Ramos has learned plenty in his first dozen years on the poker circuit that has changed his attitude quite a bit. Whereas he'd once go to his room and order a cheeseburger after busting an event, he now takes the opportunity to explore the area he's visiting. He can see the sights, sample the local fare and adorn his social media walls with eye-catching photos.
Overall, it's a life he's happy to have, and that's reflected in his attitude any time he is at the tables.
"I used to work in an office, but this is much better," he said.
With a healthy mindset and the understanding of poker and his place in it, Ramos should continue to tally up good results and remain a player to watch for years to come.