Interview with Unibet Ambassador & Streamer Alan "Hotted89" Widmann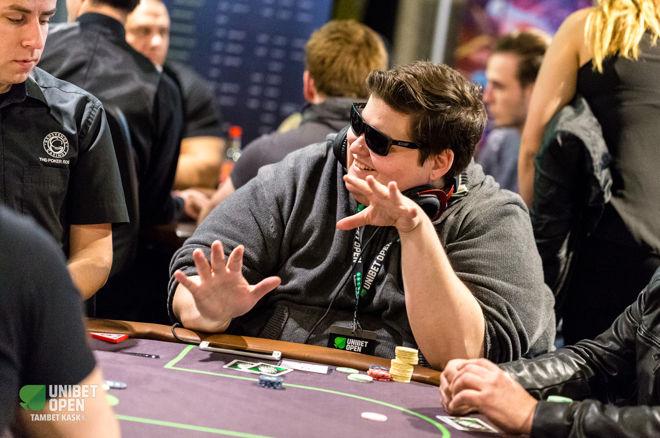 Streamer, content creator, entrepreneur, and poker player. The already jam-packed schedule of Alan "Hotted89" Widmann (29) just became even bigger after officially signing on as a Unibet ambassador. With around 700,000 followers across all social media channels, Widmann is a wildly popular streamer and influencer that initially rose to fame in World of Warcraft. Apart from World of Warcraft, the German, born in Caracas, Venezuela, can be found streaming popular games such as Fortnite and Counter-Strike: Global Offensive, as well as streaming online poker on Unibet.
At the Unibet Open in Malta, PokerNews' caught up with Widmann. We talked about his passion for poker, his new role as Unibet ambassador, the World Series of Poker, on being friends with Viktor "Isildur1" Blom, and a certain tweet that had everyone talking.
Congratulations Alan on your new role as Unibet ambassador. How does that make you feel?
It's something I'm really proud to be a part of. I've been in love with poker ever since I've been to the Unibet Open in Malta in 2016, that was my first Unibet event. I actually busted first in that [Esports players only invite] event; it was tens versus ace-queen, I still remember it. That motivated me a lot; I'm a very competitive player and that motivated me to learn the game and try to get better. At the next [Unibet Esports Battle] event, I was invited again and I won that one, so that was a good improvement from last to first [laughs]. Ever since then, I've been really active in poker.
How did you become a Unibet ambassador? You've been at all these Unibet Esports battles, did Unibet contact you to do more?
After the Esports battles, I wanted to be more involved in poker and wanted to make it part of my brand that I've been running for about six years. I wanted to commit to something good. I'm very selective with the companies that I work with and everyone at Unibet has been amazing. It's been a pleasure and I thought it would be a great fit to work together. So we had a few meetings and the rest is history.
You mentioned competitiveness. At the Esports Battle Royale in Malta, I noticed you guys have fun but it's also pretty serious at times. You bubbled the event: are you gutted about that?
I mean, being the bubble boy is not the greatest [Widmann finished in fourth, with prizes of €5,000, €3,000, and €2,000 for the first three]. But at the same time, we're joking around, making the table fun, we're friends. But we still want to beat each other and see who gets the trophy. Everybody is super competitive, everybody plays to win. The hand before I busted, we decided to make a deal to give the bubble boy something, so that was good. I didn't know I was going to be bubble boy, but hey, it worked out!
You're a streamer. Will you be streaming poker as part of the Unibet deal? At what times and how often can we expect to see you play poker?
Unibet is really flexible in that regard. I have about 700k followers across all social media channels combined and I bring a lot of exposure to them there. Right now, I'm streaming on Sundays, which is the biggest day for Unibet. They started the Supernova two months ago, a 20k guaranteed tournament that has a nice structure; it's really nice to play. The tournament has been meeting its guarantee almost every weekend, often exceeding it by a lot, so their future is great. As far as streaming, I'm doing this once a week, I'm making video content from the Unibet Opens on my YouTube channel, and I obviously also send out tweets. It's a pleasure for me to do it because I only work with companies that I enjoy working together with.
"The first thing that I advise to someone when they want to get into poker: watch the streams! It's free coaching."
There are some great poker streamers out there; Lex Veldhuis, Jaime Staples, Jason Somerville for example. Do you take inspiration from them?
The first thing that I advise to someone when they want to get into poker: watch the streams! It's free coaching, free coaching online that you can see every day. On any big tournament series that's going on or just everyday streaming, you can find amazing streamers, like Lex [Veldhuis], Kevin Martin, Jaime Staples, Matt Staples. All these guys are great people and they're friends of mine. I can't wait to see them.
I've been getting advice from Kevin Martin just before my Esports Sit 'n Go in London, where I asked him what to do and he told me to play tight. They're really good and that's honestly how I started getting better. Definitely check out streaming!
People might think streaming is an easy job, but it's pretty hard work, right?
Streaming is incredibly hard, especially once you grow because you're running your own company. You have to work on marketing, branding, image, video content, live stream content, work on deals. It's insane! You have to go into a meeting right after streaming, then after the meeting, you have to write some emails. You need to have a really structured day and sometimes, the days just mix together. There are no weekends for me. Every day is a grind, but the grind is really worth it when you're doing something you love.
Let's talk about the WSOP Main Event last year. You had a pretty deep run, making it far on Day 3, and then busted about 100 places off the money. How was that feeling busting that close to the money?
Oof, that was honestly one of the worst feelings I've ever felt. Poker is a game that has really high ups, and really low lows. When you win, it's an amazing feeling, the adrenaline is pumping, but when you lose, it's like a punch in the gut.
It was 36 hours of playing, I busted close to the money at the end of Day 3. I raised ace-king from under the gun and the player in the small blind, someone with a big stack that was very active, called with king-seven offsuit from the small blind. The flop came down king-seven-five and we got it in. The flop favored me, that's why I thought I was safe. Then when he turns the cards — the whole table said "oooh nooo" — I was like: there's no way this is happening. After a few weeks, I got over it.
I've been studying a lot since last year but it's really hard juggling it with my streaming schedule. I stream about 200-250 hours a month, plus doing video content and working on my fitness. It leaves almost zero hours. But [poker], to me, it's something that I really love. If you play for something that you really love, you don't mind having little free time.
I've read in an interview that none other than Viktor "Isildur1" Blom was your coach at the WSOP last year. Are you still in touch with him?
Yeah, we actually talked just before I was coming to Malta. He's been super busy this year, busy in a good way. I was really happy that he shipped that million dollar tournament and he's been doing really well since then, so I'm happy for him.
I don't know 100% sure if he's coming to the WSOP next month, but if he comes, we definitely hang out. He was one of the first people that increased my motivation to become better because he said I could be a really good player if I tried. He gave me some coaching too.
Can you tell me one piece of advice from Blom that was pivotal for your development as a poker player?
[Widmann thinks for over a minute before answering] If you're in doubt, go with your gut. That's something that sometimes I do, sometimes I don't. There was a hand actually in the Esports Sit 'n Go where I got beat in a flush over flush situation. My gut instinct told me to fold [Widmann thought for over four minutes before calling]. It was an interesting hand: mathematically, I chose to call because the pot was so big, but there were a few factors that I should have just listened to my gut and I didn't, and I lost. It's something that he [Blom] is amazing at; he's got great instincts. That's some good advice: trusting yourself.
Do you think that separates Blom from the other players, that he's capable of following his gut instinct in those crucial moments?
For sure. It's something that obviously can go wrong. There's obviously math in poker and you can go the GTO route, but at the same time, when you see him in the final hand of this million dollar tournament, it was literally that.
Was it the greatest hero call of all time?
I was asleep when that happened and then I wake up and see the final hand. And I was like: 'Yup, that's Viktor!' That's literally him. I don't think anybody else does that call but him and I think that makes him a legend. He's amazing. I'm really happy that he took time to help me become a better player and gave me the motivation to become a better player.
While Blom's plans are up in the air, you're definitely going to the WSOP again. What's on your schedule?
I'm definitely playing the Main Event, I'm coming back for revenge. I've been studying a lot the past few months to improve my game. I think I'm a way better player than last year so I expect to do better. I'm going to be playing a lot more tournaments.
Last year, I sort of wanted to dip my feet into the water. I didn't want to go too crazy on tournaments. It was my first year at the WSOP — I only had just 1.5 years of experience [in poker] — so the fact that I went to the WSOP was already big. I told myself I was going to play one event to warm up, then jump in the main event. The first event, I cashed the $1,500 [Widmann finished 251st in Event #66 for $2,352]. I was really happy with that, it definitely gave me a lot of confidence for the Main Event and the motivation to keep going.
It's something crazy, though. One thing that helped me for the WSOP was working on my mental game. I did some meditation: every time before I played, I did like 20 minutes of meditation. There are apps for that and I used one of them. It actually helps you out: poker is a huge mental game. Even when I lost like 90% of my stack, I did tilt for a couple of minutes but then I was like okay, refocus, just focus on the game. That's a huge part.
As far as the schedule goes, I'm definitely going to be playing a lot more this year. I might not stick to only WSOP events and I'm going to definitely try to do some of the Wynn and the Venetian tournaments. But at the same time, I still have to run my business. So even now that I'm playing poker tournaments, I'm still going to be streaming. It is a grind.
I'm staying at a streamer's house. There's a lot of streamers now that live in Vegas during the Summer. I'll be streaming from there and going to the poker events. It's going to be a little bit of a wild schedule because I'm also going to have personal training to help me with my fitness goals and weight loss. We'll see how my schedule will be that month. It might be insane, but I'm going to try it.
To rounds things up, let's go with something a little light. I have to bring this up, you know where I'm getting at: "10k retweets and I'll cosplay this IRL." Did you expect this to blow up the way it did?
Oh my God! I mean, I do have a big following, but at the same time, I didn't expect that a tweet that I did pretty late during the day would get 10,000 retweets in 20 hours. I did it during the stream, I was just joking around with a friend in the stream and then was like: screw it. I took a screenshot of the character that I was playing and I just posted the tweet.
So, that post was insanity. That post had 1.5 million impressions. That's one of the biggest tweets I've ever done. As an entertainer, when you open yourself to that point, I can't back out. So I guess I'm going to be working on the cosplay, I guess, in the next few weeks, just before the WSOP.
You know what my final question is going to be, right? When is this happening?
Right after this [Unibet Open Malta], I'm flying to the US for a gaming event called Dreamhack Austin. After Dreamhack Austin, I will be setting up the cosplay, so I guess the first week of June will be where this happens.
I definitely have to be more careful when I do challenges on Twitter next time. Now I know that the internet can be a big place. Maybe I'll try something more suitable for me, even though people have said I look good in green hair!
---
---
Follow Alan "Hotted89" Widmann on:
---
For more information about the Unibet Open, go to unibetopen.com. Photos courtesy of Tambet Kask/Unibet Open.