The History Behind 'The Chip Race' Poker Podcast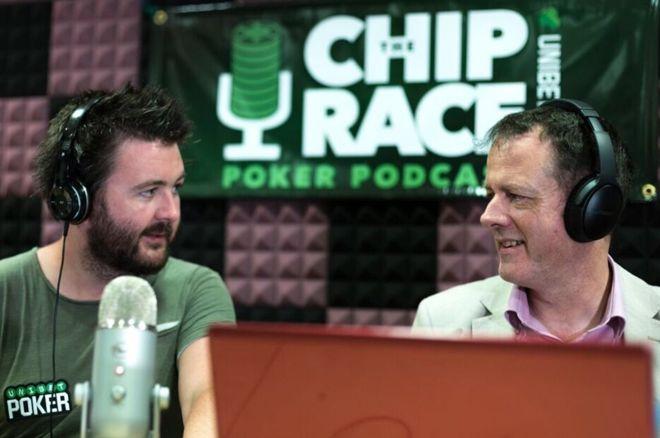 At the end of 2016, Irish poker pros Dara O'Kearney and David Lappin were approached by Unibet Poker — currently one the game's fastest growing online poker rooms — to become ambassadors for the brand. A big part of these players' appeal was their show The Chip Race, a poker podcast that more resembles a radio show with each episode broken down into five segments.
In March of this year, the duo agreed and immediately became faces of the brand. Not only that, but with the help of Unibet, The Chip Race has gone from strength to strength, booking stellar guests like Phil Laak, Jennifer Tilly, Jake Cody, Chris Moorman, Barny Boatman, Kara Scott, Andrew Neeme, Kenny Hallaert and Niall Farrell, just to name a few.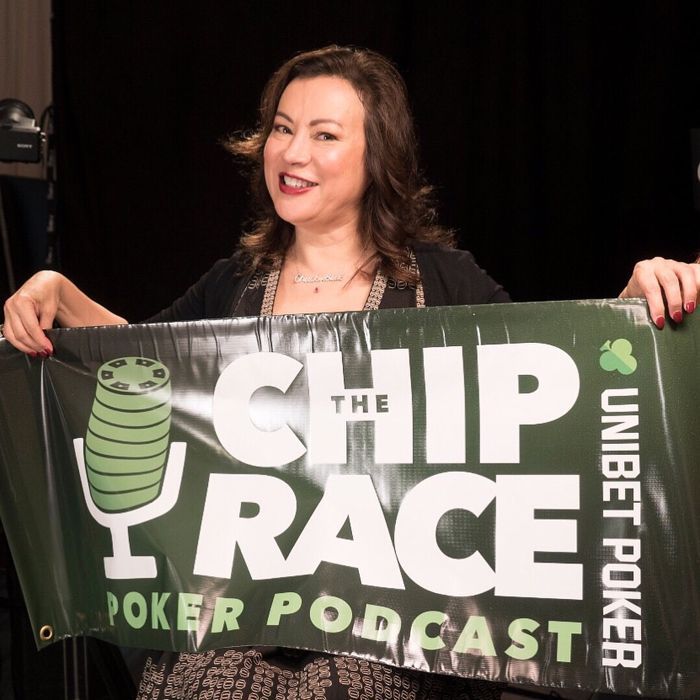 Despite being known as a satellite specialist, O'Kearney's record in all tournament formats is formidable. He has almost $1 million in live winnings and $2 million in online profit if you count sit-and-go tournaments, multitable tournaments and satellites. Lappin is no slouch either with over $400,000 in live winnings and $700,000 profit across all online formats.
O'Kearney is currently ranked number 1 on the Ireland PocketFives rankings and the pair is ranked first and sixth respectively on Ireland's all time live cashers list according to The Hendon Mob as a testament to the consistency they have demonstrated throughout their careers.
How O'Kearney and Lappin Met
The duo first came across each other in 2009 playing online sit-and-go tournaments at Full Tilt. While they may be inseparable today, it didn't start off that way. O'Kearney's first impression was that his now good friend was a fish and immediately was asking for more information about him.
"My first memory of David was that he was one of the first grinders in 45-man sit-and-go tournaments on Full Tilt back in the day and I started playing those as my major game," said O'Kearney. "I had an interaction with him where I called off with jacks early and he had kings. He started berating me in the chat box in all caps like a fish, so I fish-tagged him. His username was "LAPPIN" in all caps as well, which was another fish characteristic. Then I looked that his location was in Ireland and I'd never heard of him, nor did anyone I knew."
"He started berating me in the chat box in all caps like a fish, so I fish-tagged him."
"In reality, I was living in the states at the time," explained Lappin. "I've been playing since around 2007, which is around the same time Dara started. But, we only met for the first time at the Irish Poker Open."
There is a bit of a dispute about where the duo met for the first time. Based on Lappin's account, a friendship was almost immediately born after their first meeting at the 2011 Irish Open, however, O'Kearney believes their first meeting may have fostered some of the earlier opinions he had about Lappin.
"I have a feeling we might have met before that since my first memory of David was at the Fitz end of the month tournament," O'Kearney said in response to Lappin's account of their first meeting. "He came to the table and he was really loud and obnoxious. I immediately thought, maybe this is that Lappin character. But, he was very cultured I have to say and it was confirmed to me that this was Lappin."
Over the years the duo grew tighter and gained experience working alongside each other as commentators, coaches and stakers. Their blogs were popular (and still are to this day) but the pair recognized that podcasts were gaining in popularity. Despite all of this, it took the prodding from an outsider to bring the two together to create podcast The Chip Race.
The Chip Race Was Born
The podcast was born three years ago after Lappin's good friend and Irish photographer Rob O'Connor approached him to meet an Irish sports podcast creator that also had an interest in poker. One thing led to another and O'Kearney and Lappin agreed to "bang out" seven episodes in seven weeks targeted to the Irish poker audience in "hopes of getting some corporate sponsorship or backing for the show."
O'Kearney was previously involved in two other podcasts, the Irish Poker Radio in 2008 and 2009 and later on in The Poker Lounge, but still, he admitted that it wasn't the type of thing he would do on his own and credited Lappin for presenting the idea. Despite the duo admitting to be a "little green around the gills" on their premier season, they were impressed not only by the initially-targeted Irish audience but how it also proved to be popular in the United Kingdom as well.
"The response was incredible in Ireland and also the UK," O'Kearney said about the early shows. "We initially expected zero audience outside of Ireland because most of the guests were Irish — people like Andy Black, Tom Kitt, Chris Dowling — and the focus was very much Irish poker and Irish events. But, we did find out that the UK poker community was very receptive to hearing about the Irish poker scene. With this in mind, they decided to expand its horizons outside the Emerald Isle with O'Kearney sharing that, "The engagement of the UK poker community gave us the idea to expand it and we had a few UK and American guests towards the end of that season."
Despite its success, without a sponsor, the show took a gap of around a year and a half. During that time, the duo was asking around since they were "very proud of the output" they created and "saw it as a calling card."
"It was only when Unibet came to us towards the end of 2016 was there potential life back into the podcast," said Lappin. "Unibet Head of Poker David Pomroy was very interested in working with us and The Chip Race was very much part of his thinking when signing us. The show obviously became not an Irish oriented show. We still have Irish guests on but it is much more of an international show looking to have a much broader appeal these days."
The Chip Race Revived
Despite the break, things are looking better than ever for The Chip Race thanks to attracting some of the biggest stars in the poker scene. "We have been so lucky in the guests we have had in just a few months of being back," Lappin proudly said. "Fucking stellar! Never in my wildest dreams did I think we would have Jennifer Tilly, Phil Laak, Chris Moorman and the absolute upper echelon of guests. We are very lucky that they came on, but I think it is a testament to the work Dara does and our excellent editors. It is a bit of a team effort."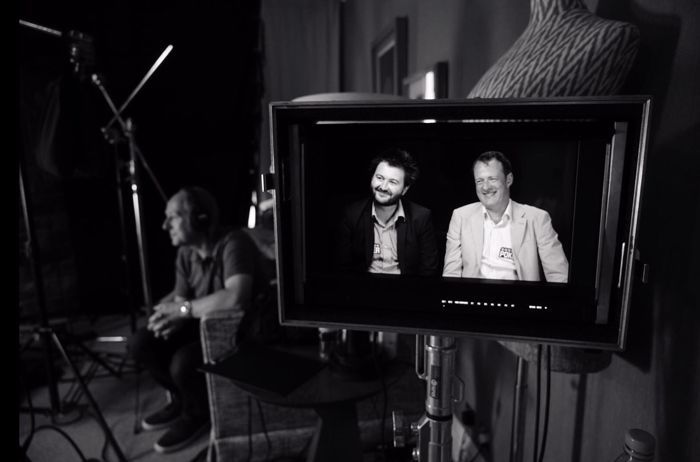 We asked the duo what their favorite shows were. While there was some agreement, O'Kearney was a bit old-school in his response while Lappin referred to some of the more recent podcasts.
"For me the most interesting show was the last episode of Season 1," said O'Kearney. "The main guest was Andy Black, but to be honest what makes the show unique in my opinion. Our good friend Fergal Nealon, who helped us out with color pieces on our first season, did an incredible interview with Annette O'Carroll, who is the grand old lady of Irish poker. The interview is just incredible and the reaction was just phenomenal."
Lappin agreed that this was his favorite interview but said that he also likes the shows that are funny and "everyone gets a little silly." He shared his favorite show was when they had on Niall Farrell and Kat Arnsby with "people cracking up from beginning to end."
He also added that he loved the recent interview with Tom Hall, another "hilarious conversation but also an honest and raw one that really got to the core of what the life of a poker player is like."
The duo also expressed what a privilege it was to meet with Jennifer Tilly, "a genuine star who was so generous with her time, so entertaining and so gracious when we met her."
The show continues to grow and it is now on its fourth season. Already interviewed this season were Phil Laak, PokerNews Editor Jason Glatzer and Twitch sensations "Sco" and "Djarii" in Episode 1, Tom Hall, Unibet Ambassador Rauno "Estonian Jesus" Tahvonen and two-time WSOP gold-bracelet winner Barny Boatman in Episode 2, and Poker Vlogger Andrew Neeme and poker mind coach Jared Tendler in Episode 3.
The fourth and last episode of 2017 is out next week and will feature Highroller Charlie Carrell and Australian poker and fantasy sports pro Jesse "OnTheMac" McKenzie. After a brief mid-season hiatus, the show will be back in January 2018.
You can check out The Chip Race for free on SoundCloud, on iTunes and on YouTube.