Three Moneymaker Tour Winners Turn $86 into Five-Figures in the PSPC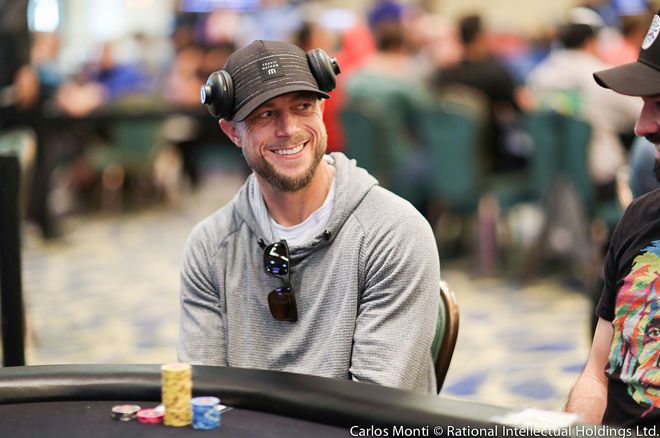 Table Of Contents
More than 15 years ago, an accountant from Tennessee won the $10K WSOP Main Event for $2.5 million after qualifying through an $86 satellite, thus fueling the fire for the ultimate poker dream. "Rags to riches" as they say, the Chris Moneymaker story is familiar to even the most casual of poker fans, and in their Platinum Pass giveaway, PokerStars wanted to recreate the Moneymaker magic.
There were dozens of ways to qualify for one of the 320 $30,000 Platinum Passes that included a buy-in to the $25K PSPC, but 13 players would get in by winning an $86 buy-in tournament in the Moneymaker PSPC Tour. Sound familiar?
The Moneymaker PSPC Tour kicked off in early August at Stones Gambling Hall, making its way to various stops across the United States, even passing through the internet realm in the state of New Jersey. Of those lucky 13, the dream was still alive for three as the tournament got into the money on Day 3. We caught up with two of the $86 qualifiers around the money bubble here in the Bahamas on Day 3.
Cliff Ellefson
The very first Platinum Pass winner, Cliff Ellefson (pictured above), beat out a field of more than 800 entries at Stones to play in a tournament where a min-cash is more than five times his previous biggest tournament cash.
"It would be a dream come true to final table, to win the tournament," Ellefson told PokerNews. "Cashing in and of itself would be a dream come true."
Now in the money, freerolling with $25K locked up, Ellefson is focused on paying attention and playing his game.
Unlike some pass winners who are treating this experience more as a vacation than focusing on grinding out the tournament, Ellefson came solely to play.
"I came here alone and I wanted to treat it as a serious opportunity that I wanted to do my best at and not have any regrets looking back. I definitely don't want any distractions here."
"I've learned a lot and I'm following my instincts, not playing scared."
A couple months before the event, Ellefson began to pour all of his extra time into growing his game, putting in hours on the RaiseYourEdge training site and playing more tournaments.
Here in the Bahamas, Ellefson is staying dialed in, going to the gym and meditating in the mornings to get him ready each day.
"I have a certain faith that things are going to work out for the best, and that gives me more of a relaxed feeling going into it."
He's soaking in the experience at the tables, playing alongside some of the best in the world.
"I'm so thankful for just all the little things that I'm experiencing, like when I win a pot, or just learning things or meeting people that I've watched online."
"I have a certain faith that things are going to work out for the best."
Not putting too much pressure on himself, Ellefson is relying on faith to get him through.
"I'm a big believer in if I can be relaxed and just believe with 100 percent faith that God is going to bring me the victory that he wants for me, then I just kind of let go every time I'm all in."
On Day 2, Ellefson found himself all in and in need of some help, holding ace-queen versus ace-king. Holding the queen of spades, he made a flush to win the hand when three spades flopped and another came on the turn.
"I've learned a lot and I'm following my instincts, not playing scared."
Unfortunately for Ellefson, his run ended in 97th place. Still, turning $86 into $39,500 is a pretty good ROI, and he nearly doubled his lifetime Hendon Mob cashes with the finish.
Anthony Maio
One of the many top-level pros still in the field is a wolf in sheep's clothing, one might say. Online poker pro Anthony Maio may be carrying a Platinum Pass, but his opponents will be unwise to underestimate him. The successful New Jersey online player also has nearly $900,000 in live cashes to his credit, and he won his way to the PSPC by winning the $86 online Moneymaker event.
"I would never have played this or came here, so I'm very thankful to have the opportunity. It's been fun," Maio told us.
Recently married, his wife and step-daughter are playing with dolphins today while Maio grinds in the Convention Center of the Atlantis.
"The only time I travel for poker is things like this, for bigger mains, and I tend to be really focused and do well. It's exciting."
For the online pro accustomed to playing usually 10-25 tables at a time, the PSPC structure is extremely slow.
"If I'm ever playing live, I'm always multi-tabling on my phone. Even in the WSOP Main, for the first two days, I'm multi-tabling. This is the first tournament where I haven't multi-tabled live in a very long time."
In preparation for the slow live grind, Maio put in some rare appearances at the cash tables.
"I went to Borgata to play some live cash, which I never do, just to get me familiar with uncomfortable spots because I'm always behind a screen and I never play cash, especially live cash. I figured that's the most uncomfortable I could be and I figured it would give me good preparation for this."
"I defend a lot and I limp-call and I don't really fold."
As far as adjusting his approach from his usual online mulit-table grind, Maio is sticking to his guns, and likely catching his opponents off-guard.
"I've been playing small-ball cautious, using my aggressive limp strategy and not really folding much. I defend a lot and I limp-call and I don't really fold, so I'm just having a good time, and that's been my strategy."
As with many online pros who don't hit the live circuit much, Maio is content flying under the radar in this one.
"Most people don't know who I am – it's good. I try to look like as big of a fish as I can for the most part… And I'm a Platinum Pass winner so that works out too… So I get underestimated early on which is nice."
The third Moneymaker Tour winner to make it into the money was Ori Kossonogi, who won the $86 event held at Gardens Casino in Los Angeles. Kossonogi (139th place) and Maio (130th place) were also unfortunate to bust out on Day 3, but they did lock up an ROI of 40,600% by cashing for $35,000.
You can follow the action on our live updates page as the PokerStars Players Championship makes its way to a champion.
The Stars Group owns a majority shareholding in iBus Media.