WSOP.com to Host Nine Bracelet Events in 2019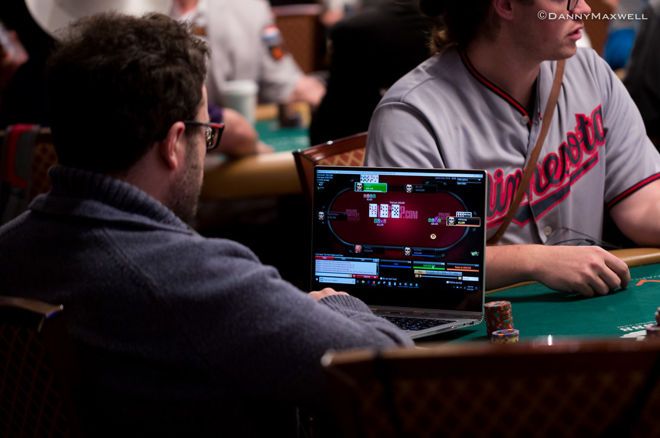 The final, full schedule is complete for the 2019 World Series of Poker, after WSOP officials announced a record nine online bracelet events for this coming summer.
In a Thursday press release, Seth Palansky revealed that WSOP.com will host weekly online bracelet events on Sundays throughout the series. Plus, two more special events will take place on select Wednesdays.
Awarding nine online bracelets represents a huge leap, more than double the four events from 2018, and they'll match the entirety of the history of online bracelet events dating to the first in 2015.
The Online Bracelet Schedule
Things get rolling right away on the first Sunday of the WSOP, June 2, with $400 No-Limit Hold'em featuring 15-minute levels and three reentries. That's the lowest buy-in event on the schedule.
Other highlights include a six-max pot-limit Omaha and a bounty event. The $1,000 Online Championship and $3,200 Online High Roller, mainstays from 2017 and 2018, return as the jewels of the schedule. Both of those feature the slowest structures, with 20-minute levels, where most of the other events have 15-minute levels.
All of the bracelet events have a universal start time of 3:30 p.m. local time and play to a winner.
WSOP.com Online Bracelet Events 2019
| Date | Time (Late Reg) | Event | Chips | Level Duration | Reentry |
| --- | --- | --- | --- | --- | --- |
| June 2 | 3:30 p.m. (7:15 p.m.) | $400 No-Limit Hold'em | 15,000 | 15 minutes | 3 |
| June 9 | 3:30 p.m. (7:15 p.m.) | $600 Six-Max PLO | 15,000 | 20 minutes | Unlimited |
| June 16 | 3:30 p.m. (7:15 p.m.) | $600 No-Limit Hold'em Bounty | 20,000 | 15 minutes | None |
| June 19 | 3:30 p.m. (6:30 p.m.) | $500 Turbo No-Limit Hold'em Deepstack | 40,000 | 8 minutes | 3 |
| June 23 | 3:30 p.m. (7:30 p.m.) | $1,000 Double Stack No-Limit Hold'em | 30,000 | 15 minutes | 3 |
| June 30 | 3:30 p.m. (7:30 p.m.) | $1,000 No-Limit Hold'em Championship | 15,000 | 20 minutes | 3 |
| July 3 | 3:30 p.m. (7:30 p.m.) | $3,200 No-Limit Hold'em High Roller | 25,000 | 20 minutes | 3 |
| July 7 | 3:30 p.m. (7:30 p.m.) | $800 Six-Max No-Limit Hold'em | 15,000 | 15 minutes | 3 |
| July 14 | 3:30 p.m. (7:30 p.m.) | $500 Summer Saver No-Limit Hold'em | 20,000 | 15 minutes | 3 |
"Just like the land-based WSOP, the annual summer series is also the best time for online poker players in the U.S. to chase big prize pools and WSOP gold bracelets," said WSOP.com Head of Online Poker Bill Rini. "WSOP.com is offering a consistent gold bracelet schedule this year, plus non-stop satellites to both the online and live events, giving players the best opportunity to participate in the 50th annual WSOP."
Indeed, satellites are now running for WSOP events. The special $215 25 Seat Scramble satellite, which guarantees 25 seats into the WSOP Main Event, is scheduled for June 30 at 4 p.m.
The presser also reminds players they must be physically located in Nevada or other eligible states to play and pot-limit Omaha events will not be playable on the mobile version of the software. Players are also advised to load up their accounts in advance on reentry events, as they'll have just 30 seconds to reenter upon being felted, and the funds must be available during those 30 seconds.
Elephant in the Room
The phrase "inside the border of an eligible state" raises the specter of the last big unknown: exactly what will those eligible states be?
Last year, for the first time taking advantage of the newly approved shared liquidity network, WSOP.com allowed players from New Jersey to participate in online bracelet events. As a result, all repeat events from 2017 to 2018 saw a sizable boost in numbers.
However, there's a cloud hanging over everything with the early 2019 release of a new Justice Department opinion on the relevance of the Wire Act to online gambling. According to the opinion, the Wire Act does apply to all online gambling rather than just sports betting, reversing a 2011 opinion that cleared the way for online poker in the U.S. as it stands today.
Many believe the opinion has no teeth and won't stand up over the long haul, however, the immediate ramifications could see the player pool for WSOP events shrink back to just those located in Nevada. An announcement will likely be forthcoming as the WSOP consults with gaming law experts to figure out a course of action.
History Online Bracelet Events
According to the WSOP's presser, the four years of online bracelet events has seen the company award just over $10 million in prize money.
Anthony Spinella won the first one in 2015, topping a field of 905 for a $197,743 first-place prize. The $1,000 event he won has maintained its spot on the schedule over the years as the marquee event, with attendance steadily rising to a peak of 1,635 when Ryan Tosoc won last year for $238,779.
Here's a look at the entire history of online bracelet events on WSOP.com:
Online WSOP Bracelet Event Winners 2015-2018
| Year | Event | Entries | Winner (First-Place Prize) |
| --- | --- | --- | --- |
| 2015 | $1,000 WSOP.com Event | 905 | Anthony Spinella ($197,743) |
| 2016 | $1,000 WSOP.com Online | 1,247 | Clayton Maguire ($210,279) |
| 2017 | $333 WSOP.com Online | 2,509 | Joseph Mitchell ($122,314) |
| 2017 | $3,333 WSOP.com High Roller | 424 | Tom Cannuli ($322,815) |
| 2017 | $1,000 WSOP.com Championship | 1,312 | Nipun Java ($237,688) |
| 2018 | $365 Online Event | 2,972 | William Reymond ($154,996) |
| 2018 | $565 Six-Max PLO Online | 1,223 | Matthew Mendez ($135,078) |
| 2018 | $1,000 Online Championship | 1,635 | Ryan Tosoc ($238,779) |
| 2018 | $3,200 Online High Roller | 480 | Chance Kornuth ($341,599) |