Marian Virlanuta Leads After 888poker LIVE Bucharest Main Event Day 1a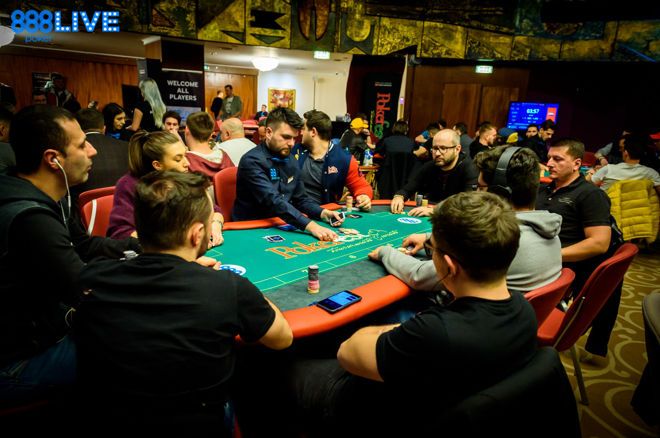 The first of four starting days of the 2019 888poker LIVE Bucharest €888 Main Event finished with 17 players out of 67 remaining and it was Marian Virlanuta that bagged up the chip lead in the ballroom of the five-star Intercontinental Bucharest Hotel.
Virlanuta raced to the top in the final level of the night and claimed 284,500, edging past Stuart Sewell (262,500) and Alexandru Constantin (239,500), and there is already a big gap between the trio atop and the remaining Day 1a survivors. Notables that made it through to Day 2 via the first starting day include Mihai Niste (127,500), Andrei Iordache (108,000), Vlad Tatu (102,500), Alexandru Gavrilut (102,000) and Artan Dedusha (92,500).
For Dedusha, it was a roller coaster day after he entered late and immediately found himself next to his best friend Kfir Ivgi as well as Carmen Zainescu. Dedusha got short, chipped up and hit a hot streak after the dinner break to become a contender for the chip lead. But a lost flip with ace-queen versus pocket tens cut his momentum short and the Brit finished in the middle of the pack.
Other notables were even less fortunate such as 888poker ambassador Ana Marquez, Raoul Iancovici, Defending champion Andrei Racolta, Ozgur Arda, Danut Chisu, Eusebiu Jalba, Andrea Nodea, Bogdan Berinde, Florin Pandilica and Aussie Poker Hall of Famer Jason Gray.
Marquez was left short early on and failed to get there with ace-queen versus queens. Racolta lost a flip with pocket nines against the ace-queen of Niste. Fellow countryman Pandilica had two rough beats: First his queens were cracked by ace-queen as Stuart Sewell spiked an ace on the turn, then a flopped set of deuces could not hold up against a straight and flush draw.
All those that busted on Day 1a can re-enter in any of the remaining three starting days. In the meanwhile, one of the Side Events has already crowned a champion. The €230 Opening Event, which drew a total of 300 entries and surpassed the guaranteed prize pool of €50,000, saw 47 players return for Day 2. Only the top 36 spots were ensured a portion of the €56,400 in prize money and the event ended with a deal, with five and three players remaining.
Among those to cash were Ramlal Basdeo (34th place - €410), Andrei Nodea (31st -€410), Mihai Banu (22nd - €550}, Or Amitai (18th - €650), and Lucian Bera (13th, €1,000). With the elimination of Canada's Manfred Sierke in 11th place for €1,120, a Romanian victory was secured. Sorin Radulescu was the chip leader heading into the nine-handed final table and took home the most money after the deals were cut.
Final Result €230 Opening Event
| Place | Player | Country | Prize (in EUR) | Prize (in USD) |
| --- | --- | --- | --- | --- |
| 1 | Sorin Radulescu | Romania | €8,270* | $9,345 |
| 2 | Viorel Gavrila | Romania | €7,000* | $7,910 |
| 3 | Bogdan Sirbu | Romania | €7,000* | $7,910 |
| 4 | Igor Pirnau | Romania | €5,000* | $5,650 |
| 5 | Narcis Gabriel Nedelcu | Romania | €5,000* | $5,650 |
| 6 | Florin Rotila | Romania | €2,580 | $2,915 |
| 7 | Nicolae Popa | Romania | €2,000 | $2,260 |
| 8 | Marius Soare | Romania | €1,550 | $1,752 |
| 9 | Ionut Decher | Romania | €1,300 | $1,469 |
*Denotes five-handed deal