Inside Gaming: Nevada Casinos Top $1B in February Despite Decline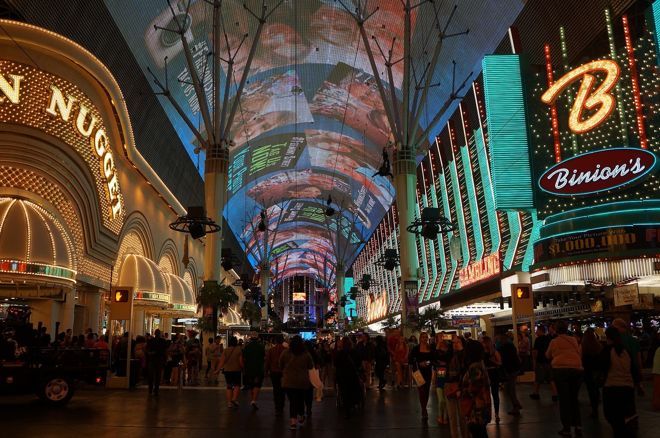 Nevada Casinos Top $1B Revenue in February, Sportsbooks Thrive
Yesterday the Nevada Gaming Control Board provided its monthly revenue report, showing the state's casinos collectively realized $1.012 billion in revenue in February, a small dip of 0.62 percent year-over-year.
The slight revenue decline in February followed a larger decrease of a little more than 3 percent in January when revenue totaled just over $984M. Like a poker player feeling satisfaction after reaching an otherwise arbitrary milestone chip-wise, crossing the ten-figure threshold helped encourage positive reactions to the report.
"All things considered, whenever we record a billion dollars in gaming win we are very pleased, although for this month that still resulted in a very small decrease statewide," said Michael Lawton, senior analyst with the Nevada Gaming Control Board, as reported in the Las Vegas Review-Journal.
The win amount for casinos in downtown Las Vegas were up 9 percent for the month, while those on the Strip were down just under 2 percent when compared to a year ago.
Lawton highlighted a lower baccarat win as having affected the overall revenue total.
"Baccarat was off 25.5 percent or $45.2 million due to volumes being down 18 percent on a hold of 12.77 percent vs.14.05 percent last year," he explained, adding as well how baccarat revenue has been down seven of the last eight months despite volumes being down approximately 1 percent over that period.
Meanwhile Nevada sportsbooks took in more this February when compared to a year ago, winning $35.8 million in February, a big 235 percent jump from the year before. Both basketball betting and a better outcome on the Super Bowl helped the books this time around.
Legislative News from West Virginia, Indiana, Tennessee
As usual U.S. lawmakers in various states were weighing in on gambling-related legislation this week.
You might have heard about West Virginia's online gambling bill having become law after passing through both houses and not being vetoed by the governor. Read more about that development in "West Virginia Legalizes Online Poker."
In Indiana lawmakers removed mobile sports betting from a gambling bill this week among other revisions concerning licenses and operators. The new bill which passed through a Senate committee only allows sports betting at casinos, racinos, and satellite facilities, reports the Indianapolis Business Journal. A House committee is now taking up that bill as it makes it way through the legislative process.
Meanwhile over in Tennessee prospects appear less sanguine for a sports betting bill. While the bill has bipartisan support, opposition is being expressed from both sides of the aisle as well, according to the Tennessean. While a House committee continues to argue over it, a Senate committee has delayed looking at it all to this point.
New Partnership Signals Japan Plans for MGM Resorts International
This week came news of the first Las Vegas-based operator entering a partnership with a Japanese financial services group in advance of the introduction of integrated resorts in the East Asian country.
MGM Resorts International announced plans to work with the Osaka-based Orix Corporation in order to bid on one of the country's first three casino licenses, the Nikkei Asian Review reports.
The two companies plan with their bid to build an integrated resort in Osaka, the port and commercial city located in central Japan. "MGM and Orix are expected to be equal partners, with several companies in Osaka and other nearby cities also likely to join the consortium."
According to analyst Vitaly Umansky of the Sanford C. Bernstein brokerage company, the agreement indicates "MGM would not be a controlling party of the development," likely having "less than 50 percent or a controlling stake."
Plans for the Osaka integrated resort that have been publicized include a casino (to be managed by MGM), hotels, restaurants, and a conference center as well as other entertainment venues, reports Nikkei Asian Review. The total floor space for the IR would cover over one million square feet.
After first passing legislation to allow Integrated Resorts in 2016, it took until last summer for Japanese lawmakers finally to enact an Integrated Resorts Bill, with one provision agreed upon for the new properties being that casinos take up no more than 3 percent of the total resort floor area.
The selection of casino operators and awarding of the first licenses won't likely take place until 2020, with 2025 a target date for the first openings.
Casino Murders Prompt Gambling Ban by Kosovo
Finally, this week the Republic of Kosovo abruptly banned all forms of gambling for the next 10 years following an announcement by Prime Minister Ramush Haradinaj. The bill prohibiting gambling was passed by the Southeastern European country's lawmakers late Thursday, a response to killings taking place at two different casinos earlier this month.
The Guardian reports how "police boarded up most of the 470 gambling venues in Kosovo" just before the ban took effect.
Gambling has become especially popular in Kosovo over recent years, with the government taking €20 million in taxes annually. According to the Gambling Association of Kosovo, the gambling industry employed 4,000 workers in a country where approximately a third of its 1.8 million citizens are unemployed.
The two murders occurred last week in two separate incidents in the space of four days, both happening during robbery attempts. A police officer has been arrested in one of the incidents.
"We will not allow these venues to be arenas of crime that claim people's lives," declared Haradinaj in a Facebook post.
Not everyone agreed with the sudden ban, nor with the haste with which it was applied. "The decision to close us was taken after two of our workers were killed," said Ruzhdi Kosumi, owner of 14 gambling shops. "We lost people and now we are losing our jobs."
Photo: "Casinos of Fremont Street at night," Pierre André, CC BY-SA 4.0.