Poker Vloggers You Should Know and Watch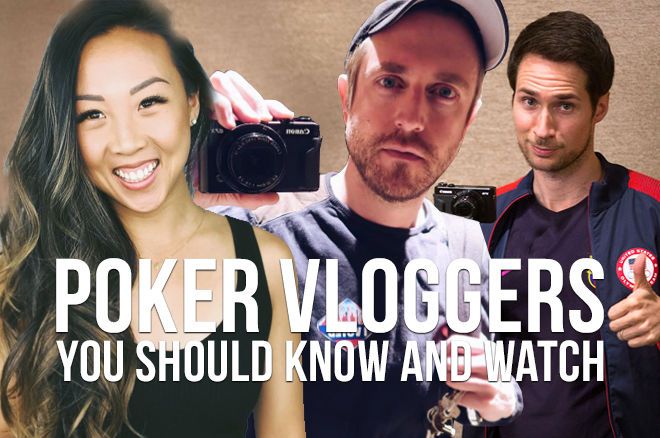 Many poker players have turned their job or hobby into a more creative and productive endeavor, making video content out of their poker adventures and posting in the form of video blogs, or vlogs, on YouTube.
Some of these vloggers have caught on big time, becoming big enough in the industry that in the recently announced Global Poker Awards by Global Poker Index (GPI), a "Vlogger of the Year" category was included. There were only five nominees — Marle Cordeiro, Joe Ingram, Andrew Neeme, Daniel Negreanu and Doug Polk — but there are many more creators out there with content worthy of attention.
In this piece, PokerNews highlights some of the most popular vloggers of the day as well as some of the most promising up-and-comers in this department.
It's important to note that this is not meant as an exhaustive list, and we will add to the collection of vloggers to watch in the future, to keep you up to date. Also note, we include Ingram and Polk here for the popularity of their respective YouTube channels, but they will be the first to tell you, the majority of their content doesn't really fit into the vlog category... more on that later.
---
Vloggers You May Already Know
Andrew Neeme

Earlier this year, one of the most popular vloggers reached the 100,000-subscriber mark. Andrew Neeme is a poker player living in Las Vegas, where he plays mid-stakes live cash and shares his journey with his followers. He reached the 100K subs milestone after just two years of vlogging.
On his website, Neeme mentions his vlog project after giving an introduction to who he is: "Oh, and I started a little vlog project on YouTube about all of the above. That's where you'll find my most recent adventures." It's not so little anymore, because Neeme has already garnered over 111,000 subscribers on his channel where he posts vlogs about his poker sessions in Las Vegas and elsewhere about once a week.
---
Brad Owen

Brad Owen is most likely the next poker vlogger to follow his Meet-up Game (MUG) partner Neeme to the 100K subscriber milestone. Owen is a poker player living in Las Vegas and he started making vlogs about his adventures on and off the poker tables in December 2016. Currently, Owen has over 96K subscribers and is growing his fan base all the time.
---
JohnnieVibes

Last week, JohnnieVibes finished his 30-day challenge where he put in 150 hours of live mid-stakes NLHE poker sessions and vlogged about it.
In his short bio, he tells who he is: "Cash game pro for the last 10 years based out of Vegas and San Diego. My primary game is $5/10NLHE but I have dabbled up to $25/50/100NLHE. I travel often, produce music and videos, and generate content for my brand DeepVibes."
---
Jeff Gross

One of the longest-running and most consistent poker vlogs over the past three years belongs to Jeff Gross, who vlogs his poker and life adventures, and features plenty of big name cameos. Gross also puts in many hours streaming online poker at his Poker Flow Show channel on Twitch where he has over 56,000 followers.
---
Tim "TheTrooper97" Watts

One of the OG poker vloggers — his first vlog was posted on Jan. 11, 2012 — Tim "TheTrooper97" Watts is also one of the most consistent vloggers, usually dropping around four videos per week where he documents his life and poker journey in Las Vegas. Trooper has over 36,000 subscribers and explains in simple terms what you can expect from his videos: "I play poker and drink a lot of coffee."
---
Jeff Boski

Poker player Jeff "Boski" Sluzinski, who has played a lot of online poker under his screen name "ICuRaRook," travels to a variety of destinations and makes vlogs about his trips. These interesting vlogs got him up to over 18,000 subscribers on his YouTube channel. Just like last year, we expect him to make some great vlogs during the World Series of Poker in Las Vegas.
---
Marle Cordeiro

In November last year, Marle Cordeiro stormed onto the poker vlogger scene with a unique brand of comedy and storytelling. After her controversial introductory vlogs, Cordeiro appeared on Ingram's podcast where she shared more about herself and what prompted her to start vlogging. You can watch that podcast here:
Cordeiro has more than 23K subscribers at the time of writing, already closing in on the 25K-mark.
---
Jaman Burton

Jaman Burton has picked up more than 24,000 subscribers on his YouTube channel after posting his first vlog on June 23, 2017. He doesn't provide too much about himself in his description, so you may just have to watch to find out what he's all about. He describes himself on his channel as follows: "I'm just a guy, that's all. I play poker, grocery shop, do laundry...the fun stuff and I vlog about it. You'll see..."
---
Jaime Staples

Jaime Staples has put himself on the map in a big way in the last few years as one of the hardest working streamers and content creators in poker. His first vlog was dropped on Aug. 14, 2016 and he still remains consistent with his videos. Staples has produced 335 videos in his two-plus years, putting him among the most productive poker vloggers out there.
---
Kristy Arnett

A former PokerNews presenter, Kristy Arnett now plays poker professionally and vlogs about her experiences. On her channel, she tells her story: "I started playing poker when I was 19 back in Fort Wayne, IN. That was around the same time I met my husband, who was the first professional poker I ever met. When I turned 21, we moved to Vegas to pursue our dreams.
"I landed an internship at Card Player Magazine, worked my way up to Senior Writer and Video Host/Producer, moved to PokerNews, travelled the world interviewing the best players in the world, and then in 2014, I quit to play poker professionally. This channel is all about poker life, strategy, and mindset."
Arnett is closing in on 10,000 subscribers on her channel, and will likely be cranking up the content during WSOP.
---
Jonathan Little

While his YouTube channel consists mostly of strategy content, some of it recorded live, Jonathan Little still does the occasional traditional vlog when he travels for events. When describing the contents of his channel, he says he "posts poker strategy videos that will help you improve your poker skills so you can win more money."
Little has over 20,000 subscribers on his channel, and plenty more who utilize some of the wealth of poker knowledge he makes available on the internet.
---
Daniel Negreanu

The second highest all-time money earner in live tournament poker, Daniel Negreanu has a poker vlog of his own. Of late, he only posts vlogs during the World Series of Poker, when he lets his over 282,000 subscribers in on the day-to-day life of a high roller grinding out the series in luxury.
---
Joey Ingram

Joey Ingram, aka "Chicago Joey," has established himself as one of the most entertaining characters and content creators in poker. Putting out his first vlogs over nine years ago, he's been more consistent in producing content in the past four-to-five years, and it's been quite varied.
Many of his videos are of episodes of his live recorded podcast, the Poker Life Podcast, where he gets some of the biggest names in both online and live poker. Other videos deal with hot poker topics of the day, recaps of big televised poker moments, and strategy in both no-limit hold'em and "the great game" of pot-limit Omaha. He also did a brief stint of making UFC videos during 2018, but seems to have returned his focus back to poker.
He still makes videos consistently, but if you're looking for traditional poker vlogs with footage from sessions and discussion of hands played live, you may want to look elsewhere.
---
Doug Polk

One of the most successful poker YouTube channels of all time belongs to Doug Polk, who has taken a step back from poker in the past year-plus. In December 2017, he switched his focus from building up a huge following on his poker YouTube channel to launching a channel dedicated to cryptocurrency. That channel has done quite well too, with over 193,000 subscribers, but unfortunately for many, the crypto sphere is not as strong as it once was in the height of its bull run.
Polk still managed to cook up 52 poker videos for his fans in 2018, providing some poker hand analysis and highlighting some of the major news and drama of the industry, all with his signature touch of dry comedy. However, he'll be the first to point out, his videos aren't actually vlogs in the traditional sense of the word.
---
---
Vloggers You May Not Know (But Should)
Ben Deach

The Reno-based Ben Deach has put out 34 vlogs in his first year combining his skills sets. On his channel, he tells viewers about himself and what you can expect from his vlogs:
"My name is Ben Deach. I am a news anchor in Reno, NV. I am also a part-time poker pro. I hope to be able to give you an inside look at the cash game action in both Reno and Vegas, as well as a behind the scenes look at newscasts!"
---
Trevor Savage

Another new vlogger, who published his first vlog Sept. 2, 2018 is Trevor Savage. He tells about himself in the About section of his vlog:
"My name is Trevor Savage and I'm a 35 year old professional poker player from New Jersey. This vlog will detail what it's like to play poker for a living as a family man. My beautiful wife Jody and I have three kids: Ava, Cameron and Andrew. They will make frequent appearances in the vlog, mostly for comic relief. My vlog will also focus a lot on mental health and the things that I have learned from poker that have helped me work through my anxiety. I want you all to know that if you need someone to talk to, whether it is about a poker hand or you own mental health, you can reach out to me and I will be more than willing to help! I appreciate all of your support!"
Savage presents vlogs on his live poker exploits, interspersed with hilarious videos of his children imitating well-known poker players in reenactments and other comedy bits.
---
Cory "BiNks" Waaland

Almost two years ago on May 1, 2017, popular poker player Cory Waaland recorded his first vlog from his bedroom in Charleston, S.C. In this first episode, he explains what "ThiNk BiNk" actually means and lays the foundation for what you can expect from his channel. He's recorded 32 vlogs in total to date and is approaching the 1,500-subscribers mark. Last year, Waaland documented his WSOP endeavors which we may be able to expect once again this year.
---
Andrew Lok

Andrew Lok is a "poker enthusiast living in San Francisco, CA," who is nearing 2,000 subscribers on his fairly new YouTube channel. He started making his vlogs in October, 2018 and is posting new videos almost every week of his poker exploits mostly in California.
---
Bill Burford
Another vlogger who tries to visit the World Series of Poker every year is Bill Burford. The Dallas area grinder has made 67 vlogs since he started it back in December 2017.
"I am a very successful avid amateur poker player who plays regular tournament and cash games in the Dallas area. I make the trek to Las Vegas each year for the WSOP, in which I have been quite successful! Would love to try travelling on the WSOP circuit," he said in his bio.
---
CzechRaiseCharles

With over 8,000 subscribers, "CzechRaiseCharles" has a good fanbase. The poker player recently became a father but he's making his videos mostly about his poker adventures. He shared in his bio: "I'm a part-time poker player turned recent dad. Most my time is spent as a stay at home father. These are my poker and parenting stories!"
---
Detroit Poker

Brian, who is making vlogs on his "Detroit Poker" channel, is nearing the 3,000-subscribers mark. In his bio, he explains his content: "Hi, I'm Brian. I go over hand histories from live 1/2 and 2/5 sessions on this channel, and I've also been known to use a drone and try to create cinematic footage here and there! I have been playing live poker for years, and I do currently play poker for a significant portion of my income. I was born and grew up in the Metro Detroit area."
---
MTL MAK

A Canadian documenting his poker journey as well as his daily routines, "MTL MAK" is getting more fans by the day. His first vlog was posted on Dec. 12, 2018 and his home live casino is the Montreal Casino. On his channel, he tells what you can expect: "Up and coming poker player working to make his way up the stakes, travel, meet interesting people and bring you along for the journey!"
---
James Chavana

James Chavana produces poker vlogs about his live poker sessions in the Washington, D.C. area. The kicker? He does them in his native language, Thai. After dropping his first video on March 24, 2017, Chavana is now closing in on his 70th vlog and has already gained more than 2,100 followers.
---
Lee Coe

He's been playing poker for over 14 years but Lee Coe started his poker vlog just a year ago. He describes himself on his channel: "Hi, my name is Lee and I am an amateur poker player who shares a great passion for the game. I have been playing poker for over 14 years now on and off. And have developed a decent win rate and hourly over the years. I hope to make some great videos and get good content while I'm playing the game to share with everyone or anyone that's interested."
He shares his inspiration for the vlog: "This poker vlog is also a dedication to my grandfather who also had a great passion towards the game, and if not for him, I would not be the poker player I am today."
---
Matt Vaughan

Over 13,000 people are already subscribed to Matt Vaughan's poker vlog. In his bio, he explains what his channel is about: "Follow me on my journey through poker and life. I've been playing poker seriously for nearly a decade and now also experience poker in 'real job' form through School of Cards."
---
Matthew Liu
He is not posting as many videos as he used to do, but Matthew Liu is still around. "College student playing poker and enjoying other life shenanigans," he states in his bio. Liu recently played against other vloggers including JohnnieVibes and Andrew Neeme.
---
RampagePoker

Just a year ago, "RampagePoker" started with his vlogs on YouTube and he already has close to 2,000 subscribers. His bio states: "Hey guys, Ethan (Rampage) here. Just an up-and-coming Poker Youtuber hoping to make some entertaining videos and have ya'll learn from my mistakes. Hope you guys enjoy!"
---
Ryan Depaulo

Degenerate gambler, who mostly vlogs about poker, Ryan Depaulo has almost 13,000 subscribers on his YouTube channel and he will probably visit the WSOP to make more epic vlogs. In his words, you can expect: "Gambling vlogs, poker vlogs, video poker and PARKOUR!"
---
Swiper Poker Vlog

The Australian vlogger Leigh started his Swiper Poker Vlog and is closing in on 2,000 subscribers. In his bio, he explains what to expect: "Welcome to my channel. I'm Leigh from Sydney, Australia. I'm a recreational poker player in the true sense. Win or lose, I'm doing what I love... And having FUN! I hope to produce content from a recreational player's perspective, and plan on keeping the Vlogs light and not too in depth in regards to strategy. Stay tuned for more travel, poker, and a bunch of other random stuff!... And don't forget to SUBSCRIBE and share the love!"
---
Oliver Biles

One of the Vloggers in Paradise winners of a PSPC Platinum Pass, Oliver Biles is an actor turned poker player who vlogs about life, poker and travel. As he puts it, "I'm a poker player traveling the world."
---
Matt Kiefer

The other Vlogger in Paradise vlog winner, Matt Kiefer vlogs about poker and his close-knit family life. He introduces himself and his vlog: "I'm Matt, a husband and father of 3. I'm a recreational poker player who started a lifestyle/poker vlog focusing on storytelling and creativity. I enjoy creating content and I hope you can find some inspiration through this channel."
---
Tony G 410

With just 277 subscribers, Tony G 410 hasn't been in the spotlight yet but that could change in the near future. According to his bio, he plays poker (mostly tournaments) for recreation: "Poker Player Mostly Playing Tournaments w/ Occasional Cash sessions. I Sell Big ass Forklifts and Love Having fun at Casinos, rooting For my Baltimore Sports teams and living Life."