Aladin Reskallah on Achieving His Winamax Team Pro Dream -- Twice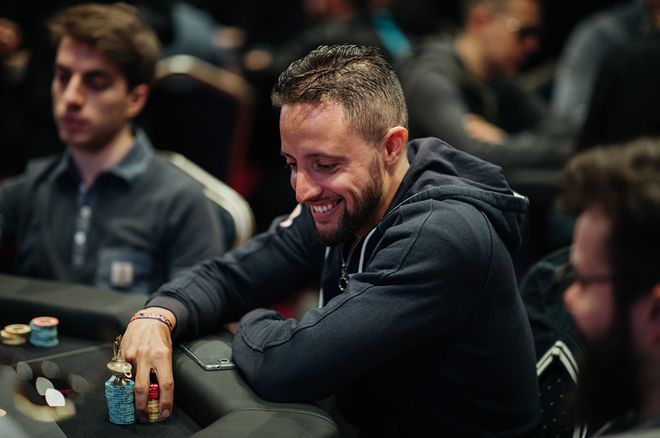 Table Of Contents
Living in Canada, studying in Montreal and playing mostly cash games, Aladin Reskallah said he stumbled on Winamax while looking for more information about how to improve his game.
Years later, he's now a Winamax Team Pro and the only ever two-time Winamax Top Shark winner.
"I wanted to find some poker content in French, because that's my mother language, and I came across Winamax," he said. "I'd never heard of them. And I was like, 'Oh my God,' there was so much content! There's Dans la tete d'un Pro and when I saw it there was so much information!"
Reskallah was particularly interested in the Team Pro stable that Winamax had at their disposal. With the same atmosphere and branding, the team appeared just like any sports team heading to competition together.
"It was a dream, obviously, to be part of a team like this. And then I saw the Top Shark Academy competition to join the team."
A few years later, Reskallah made the decision to quit his job and leave Montreal ("I was tired of the winter") and went back to France where he started playing online poker in earnest. He gave himself a year to try and become a professional poker player, and to win the Top Shark competition.
Winning Top Shark
Top Shark is an initiative by Winamax that offers players the chance to join the ranks of Winamax Team Pros such as Adrian Mateos, Davidi Kitai, Mustapha Kanit and Leo Margets.
Over seven weeks, they are tested on their poker skills in the hope of eventually winning the €50,000 package which includes buy-ins to Winamax events, as well as events on both the European Poker Tour and at the World Series of Poker, including the $10,000 Main Event.
"It would be such a great opportunity, to get to know all the best French players," Reskallah said. "And when I won it the first time it was pretty life-changing, getting to play the big tournaments was a big opportunity to boost my bankroll."
It was pretty life-changing, getting to play the big tournaments was a big opportunity to boost my bankroll"
By his own admission, the first year went "not so bad," and Reskallah finished with 10 cashes and approximately €40,000 in cashes, with Winamax opting not to renew his contract at the end of the year.
"I knew at the beginning it would be unlikely I'd be renewed because of the newer players joining. But that gave me extra motivation to win a big tournament like a bracelet or an EPT. I was trying to do all I could to try and be renewed. I was a little disappointed, but not that much."
Take Two
Reskallah headed back to the online felt, and worked on his routine and game. With the help of his friends he found a new sense of discipline, heading to the gym multiple times a week and focusing on his diet and sleep patterns. So by the time the latest Top Shark came around, he felt in a much better place.
"I was confident from the beginning," he said. "The hardest part is to get into the Academy because there are a lot of steps online and a lot of variance. Every week one or two people bust, but two people are safe. What happens is you get nominated and people can vote for you to save you.
"I've set myself the goal of 15 cashes and €100,000 in winnings"
"I knew that I had quite a good following, and a good community on Twitter and Facebook, so I knew it would be very difficult to bust me before the final. But, you still have to win the final!"
And he did, securing himself a second €50,000 package including a number of major poker tournaments over the course of the next year. Reskallah says he's really happy to be back.
"This year I know how the circuit works," he said. "I know how to prepare myself, and of course I'm a better player because I studied a lot over the two years. This year I want to be better than last time, and I've set myself the goal of 15 cashes and €100,000 in winnings. Obviously, if I get that goal sooner than I will set a bigger goal, but I don't think that's too ambitious."
His second stint as a Winamax Team Pro may only be in its infancy, but he's already set his sights for the future.
"This time I'm going to play more tournaments outside of the package. Two years ago I was almost broke, but now I'm better and I have a bigger bankroll. So maybe, you know, this time maybe I have a better chance of being renewed.
"I'm the first to win it twice. Winning it one time it seems almost impossible, so winning it two times? The odds must be very, very high."
Will Shillibier is based in the United Kingdom. He started working for PokerNews as a freelance live reporter in 2015 and joined the full-time staff in 2019. He graduated from the University of Kent in 2017 with a B.A. in German. He also holds an NCTJ Diploma in Sports Journalism.