WSOP First Fifty Honors Gala: Brunson, Moneymaker, Negreanu & Hellmuth Collect Awards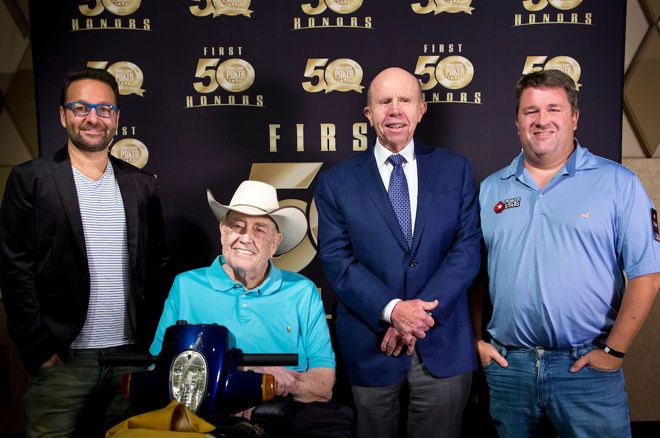 As part of the World Series of Poker's special 50th annual celebration in 2019, they created categories and gathered fan votes to honor some of the most influential poker players and moments over the years.
On Saturday night, WSOP brass gathered with dozens of bracelet winners, poker legends, VIPs and other forces from the poker festival's esteemed 50-year history on Saturday night at the Rio Las Vegas for the WSOP First Fifty Honors Gala, hosted by familiar voices Norman Chad and Lon McEachern.
It was there that awards were handed out for seven categories that were voted on by the public in an online voting system from May 15 to June 15.
During that time, thousands of votes were cast, resulting in the winners outlined below. The honors gala followed the WSOP's releasing their list of the "Top 50 Greatest Poker Players" in history, voted on by a panel of 26 veteran poker media and industry members.
You can take a look at that list here.
WSOP First Fifty Honors Awards
| Award Category | Recipients |
| --- | --- |
| Most Memorable TV Hand | Sammy Farha vs. Chris Moneymaker "Bluff of the Century" 2003 WSOP |
| Best Overall WSOP Performance (Single Year) | Daniel Negreanu (2013: 2 bracelets and 4 final tables) |
| Most Likely to Succeed (Most Bracelets 2020-2070) | Justin Bonomo |
| Fan Favorite | Daniel Negreanu |
| WSOP's Favorite Bad Boy | Phil Hellmuth |
| Most Impressive WSOP Main Event Win | Chris Moneymaker (2003 WSOP Main Event) |
| Four Most Important Players in WSOP History | Doyle Brunson, Phil Hellmuth Chris Moneymaker, Daniel Negreanu |
Moneymaker Cleans Up
The man that many credit in large part for the poker boom that followed the 2003 WSOP Main Event received much love at the honors gala, and for good reason.
You can't think of WSOP Main Event history without Chris Moneymaker coming to mind. The online poker satellite winner accountant from Tennessee who etched his name in poker history captured the imagination of the audience who watched poker's biggest event play out on national television, and the Main Event and the WSOP as a whole would never be the same.
And who can forget the "bluff of the century" as Norman Chad called it on the original broadcast, when Moneymaker extended his heads-up lead against Sammy Farha with a well-executed double-barrel bluff after missing straight and flush draws and getting to the river with king-high.
That was voted "Most Memorable TV Hand," and you can relive it here:
Moneymaker also won awards for "Most Impressive WSOP Main Event Win" and was among the "Four Most Important Players in WSOP History," along with poker legends Doyle Brunson, Phil Hellmuth and Daniel Negreanu.
Moneymaker took to Twitter to thank the voters. "Very thankful to the fans for voting. Three trophies from @WSOP. Very honored."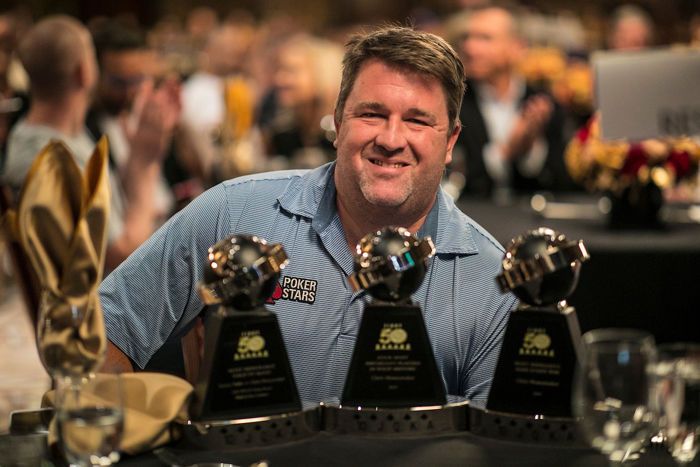 Daniel Negreanu, Fan Favorite
Another player honored at the gala with three awards is another name synonymous with the WSOP, so dedicated to grinding all series every summer that he sets up an RV just outside the Rio's doors.
Second now only to Justin Bonomo on poker's all-time money list with over $40 million in live poker tournament earnings to his credit, Daniel Negreanu received the award for "Best Overall WSOP Performance (Single Year)" for his two bracelets and four final tables in 2013.
"DNegs" was also voted "Fan Favorite" and among the "Four Most Important Players in WSOP History," as he continues his hunt for bracelet No. 7 and looks to add to his more than $17.4 million in WSOP earnings, all while vlogging his daily experiences for his tens of thousands of fans.
Phil Hellmuth Takes Two
Always entertaining to watch, another poker superstar in Phil Hellmuth also raked in the votes, included in the "Four Most Important Players in WSOP History" category.
The "Poker Brat" also took the honors of being "WSOP's Favorite Bad Boy," an image he's been able to uphold even through his recent #Positivity campaign.
WSOP's all-time bracelet winner with 15, along with more than $14.6 million in WSOP earnings alone, Hellmuth is a staple at the WSOP every summer.
That's why it was a surprise to many — perhaps even to himself — that he took off in the middle of the series to hop a private jet to see Machu Picchu and the Galapagos Islands. His agent Brian Balsbaugh was present at the ceremony to accept the awards on his behalf as Hellmuth enjoyed his travels.
I DO NOT like missing @WSOP tourneys! But for a once-in-a-lifetime opportunity: heading to Machu Picchu and Galápag… https://t.co/I9xhV5Cuf8

— phil_hellmuth (@phil_hellmuth)
Doyle Brunson, the Legend
Any list of poker legends would be incomplete without the inclusion of "The Godfather of Poker," Doyle Brunson, also included in the honor of "Four Most Important Players in WSOP History."
The ten-time bracelet winner and Texas hold'em expert with over $3 million in WSOP earnings was inducted into the Poker Hall of Fame in 1988 and has continued playing in the biggest poker games around to the present.
Last summer, Brunson announced he was throwing in the towel on tournaments, calling the $10k No-Limit 2-7 event he participated in likely his last.
He went out of the WSOP with a bang, making a deep run that ended in fourth place.
Brunson has sealed his legacy in poker and the utmost respect of the entire poker community. The WSOP honors award served to celebrate his undeniable place in WSOP history.
Justin Bonomo Sneaks In
Another honor on the ballot was "Most Likely to Succeed (Most Bracelets 2020-2070)" and that went to poker's all-time winningest player Justin Bonomo, who cashed for an incredible $25 million in 2018.
At the WSOP, Bonomo has collected three bracelets, one being in the 2018 $1 million Big One for One Drop.
The poker world expects him to continue to build on his amazing successes thus far on the felt, as noted by the award he received the most votes for. Bonomo was honored to be included among a list of such greats at the gala.
50 awards were given out tonight at #wsop50. 32 of them went to @CMONEYMAKER, 9 to @RealKidPoker, 5 to… https://t.co/icqlEmC4Fw

— Bonologic (@JustinBonomo)
"We are appreciative for all who came out tonight to help us mark this special milestone and pay homage to the founders of the WSOP and all those who played a role in blazing a trail to where we are today," said WSOP Executive Director Ty Stewart of the event.
"It was a tremendous evening and we congratulate all the winners and for all those that came out to support them."