Inside Gaming: Borgata Leads Atlantic City to a Hot July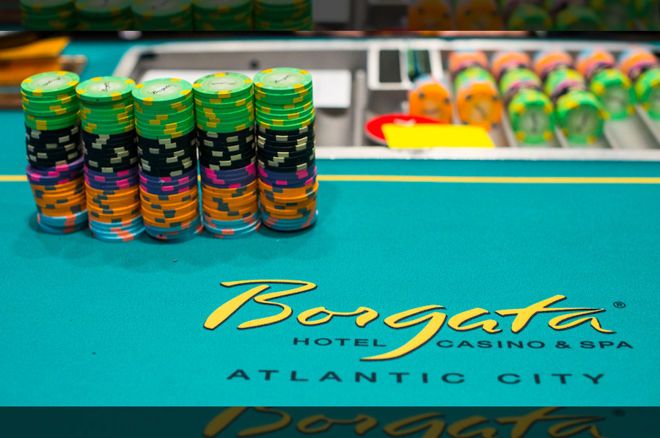 Another Revenue Increase for Atlantic City, Best Ever Month for Borgata
The news from Atlantic City continues to be positive. The latest monthly revenue report issued this week by the New Jersey Division of Gaming Enforcement once again showed an increase, with July's total gaming revenue up 7.8 percent year-over-year.
Counting everything — i.e., revenue from games in the casinos, the internet gaming win, and sports wagering revenue — Atlantic City's nine casinos reported just over $323.3 million in revenue for the month, up from $299.8 million in July 2018.
Again, the upward move is mostly due to online gaming and revenue from sports betting. The collective casino win was up for the month, increasing 1.8 percent to $277.2M from $272.3M a year ago.
But the internet gaming win was up a whopping 51.8 percent, going from almost $25.9M last year to $39.3M this July. And sports wagering revenue was up big as well, going from just $1.61M in July 2018 (the second full month NJ had sports betting) to almost $6.82M in July 2019.
The two racetracks — Meadowlands and Monmouth Park — also enjoyed big increases in sports wagering reveune, together earning almost $17.9M compared to just over $3.8M last July.
Worth noting as well is the fact that July 2019 was the first month in which the year-over-year comparisons could reflect full month totals from both the Hard Rock Hotel Casino Atlantic City and the Ocean Casino Resort, both of which first opened their doors during the last week of June 2018.
Casinos showing year-over-year increases in total gaming revenue included both the Hard Rock (up 24.6 percent) and Ocean Resort (up 18 percent), as well as the Golden Nugget Atlantic City (up 17.4 percent) the Borgata Hotel Casino & Spa (up 14.8 percent), and Resorts Casino Hotel (up 1.8 percent).
Meanwhile Harrah's Atlantic City (down 5 percent), Tropicana Atlantic City (down 11 percent), Bally's Atlantic City (down 11.3 percent), and Caesars Atlantic City (down 15.2 percent) all reported year-over-year decreases in total gaming revenue for July.
Resorts and Caesars both report internet gaming win separately. When taken together, Resorts' July increase was much larger (up more than 24 percent) while Caesars' decrease was somewhat less (down about 9 percent altogether).
The Borgata actually enjoyed its biggest month ever in terms of total gaming revenue with just under $89 million for July, up from $76.6M a year ago.
"Playing lucky in table games, complemented by healthy July volumes, led to Borgata enjoying an all-time record in total gaming revenue," Borgata President and CEO Marcus Glover told CBS Philly.
Total gaming revenue for the year to date is up 23.2 percent through July, having increased from almost $1.563 billion through the first seven months of 2018 to just over $1.925 billion through the first seven months of 2019.
Encore Boston Harbor Earns Nearly $48.6M in First Full Month
While we're on the subject of revenue, yesterday the Massachusetts Gaming Commission reported that Encore Boston Harbor enjoyed close to $48.6 million in gross gaming revenue from slots and table games in July, the first full month of the casino's operation following its opening on June 23.
The $2.6 billion luxury resort and casino located in Everett near Boston opened to great fanfare after eight years' worth of planning, construction delays, name changes, and legislative machinations.
According to CBS Boston, representatives of the casino have projected it will earn $800 million during its first 12 months in operation, "but experts told the Associated Press that $600 million is more likely."
Meanwhile MGM Springfield which opened in August 2018 took in almost $20.4 million in gross gaming revenue in July after having earned just under $20 million in June. The smaller, slots-only Plainridge Park Casino realized $12.5 million in gross gaming revenue for the month, down from the $13.5M in June and down a little more than 17 percent year-over-year.
More threatened by Encore Boston Harbor is the Twin River Casino located about a 75-minute drive south across the border in Rhode Island. Officials there said "this week it could be forced to lay off table game workers because the impact of the competition from Encore was greater than expected," reports CBS Boston.
DOJ Appeals Ruling Against Its Wire Act Reinterpretation
Finally, as expected the U.S. Department of Justice has made clear its intention to appeal a district court decision negating its recent reinterpretation of the 1961 Interstate Wire Act. The short notice, sent by U.S. Attorney General William Barr and dated today, simply states the DOJ is appealing the district court's judgment to the First Circuit Court of Appeals.
Last November the DOJ issued a reinterpretation of the Wire Act that was made public in January of this year. Countering an earlier opinion from 2011, the memo from the DOJ's Office of Legal Counsel stated the Wire Act's prohibitions extended beyond just sports betting to cover other forms of online gambling.
However in early June a ruling by a U.S. District Court Judge vacated the DOJ's new opinion of the Wire Act, reaffirming that the law only applies to sports betting and not to other forms of online gambling, including the sales of lottery tickets and online poker.
A week after that ruling the DOJ extended the deadline for compliance with its new interpretation of the Wire Act to the end of 2019, already the second time an extension had been made.
As noted, the appeal was hardly a surprise. Indeed, the district judge who ruled against the DOJ's reinterpretation in early June, U.S. District Judge Paul Barbadoro, had stated he expected as much even before making his ruling.
"I have a strong feeling that however I resolve the case, or however the First Circuit resolves the case, it is likely going to be resolved by the US Supreme Court either way," said Barbadoro at a hearing in April.
As Online Poker Report explains, after having made its intentions known the DOJ still needs to file a formal petition to the First Circuit Court of Appeals for it to hear the appeal, with that court not in session again for a couple of months.
Photo: "Branding & Chips Stacks," World Poker Tour, CC BY-ND 2.0.