Staking Group Files Suit for 10% of Nick Marchington's WSOP Winnings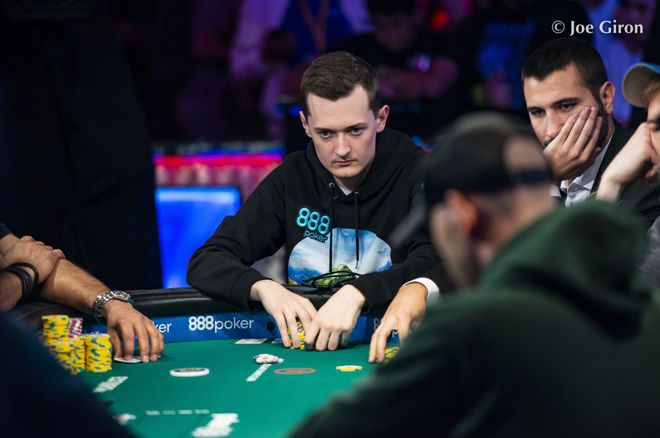 Table Of Contents
Staking deals are part of the fabric of tournament poker, allowing players to minimize their variance while investors get a chance at collecting a chunk of some nice winnings if their horses can go the distance, or at least make a nice run.
While such deals are common, the mechanics for canceling said agreements have come into focus as one staking group is taking 2019 World Series of Poker Main Event seventh-place finisher Nick Marchington to court, claiming they still had the right to their 10% stake. Marchington reportedly canceled the agreement in writing prior to the start of the tournament.
"It is disappointing to see a backing operation argue a player does not have the right to cancel a stake before a poker tournament starts, especially after accepting the player's refund."
Marchington, a 21-year-old U.K. poker pro, sold part of his action before cashing in the big one for $1,525,000 after finishing seventh of 8,569 entrants on July 14. The current lawsuit against him alleges breach of a staking agreement, which Marchington attempted to cancel via text message to the backers in question, David Yee and Colin Hartley of C Biscuit Poker Staking. He sent the text prior to the event's start.
These backers allege that Marchington only returned their $1,200 Main Event stake after he had entered the event, thus keeping their 10% share in play. Yee and Hartley filed suit in Clark County District Court the day following Marchington's exit from the event under the representation of attorneys Richard Schonfeld and Robert DeMarco. Caesars put a hold on the $152,500 in question following the filing and those funds are now being held in a trust with Marchington's attorney.
Details and Timeline
Most players who sell in the Main do so at markup and can get away with charging more markup than usual due to the potentially huge prize money on the line and the perceived weakness of the field. This was certainly the case for the young internet grinder playing in his first Main Event.
The piece in question was a 10% stake that Marchington originally sold to the owners of C Biscuit at 1.2 markup, meaning the staking company bought the $1,000 piece for $1,200. In that arrangement, C Biscuit purchased the Main Event stake as well as 10% of his action in Event #70: $5,000 No-Limit Hold'em 6-Handed at 1.1 markup.
According to exhibits presented in court filings by the plaintiffs, the above agreement was established on May 29, with funds being transferred and received by Marchington on June 4. On June 28, when the staking group followed up with Marchington, he told them he was "most likely not playing the 5k or main." The following day, he wrote: "whats up guys I am cancelling my wsop pieces. I am not going home early though," further confirming that he owed them a refund for the $1,750 stake they had sent.
After playing a full WSOP schedule with little success leading up to the flagship Main Event, Marchington was down on the trip and apparently got presented a better deal than the one to which he'd already agreed. According to the lawsuit, Marchington indicated to Yee and Hartley that he found backers willing to buy his Main Event action at a higher markup, telling them on July 1, "I might be playing the main. I messaged a few people and can sell at 1.7."
Action, No Action
While it seemed C Biscuit's pieces in both events were to be canceled, communication around that point is a bit unclear considering Marchington then sent C Biscuit a picture of the $5,000 six-max tournament receipt, indicating that their piece was still in action for that event. C Biscuit responded to clarify: "hey nick just here for a few – so I'm guessing that 5k is with our action then and that is the receipt – thanks for that. I'm guessing WSOP main event is still booked then with us?"
Marchington responded with: "Yes it's booked with you and I have a nice stack … don't know with the main event. I apologize for the confusion will let you know."
The staking members expressed discontent with Marchington regarding the idea of him canceling their agreed-upon Main Event deal because of a better offer. Regardless, Marchington played the Day 1b starting flight on July 2 before notifying C Biscuit that he was playing the Main but that their staking agreement was not in place for the event, writing via text message: "I am playing the main event but unfortunately your piece is cancelled. I know this is bad practice but I have to do what's best for myself since I lost on the trip. Will get back to you about your refund."
"He has the necessary free will to exit the arrangement at any time."
Once Marchington notified C Biscuit representatives that he was unilaterally canceling the staking arrangement with the group for the Main Event, the two parties entered discussions for the provision of a refund of the $1,200 stake. C Biscuit arranged with Marchington to have him deliver the refund to "an associate" of theirs in person, with which Marchington complied.
In a court declaration, Marchington wrote that he "endeavored to refund C. Biscuit's money as soon as I notified them of my cancellation; the delay in doing so was because they needed time to locate an associate to meet me to receive the refund."
Etiquette vs. Law
While the prosecuting party is arguing that Marchington did not refund the stake until after the tournament had commenced, it is evident that there were indications that he intended to cancel the agreement before the event commenced.
"Requiring a player to enter an event on a given stake would be illegal," Marchington's attorney Ronald Green wrote regarding his client's rights. "He has the necessary free will to exit the arrangement at any time."
The rules or terms of these one-off staking deals vary depending on how the arrangement is made, but generally they're considered to be some form of "gentlemen's agreement," with changes or cancelations allowed up until a player registers for the event in question, or more specifically, before his starting stack is in action.
"Such a shame that a huge personal achievement of mine has been tainted by the greed of others."
To this effect, Marchington's legal representation wrote in a filed court document that the backers at C Biscuit "entered into an agreement Mr. Marchington was free to cancel at any time before the Main Event, Mr. Marchington exercised his right to cancel the subject agreement, and the Plaintiffs were made whole when they accepted a refund of their money."
What may be a breach of generally accepted etiquette regarding poker staking protocol may not be in breach of the law, as Marchington's legal representation argues that Marchington was within his legal rights in canceling the staking arrangement prior to the event in question.
Maurice "Mac" Verstandig, another attorney for Marchington, provided the following comment regarding the case: "It is disappointing to see a backing operation argue a player does not have the right to cancel a stake before a poker tournament starts, especially after accepting the player's refund. However, we look forward to pursuing this case in the courts, and have faith the court system will bring justice to Mr. Marchington."
The interruption to celebrations with friends and family following his big win was naturally unwelcome for Marchington, who wrote on Twitter: "Such a shame that a huge personal achievement of mine has been tainted by the greed of others."
He'll surely be hoping to put this stain on his achievement to rest as quickly as possible, but it seems he'll have to prevail in court first.
Be sure to follow PokerNews for updates on the lawsuit against Nick Marchington as the story develops.