Top Five Televised Angle Shots of All Time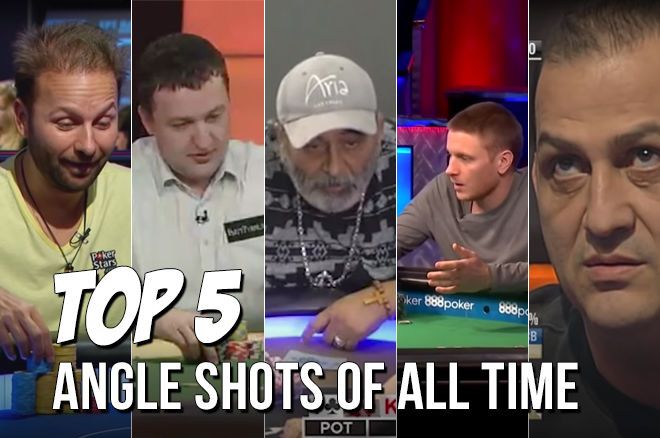 Angle shots, intentionally deceptive tactics used to take advantage of an opponent within the strict rules of the game, are as old as the game of poker itself. Some anglers don't look to hide their malintent, while in other cases, the angler's deceptive intentions are made quite clear.
Just last month, the EPT Barcelona Main Event broadcast saw a little controversy mixed in, with many calling a hand that played out on the live stream an angle. But we'll let you judge for yourself.
During the hand, Nikolay Ponomarev made a standard three-bet with ace-king against the pocket sixes of Quan Zhou, his neighbor to the right. Zhou - right down the lens of the camera - looks set to fold after much thought, complete with folding motions, but at the last minute... Well, just see for yourself. We did a video on the incident as well.
Controversy❗ Get @Stapes and @spraggy's thoughts on a possible angle in the #EPTBarcelona Main Event #

— PokerStars LIVE (@PokerStarsLIVE)
Angle shots have been taken for years, and some of the "best" angles surely didn't make it to air. So while the following may not be the five "worst" angles ever, they are certainly five examples of behaviors at the table that caused some uproar - and were caught on film.
---
1. Tony G. Angers Phil Hellmuth
Tony G. and Phil Hellmuth go together like water and oil, yet just like so many bitter rivalries in poker, their friction is our addiction. We love players going at each other and these two have been known to sit down at most tables just below boiling point.
In the following hand of pot-limit hold'em, Tony G claimed to have re-potted Hellmuth's pot-sized open without having seen his cards.
Tony G to Phil hellmuth: "Of course I lied! It's poker Phil – what do you think this is?"
Hellmuth, holding
, decided that was good enough to move in the rest, whereupon Tony G, like a clown peeling off his mask to reveal another, even more, flamboyantly-decorated clown mask underneath, declared the call and turned over
. Gleefully shameless in revealing his Machiavellian trick, the anger built inside Hellmuth, seeping out after Tony's triumphant joy at a safe board playing out by stating simply and sadly, "Oh, you lied."
Perhaps just to dig the needle in further, Tony G paused for a split-second before laughing, "Of course I lied! It's poker Phil – what do you think this is?"
Just gold, Tony. TV Gold.
Hand takes place at 18:02. Direct YouTube link.
---
2. Freitez Cries Wolf
If you're unfamiliar with the parable of the boy who cried wolf, then to give you a brief summary, it's all about Venezuela's number one tournament poker player, who pretends to raise by mistake when he has an incredibly good hand in order to make the most value from his unwitting opponent.
As it gets to the final trick, the tournament director is all over it and decides to change the story's ending.
First, Ivan Freitez tried it in the EPT Grand Final of Season 7. Then he did it again. Thirdly, he tried... you guessed it - once again. As it gets to the final trick, tournament director Thomas Kremser is all over it and decides to change the story's ending.
Once again feigning surprise and shock after raising, Freitez' charade is given up as Kremser notifies Freitez' newest potential target, Eugene Yanayt, about what he's done twice so far. Undeterred, Yanayt opts to call anyway.
---
3. Armenian Mike and the Rack of Regret
When is an all-in not an all-in? When you make it clear and on camera, then try to pretend that it was an elaborate prank rather than a really bad decision, you're trying to weasel out of.
But if you can withdraw that payment, why worry?
On Live at the Bike, 'Armenian Mike' is faced with an all-in from his opponent on the river and has pocket aces. They look lovely, don't they, pocket aces. Not as lovely as, say, a rivered full house. But if you can withdraw that payment, why worry?
Cue a massive investigation by the floor and a table full of players all making comment? Joey Ingram was on the case to investigate:
---
4. Sam Soverel Tosses Too Soon
One of the biggest controversies of the 2019 World Series of Poker - if you don't count someone mooning a player and a shoe being thrown - was Sam Soverel's out-of-turn move when Ben Heath still had cards.
If you somehow missed the hand, and subsequent bickering in the poker community, here's a chance to catch-up. Was the move intentional? It's not so cut and dry, so we'll let you be the judge.
There was one person who could be trusted implicitly with the truth of his feelings about the hand, and that that was Heath himself. He spoke to PokerNews reporter Oliver Biles and outlined the situation as he saw it - an honest mistake.
---
5. Negreanu and the Misclick
If there's one player you wouldn't expect an angle to come from, especially on TV, its Daniel Negreanu. The former PokerStars Team Pro did, however, act - what some might say - questionably in this hand with Steven Silverman.
"Negreanu looks to his rail with a tell-tale smile as he scoops the pot."
Negreanu raises to eleven times the big blind from the button - 45,000 with a big blind of 4,000 in the €50,000 Super High Roller during the 2013 EPT Barcelona. He acted like he made a mistake and had meant to raise to 9,000. An angle or not, his opponent in the big blind fell for it, moving all in with a covering stack holding king-jack suited.
When Negreanu responds with a snap-call holding ace-king, Silverman asks, "Did you get me?" All in all, the chip leader takes it well, restraining himself to a few eyebrow raises and the gradual pursing of his lips. Negreanu looks to his rail with a tell-tale smile as he scoops the pot, feeling no remorse about his mis-raise "oopsie" that helped score him a double-up.
Hand takes place at 21:49
Next time you see something suspicious at the table, think "Is this televised?" and suck in that gut, because if it is, you're going to live forever on YouTube as the table mate of a notorious angle shooter.