Hari Varma Claims Inaugural WPT Australia Title at The Star Gold Coast ($185,693)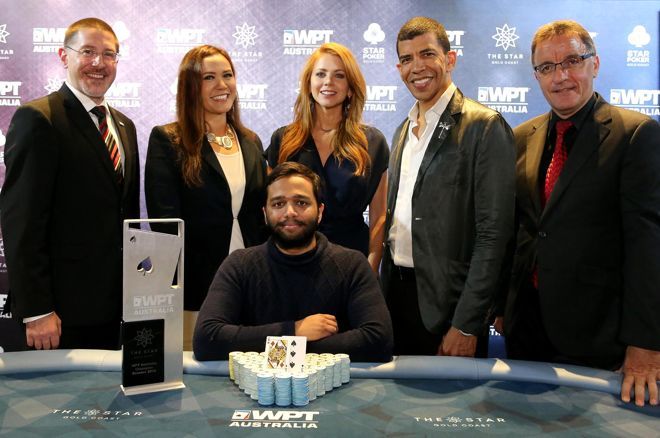 Table Of Contents
The World Poker Tour made more gains in their quest to plant their flag in every habitable continent on the planet as they took the WPT to Australia for the first time. From the sounds of it, the festival at The Star Gold Coast was a great success, according to WPT staff and the numbers.
WPT Australia featured 10 events from Sept. 27 through Oct. 7 with buy-ins ranging from A$330 to A$5,000. The A$2,500 Main Event drew 658 entries to create a record prize pool of A$1,480,500 (~$1,002,447).
The property's Chief Operating Officer Jess Mellor called the festival the most successful poker event in Queensland history, with more than 3,000 entrants tallied and more than A$3.1 million ($2,086,719) paid out across the 11 days, according to a WPT press release. The venue was happy to put to good use their new space dedicated to poker.
Gilmartin: "This is an exciting time for Australian poker and a great reflection of how much the game is thriving down under."
"The numbers have exceeded our expectations. Our state-of-the-art poker facility has been buzzing and to
see our new poker space at full capacity for the first WPT Australia event was something special," Mellor said. "It was the perfect way to showcase Queensland's new home of poker."
"This is an exciting time for Australian poker and a great reflection of how much the game is thriving down under," WPT anchor and Australia native Lynn Gilmartin said of the event. "The Star Gold Coast has an outstanding new poker space, supporting further growth in this skill game we love. It's a real pleasure to work alongside this world-class organization."
Main Event Success
The WPT Australia Main Event drew players from near and far, and it was Melbourne-based Hari Varma walking away with the inaugural title and first-place prize of A$274,27 (~$185,693).
"When you start and [register] with a field size of 650, you never really expect to just win the whole thing. I was taking it a day at a time, a hand at a time," Varma told Gilmartin in his winner interview. "It's pretty unbelievable to be honest."
Varma: "I was taking it a day at a time, a hand at a time."
Varma, who did not have a tournament cash above $7,000 prior to his six-figure win, says he likes how the WPT runs their events and plans to play more of them in the future.
2019 WPT Australia Main Event Final Table Results
| Place | Player | Prize Money (AUD) | Prize Money (~USD) |
| --- | --- | --- | --- |
| 1st | Hari Varma | A$274,247 | $185,693 |
| 2nd | George Psarras | A$192,273 | $130,188 |
| 3rd | Julius Colman | A$123,933 | $83,915 |
| 4th | Louis Yin | A$90,207 | $61,079 |
| 5th | Travis Endersby | A$69,139 | $46,814 |
| 6th | Luke Stewart | A$55,326 | $37,461 |
| 7th | Chris Barker | A$45,851 | $31,046 |
| 8th | Josh Emerton | A$36,509 | $24,720 |
| 9th | Joshua Bell | A$27,419 | $18,565 |
Notables to Cash
Some big names made a run at the final table, bowing out before the final nine was set. Among them was a man who has become synonymous with Aussie poker, 2005 WSOP Main Event winner Joe Hachem. Hachem was the final elimination on Day 2 when he moved his short stack in with king-jack suited but ran into Luke Stewart's pocket nines, which held up. His 16th-place finish was good for $10,225.
Two more notables would be eliminated on the final day short of the final table. First was 2017 Aussie Millions Main Event winner Shane Vijayaram, who slipped to short-stack status on the final day and eventually shoved king-queen into the pocket queens of Australian cricket legend Shane Warne and couldn't improve. Vijayaram was out in 14th ($12,280) while Warne couldn't continue the spin-up, eventually going out in 12th place for $15,428.
Among the other 83 cashers in the event were Hamish Crawshaw (36th place -$4,912), Angel Guillen (47th place - $3,809), and Joe Hachem's son who had a deep 2019 WSOP Main Event run, Daniel Hachem (77th place - $2,727).
Final Table
Apart from Chris Barker, it was an all-Aussie final table, and the whole thing took just a few hours according to WPT reporting. Varma took the chip lead into the final table with 79 big blinds, but had a few players trailing not far behind, according to the live updates. He immediately got to work on extending his lead, putting a beat on Joshua Bell for his whole stack.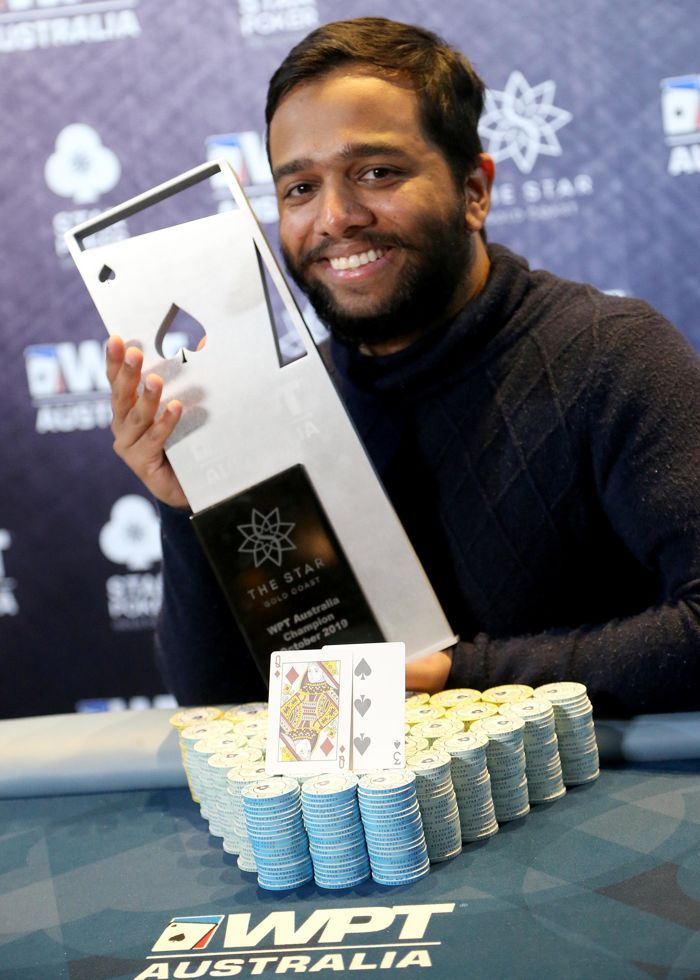 Varma turned the nut flush draw with ace-eight of hearts and the chips went into the middle with Bell's pocket kings out in front. A river ace proved fatal to Bell though, and he was the first final table casualty.
Varma continued to apply pressure and chip up as his opponents stayed active and did the elimination legwork. The eliminations of Josh Emerton, Chris Barker, Luke Stewart and Travis Endersby got the field down to four. Then, George Psarras sent Louis Yin to the rail. Psarras shoved from the small blind with queen-six and Yin called for his remaining 12 big blinds with ace-five. A river five gave Psarras a straight and then there were three.
Psarras rode the momentum to the chip lead three-handed but it was short-lived as Varma got right back to adding to his stack. Julius Colman, who finished fourth in the 2007 Aussie Millions Main Event, held on to a short stack for some time but lost the rest to Varma blind versus blind when he flopped top pair with a jack but was no good against Varma's turned trip eights.
Varma started heads up with a nearly 2-to-1 chip lead and it was over in a matter of a few hands. The final hand was a cooler, both players turning trip threes in a limped pot. Psarras had a nine kicker to go with his trips, while Varma already had him beat with a queen kicker. He filled up on the river and all the chips went in, securing Varma the first-ever WPT title handed out in Australia.
Photos courtesy of WPT.