Crushing Faces: An Interview w/ WSOP POY Points Leader Robert Campbell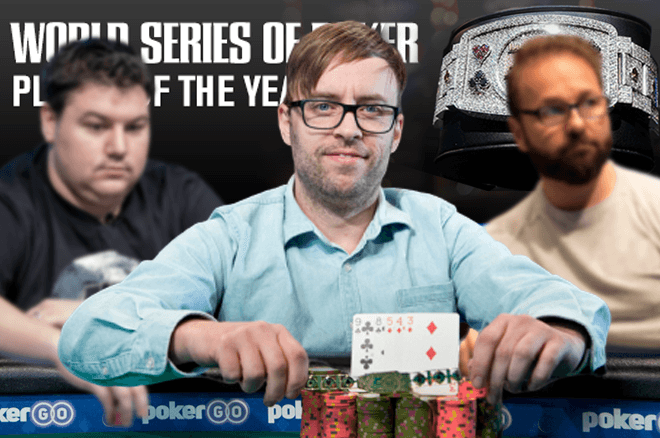 The biggest story headed into the 2019 World Series of Poker (WSOP) Europe is the hotly-contested WSOP Player of the Year race. It started over the summer in Las Vegas but won't crown a winner until the festivities at King's Casino in Rozvadov have played out.
Coming into the stop, Robert Campbell sits atop the leaderboard with 3,418.78 points thanks to his two bracelet wins this past summer. Hot on his heels are bitter rivals Shaun Deeb and Daniel Negreanu with 3,280.13 and 3,166.24 points respectively. The only other player over 3,000 in points is Dan Zack with 3,126.13, though players like Phillip Hui (2,881.67), David "ODB" Baker (2,480.06), Chris Ferguson (2,476.96), and Anthony Zinno (2,443.22) are all within striking distance.
Deeb and Negreanu have already confirmed their attendance, while Zack previously tweeted that there's a chance he too will go. Of course, they'll all be chasing Campbell, who will pay his first-ever visit to Europe to try and hold onto his lead.
Playing in the Lead
While the Australian enters the WSOPE with the points lead, he wasn't exactly confident about his chances when he sat down with PokerNews.
"It's pretty unlikely that I'll win, but I'll give it a red-hot crack."
"It's pretty unlikely that I'll win, but I'll give it a red-hot crack. If you look at the tournaments, they're all sort of re-entry events. I don't really play no-limit high roller events."
When it was first announced back in February, the WSOPE was comprised of ten bracelet events. Since then, five more tournaments have been added to the schedule including a €2,500 8-Game Mix, a pair of €25,500 events, and a €250,000 Super High Roller. All of the bracelet events minus the six-figure buy-in Super High Roller will count towards POY.
For Campbell, who is single with no children, the additional events are bittersweet. In one regard there are more mixed game tournaments, which he excels at, but on the flip side, they're bigger buy-in events. He's not accustomed to playing €25Ks while Negreanu and Deeb are.
"Depends how much I want to incinerate money," said Campbell. "Look, I might play some of them for sure, but I'm not frothing at the mouth to, you know, light money on fire. Just regular playing for me."
He continued: "I'm going to play the $25Ks. I'm not going to play the $250,000 with the German robots, I'm scratching that one. The $100K with the robots, I'm giving that one a miss as well. The $25K with the robots, look you just might see me. I might give them a punch to the face and break my fist."
Fairness of Added Events
The late introduction of bracelet events to the tournament calendar caused a bit of a stir amongst the poker community. Was it fair to add events after the WSOP's summer events had gotten underway and the race was in full swing? Don't certain events favor some players over others? These are questions PokerNews posed to the current points leaders.
"Life's not fair. We can't complain about that sort of stuff," he responded diplomatically. "That's just what they do. They do heaps of things like that really, it's just what happens. I never thought I'd even be in the contest. I don't think it's really for me to say that they should be doing that or should they be doing this; it's more for them to sort of reflect on themselves whether they should be doing that or doing this."
Jan Suchanek, one of Campbell's friends who happened to be nearby during the interview, wasn't shy about expressing his opinion calling it "unfair," which echoes one contingent in the community.
"Seriously, this tilts the shit out of me," quipped Suchanek, a vocal critic of Negreanu. "Why can't we talk about how unfair competitions are and how rules get changed to favor [certain players], deliberately get changed, that's the important part, to favor some competitors over others. It's a fucking joke."
He continued: "You're a points leader and you're a dog for this. That says a lot. Plus, you're a better player, well maybe Deeb is a better player, you're better than Negreanu and Negreanu is a favorite over you. Right away that says this is unfair."
The bait was in the water but unlike some fish, he wasn't going to take it. Being the shark that he is, he avoided the trap and went for easier prey, in this case changing the subject to something more palpable – his poker Oasis parody song about the POY race in which he calls out his competition.
Finding Poker in Australia
Being 35 years old, you might assume Campbell found poker after the Australian boom ignited by Joe Hachem's win in the 2005 WSOP Main Event. That wasn't the case however as Campbell had already found the game by then.
Technically, he was introduced to card games as a child by his grandmother, who played a Dutch trick game called Klaverjassen (similar to hearts, known as Belote in France and Tarbish in some parts of North America) in a home game with friends. Not only was it Campbell's first experience with card games, it was his first time getting some skin in the game, not by playing himself, but by investing in grandma.
"All the other people I'd stake down the road, they didn't have the win rate of my grandmother. She was just 100 percent of the time crushing faces."
"I'd give her 20 cents of my pocket money and she'd gamble it on Friday night with her friends. Because she's a nice grandma she always told me she won. I thought it was a great investment. I didn't think of it as staking or buying a piece, I just wanted to give her 20 cents to get in the game, that sort of nonsense. All the other people I'd stake down the road, they didn't have the win rate of my grandmother. She was just hundred percent of the time crushing faces, but these other people would lose."
As a teenager, Campbell became acquainted with a game called "Flop the Guts" and around the age of 18 went to Crown Melbourne one Saturday night with his friends. It was there he discovered hold'em, and it proved to be an expensive learning experience as he lost $150 playing $4-$8 limit hold'em.
"A lot of money at that age," Campbell explained. He left feeling angry but not dejected. Instead, he went home and found whatever information he could on the game. From there, he constructed a starting hand guide and went back the next weekend. In between hands, he'd refer to his new guide.
"My strategy for that first two or three months was referencing the starting hands and basically folding anything but top pair on the turn and river. If I had better than top pair, I'd bet-call down. I was instantly one of the best five players in the room."
Around the same time, Campbell became a stand-up comic and performed for two years, during which Hachem's victory changed the face of poker down under.
"It changed the game from limit," said Campbell. "$20-$40 limit six-handed was the biggest game on the weekends, to $2-$5 or $5-$10 no-limit. They all wanted to play no-limit hold'em.
While his sense of humor has never left, Campbell's stand-up career fell by the wayside in favor of playing poker full time. While he always played live, it was around 2007 that he began taking online poker more serious under the moniker "SonicJaxx."
"A lot of people make the mistake thinking it has to do with Sonic the Hedgehog, but really it's about two bands that I put together – Sonic Animation and Basement Jaxx," Campbell said. "I thought they were cool when I was making a screen name on PokerStars."
In the years that followed, Campbell continued to climb the ranks both live and online. He slowly built his bankroll and protected it along the way.
"There's no real interesting rags-to-riches stories like so many other people seem to have," he said. "I just started playing and won. I managed my bankroll responsibly. I was actually really nitty. There was never a game I played in regularly that I didn't win in."
To date, Campbell has just shy of $1.3 million in live tournament earnings including the pair of gold bracelets. He first won $144,027 for taking down the 2019 WSOP Event #33: $1,500 Limit 2-7 Lowball Triple Draw and followed that up two weeks later emerging victorious in Event #67: $10,000 Seven Card Stud Hi-Lo 8 or Better Championship for a career-high $385,763.
"Winning two bracelets is pretty absurd. Especially the second one. That was probably the hottest I've ever run in my entire life. I won a four-day event in three days, that's pretty outrageous as it is. I went into heads-up play with 45 big bets to 25 big bets – that's an average big bet of 35 each. Usually when you're down to heads up, it's twelve each. That's how fast I was winning, just crushing their faces."
With the distinction of being the summer's only double-bracelet winner came expectations.
"Was I celebrating much? Not really, especially not after the second bracelet. After that, all everyone could say was, 'Oh, you have to try to win Player of the Year now.' I didn't even have a party. I think I had like two beers after the second bracelet and then I went to bed."
Looking Past the WSOPE
No matter how the 2019 WSOP POY pans out, Campbell has a good idea of what his future holds. He'll continue to play poker, of course, but he's also excited to continue his venture into the Esports realm as the CEO of Neon Esports, a Southeast Asian Dota 2 team located in the Philippines.
"Certainly one of the best teams in the Southeast Asia region," said Campbell, who perked up when asked about the topic. "I'm really excited for this season. We're going to be good. I've been doing that for three years. Esports is still very young and it's only about as professional as poker was in 2008-09. There are so many players and so much talent there. People are putting money into Esports at an incredible rate."
"I'm expecting to go over there and compete, there's no doubt about that, so there's an expectation."
He continued: "We're goal-oriented with a responsible roster. I'm the CEO, so I do whatever needs to be done. Trying to find sponsorship, build the roster, make the salaries, find the staff. I've got a really good management team that really help a lot in that regard. We've got about ten or so people in the whole organization, so it's not like I'm tucked away in the office. I just do whatever needs to be done, that would be my answer."
As for the symbiotic relationship between Esports and poker that so many have strived to forge in recent years, Campbell has thoughts on the matter.
"Poker is sort of our generation's game, and their generation is League of Legends or Fortnite, something like that, but there will be a few people on both. I don't know if you can put poker into Esports. It's been tried a few times but it's never really worked. I think you might just have to accept they're separate, and that's not really a bad thing. Once you're over 28 years old, you are kind of done as far as Esports. Your hands are slow, so you sort of have to play a turn-based game. Poker is the most lucrative turn-based game, so I don't think they need to be together."
With the WSOPE on the horizon, Campbell is still the man to beat. He has the support of his parent, numerous siblings, and of course grandma. He's devoted an hour each day to hitting the gym. He's focused. Only time will tell if he gets the job done, but if luck is when preparation meets opportunity, he's ready to get lucky.
"I'm expecting to go over there and compete, there's no doubt about that, so there's an expectation," he said. "I don't really feel pressure. It's not how I think. I sort of just go and do things. I just think I have to go and do this."
2019 WSOP POY Leaderboard Top 10
| Place | Player | Points |
| --- | --- | --- |
| 1 | Robert Campbell | 3,418.78 |
| 2 | Shaun Deeb | 3,280.13 |
| 3 | Daniel Negreanu | 3,166.24 |
| 4 | Daniel Zack | 3,126.13 |
| 5 | Phillip Hui | 2,881.67 |
| 6 | Jason Gooch | 2,643.72 |
| 7 | Joseph Cheong | 2,595.54 |
| 8 | David "ODB" Baker | 2,480.06 |
| 9 | Chris Ferguson | 2,476.96 |
| 10 | Anthony Zinno | 2,443.22 |
Images courtesy of Robert Campbell.
Executive Editor US, PokerNews Podcast co-host & 2013 WSOP Bracelet Winner.