Top 5 Most Memorable Tony G Poker Hands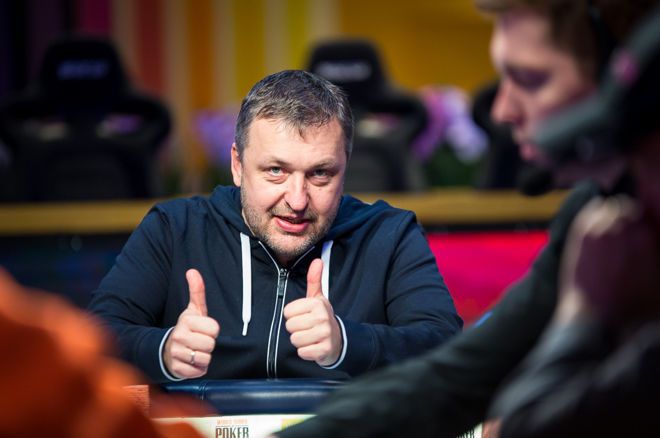 Happy birthday to a certain Antanas "Tony G" Guoga who turns 46 today. We wanted to take this opportunity not only to wish him the very best, but share with you some of the most memorable Tony G hands in poker history.
From the classic "On Your Bike" moment all the way up to the present day with a cash game encounter with Dan "jungleman12" Cates on the Triton Poker Cash Game, we hope you'll enjoy this small trip down memory lane!
"On Your Bike!"
The quote that spawned a thousand imitations. At the Intercontinental Poker Championship held at the Palms Hotel and Casino back in April 2006, 21 players representing their respective countries were invited to compete. The field included Doyle Brunson (USA), Eli Elezra (Israel), Johnny Chan (China), Carlos Mortensen (Spain), David Benyamine (France) and Daniel Negreanu (Canada) to name but a few of the illustrious field.
After Tony G limped with
, Ralph Perry, representing Russia, raised in the big blind to 120,000 with
. Tony G re-raised all in and Perry called.
The board ran out clean
and Guoga exploded.
"Come on Russian, get out! It's time to go!" screamed Guoga. "Look at this! Look how he's playing! You are a terrible player!"
"Your career is finished. You are gone. On your bike!"
"I'm All-in Blind"
This next hand comes Season 2 of 'The PokerStars Big Game' which ran from 2010-11. With Jennifer Tilly straddling, Tony G put out the double straddle. The action was pot-limit so after it folded to Phil Hellmuth, he pots from the big blind with
. After Tilly folds, Guoga is shown looking at his cards
before announcing that he was all-in blind.
He could only re-pot, so the action was back on Hellmuth.
"I haven't looked," said Guoga to Hellmuth.
"Did you look at your cards?" asked Hellmuth. "If you haven't looked then I'm all in."
Hellmuth moved all in and Guoga snap-called.
"Oh you lied!" said Hellmuth.
"Of course I lied, it's poker Phil!"
They ran it three times with Guoga winning all three runouts to scoop the pot.
"I Have a Four"
The Triton Poker Cash Game at Maestral Resort and Casino, Montenegro was a No-Limit Hold'em €2,000/€4,000 game featuring not only Tony G, but some of modern poker's greatest players including Dan "Jungleman" Cates, Isaac Haxton, Mikita Badziakouski, and Timofey Kuznetsov.
With Haxton straddling, Cates opened to €20,000 with
in the hijack and Tony G called in the big blind with
. Guoga bet €40,000 on the
flop and Cates called. He continued the aggression with a bet of €70,000 on the
turn and Cates called again.
The river was the
and Guoga moved all in. Cates snap-called for his last 251,000
"Four," said Guoga.
"You have a four?" replied a bemused Cates.
"Of course," replied Guoga, taking down a €756,000 pot. "I'm the best, what do you think I play with?"
"This Dealer is Just Incredible"
Sometimes, just sometimes, Tony G doesn't win the pot. But that doesn't mean we're not treated to some very quotable material. In the partypoker Premier League Guoga shoved for 57 big blinds with
from the small blind and Roland De Wolfe called with
in the big blind.
The flop
didn't offer any surprises, but the
on the turn gave De Wolfe the lead and off stormed Tony G.
"This dealer is just incredible," he said. "This is just unbelievable. I haven't won one hand."
The river was the
and De Wolfe doubled up.
"You Come to My Game and You're Wasting My Time"
Jungleman isn't the only well-known online pro that Tony G has tangled with at the live felt. Tony G straddled with
and Andrew Robl raised to $3,200 in the big blind with
. Guoga called.
The flop came
giving Robl top pair against Guoga's two pair. Robl check-called $10,000 and the turn was the
.
Robl checked again and Guoga bet $50,000 into a pot of $27,200. After 35 seconds, Guoga called the clock.
"On the internet, you play in one second," said Guoga to Robl. "And you come here now, you come to my game and you're wasting my time!"
"On the internet, people don't bet three times the pot every time," replied Robl. The 30-second clock ran out and Robl's hand was declared dead.
CoinPoker is giving you the chance to win some of the world's most popular cryptocurrency, Bitcoin, in a special Christmas tournament on December 28th.
Tony G's Christmas Bike Ride, shuffles up and deals on December 28th at CoinPoker. Send Tony G on his bike and you'll receive 0.25 Bitcoin as a reward. What's more, if you bust Tony G and go on to triumph in the tournament, CoinPoker will give you another 0.25 Bitcoin!
Download CoinPoker via PokerNews today and boost your bankroll with a 1,000 CHP bonus that requires no deposit!