PokerStars Announces $12.5m GTD Sunday Million 14th Anniversary Edition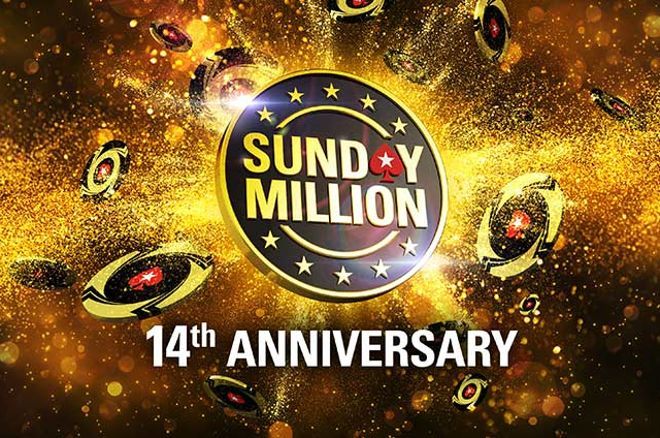 When poker players think about PokerStars, one of the first things that come to mind is the weekly Sunday Million.
This iconic tournament is about to celebrate its 14th anniversary in a huge way with its Sunday Million 14th Anniversary Edition on March 22-24 boasting a massive $12.5 million guarantee.
This is not only a record guarantee for the Sunday Million but for any tournament ever offered in the long and storied history of PokerStars.
Qualify for $0.90!
The satellites tournaments are running already!
Join the online qualifiers at PokerStars and secure an early seat into this MASSIVE Sunday Million. The action starts at $0.90!
Sunday Million: 14th Anniversary Edition
About a year ago, PokerStars reduced its long-standing buy-in of the weekly Sunday Million from $215 to $109.
This allowed many players that normally wouldn't play to join in on the action to play for at least a $1 million guaranteed prize pool on a weekly basis.
The Sunday Million 14th Anniversary Edition, however, goes back to its roots and feature a $215 buy-in.
This is perfectly understandable both from a traditional standpoint and the fact that players will be battling for a piece of the at least record-breaking $12.5 million guarantee.
The first day of the tournament kicks off on Sunday, March 22 at 5 p.m. GMT with players starting off with 20,000 in chips and blinds increasing every 20 minutes.
Players can re-enter up to five times until the late registration closes 24 hours after it begins.
Those surviving to Day 2 or re-entering before the start of the day play 15-minute blind levels with the day ending after the conclusion of Level 50.
The final day on March 24 also features 15-minute blind levels and won't end until one player has accumulated all of the chips.
Although this event is nearly two months away, there are already direct satellites starting at just $0.90 to qualify to what promises to be an epic tournament.
More promotions and paths to enter this event will be unveiled as the event gets closer, so stay tuned at PokerNews to keep up to date about the biggest tournament ever hosted at PokerStars.
PokerStars is Changing
The new 'Aurora' game engine is going to change everything. See what's new on the world's largest poker site.
The Stars Group owns a majority shareholding in iBus Media, PokerNews' parent company.