Dan Sweeney Wins Parx Big Stax 300 for $95,744 After Three-Way Deal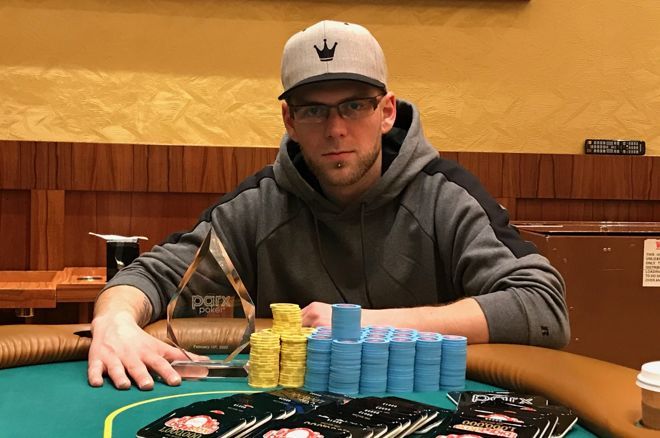 Table Of Contents
The Parx Big Stax 300 looked like it was Dan Sweeney's to win since the final levels of Day 2. On Monday's Day 3, Sweeney made victory a reality.
Sweeney started the final day with the chip lead and stayed atop the leaderboard for nearly the entire day en route to taking home the championship at Parx Casino in Bensalem, Pennsylvania. The final three players - Sweeney, Anthony Chin and Christopher Laieta - came to terms on a three-way deal that ended with Sweeney being declared the winner.
"I tried to not go too crazy, not to be too much of a chip bully when I had an advantage."
Sweeney took home $95,744 per the deal, with both Chin and Larieta earning $65,000. Sweeney had 52 million of the 67 million chips in play when the table went three-handed.
"I felt like I was going to win," Sweeney said. "I felt like I was at the top of my game."
"I tried to not go too crazy, not to be too much of a chip bully when I had an advantage. I picked my spots correctly, I think. I made a few mistakes, but that's ok."
For Sweeney, who grew up in the Bensalem area, the Big Stax 300 victory was a hometown win.
Final Table Results
| Place | Winner | Country | Prize (USD) |
| --- | --- | --- | --- |
| 1 | Dan Sweeney | United States | $95,744* |
| 2 | Christopher Laieta | United States | $65,000* |
| 3 | Anthony Chin | United States | $65,000* |
| 4 | Mark Napier | United States | $33,449 |
| 5 | Bryan Miller | United States | $24,894 |
| 6 | Gregory Fishberg | United States | $18,718 |
| 7 | Joseph Galazzo | United States | $14,409 |
| 8 | Po Ying | United States | $10,999 |
| 9 | Ryan Jackson | United States | $8,684 |
*Denotes three-way deal.
Sweeney Surges on Day 3
Sweeney ended Day 2 on a surge and came into Day 3 with the overall chip lead among the returning 40 players.
Sweeney's run to the final table began with a huge pot against Ryan O'Connell in which two of the biggest stacks in the room went head-to-head. Sweeney came away with the pot, which gave him more than 10 million chips in distance over the rest of the field.
Sweeney remained as the chip leader up until the final table, and when the final nine sat down Sweeney had a 12-million chip advantage over Chin.
That lead stood until a huge pot between Sweeney and Laieta unfolded, which Laieta won with what appeared to be a river bluff. Sweeney surrendered the chip lead for the first time on Day 3, with Laieta taking a commanding lead instead.
Sweeney got back to even with Laieta, however, after eliminating Gregory Fishberg in a pocket jacks versus ace-king all in, with Sweeney's jacks holding. Laieta and Sweeney were even at around 23 million after the elimination.
Despite the presence of short stacks at the table, Sweeney and Laieta continued to battle head-to-head in big pots. Laieta got the best of Sweeney in a hand that saw Laieta four-bet on the flop and get a fold.
Sweeney got the best of Laieta in the biggest hand of the night, however, making a correct call with just ace-high against Laieta's king-high bluff.
"We both tried to get tricky in certain spots," said Sweeney of the battle between him and Laieta. "One worked out for him. The most important thing was that one that worked out for me. I think that's what really just brought it home. If I don't win that hand, that call with ace-king high..... it was just a good call. And it put me here."
That hand put Sweeney in the lead for good and put him in position to claim the Parx Big Stax 300 trophy.
Big Month for Poker at Parx
The Parx Big Stax 300 is the first of three major tournaments commencing from Parx Casino in February. The tournament drew 2,257 total entries for a $643,245 prize pool.
Up next is the Big Stax 500, which begins Thursday, February 13. The month finishes off with the largest buy-in tournament of the month, with the $1,100 Big Stax 1100, begins February 21. PokerNews will offer live updates from both tournaments.