Don't Miss the Kings of Tallinn on Feb. 17-23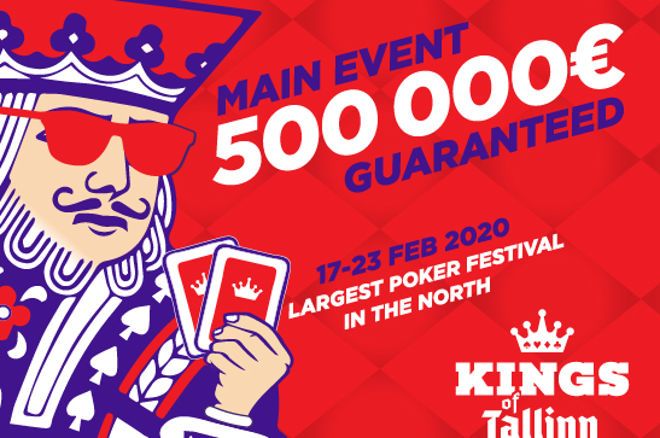 Table Of Contents
The 2020 Kings of Tallinn is just around the corner at Olympic Park Casino and the Hilton Tallinn Park on Feb. 17-23.
The festival was founded in 2015 and quickly established itself as the biggest poker festival in Northern Europe every year.
This year's Kings of Tallinn will prove to be even more special with 40 action-packed events, cash games running around the clock, and, of course, the €500,000 guaranteed Kings of Tallinn €1,100 Main Event on Feb. 20-23.
Many big names have already confirmed their plans to battle it out this year including Jason Wheeler, Juha Helppi, Joni Jouhkimainen, and Ilari Sahamies.
Expect many local talents to also play as many events as possible including EPT Barcelona champion Markku Koplimaa, WSOP bracelet winner Ranno Sootla, local legend who created the idea of the original festival Henri Kasper, Olybet Team Pro Raigo Aasmaa, and Rauno "Estonian Jesus" Tahvonen, who will be returning home from his current residence in Canada special for this festival.
Qualify to the Kings of Tallinn at Olybet Poker!
€500,000 Guaranteed Main Event
PokerNews will be on hand for the third straight year to cover the highlight of the festival, the €1,100 Kings of Tallinn Main Event.
While the Main Event has always been the biggest attraction of the festival, this year will be something truly special. Not only for the first time will the Main Event feature not one, but two opening flights but also feature a huge €500,000 guarantee. This is much larger than the record prize pool of €356,250 achieved last year when Latvia's Vitalijs Zavorotnijs was crowned the champ and took down the €85,300 top prize.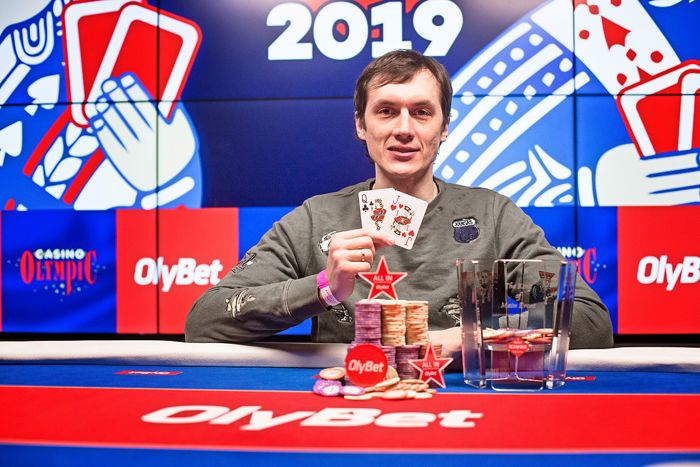 It appears the Kings of Tallinn has given players a springboard to go onto even bigger things in recent years. A month after hoisting the Kings of Tallinn Main Event trophy last year, Zavorotnijs shipped the WPT Barcelona Main Event for €600,000 ($674,483).
In 2018, it was Juha Helppi winning his first big event in recent years when he outlasted a field of 268 entrants to win the Main Event for €62,000 ($76,453). Helppi with nearly $8 million is known as one of Finland's greatest poker players of all time alongside the legendary Patrik Antonius. Less than a year after winning the Kings of Tallinn Main Event, Helppi was finally about to get the monkey off his back to win his first WSOP gold bracelet in 2019.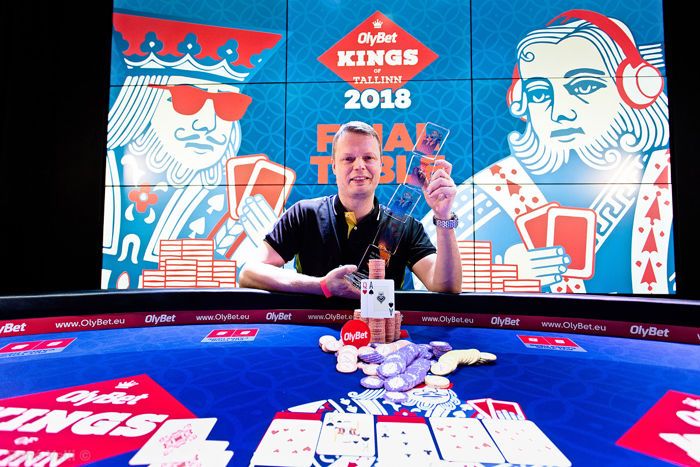 With a bigger prize pool assured, this year's Kings of Tallinn champion will take home the biggest top prize to date. The action kicks off on Feb. 20 with players starting with 30,000 in chips. During the first opening flight, players will play hour-long blind levels, while the flight later in the evening will be a turbo-affair with 20-minute blind levels.
The Main Event is a deep-stacked affair with players starting each of the two opening flights on Feb. 20 with 30,000 in chips. The first opening flight features one-hour blind levels for the same structure featured in the remainder of the tournament while the second opening flight is turbo-charged with 20-minute blind levels.
Players can even opt to skip to start on Day 2 on Feb. 21 with late registration not closing until the first blind level of the day. Unlimited re-entries are allowed until this point.
After this point, the tournament will continue for two more days on Feb. 22-23 until one player is crowned the sixth-ever Kings of Tallinn Main Event.
Last Chance Satellites
If you haven't secured your Main Event ticket yet, there is still some time with qualifiers running at Olybet Poker, Coolbet Poker, 32Red Poker, Paf Poker, and Optibet Poker.
There is a Mega Satellite running on Feb. 16 at 7 p.m. GMT that will guarantee a whopping eight seats to the Kings of Tallinn Main Event. If you miss out on this one, there is another Mega Satellite on Feb. 19 at 7 p.m. GMT guaranteeing three seats.
Both of these satellites feature a €110 buy-in and allow for a single €100 rebuy. However, you can pay much less with feeder tournaments starting out for just some pocket change.
In addition, Olybet Poker is adding a Kings of Tallinn Main Event seat to its popular Beat the Pro tournament on Feb. 19. This tournament already has some added value as players collect a bounty on top of the prize pool for any of the Olybet Team Pro members they eliminate.
Team Challenge
The Kings of Tallinn features a Team Challenge funded by 2 percent of prize pools of all Kings of Tallinn ranking tournaments with at least 12 unique players.
Registration closes for the Team Challenge after the first break on Day 1a but players planning to play events before this should register there team before they start their first event.
There are four players per each team. Players having trouble finding a team can ask assistance from the very helpful Kings of Tallinn and Olympic Casino staff.
The winning team last year shared more than €16,000, a figure which promises to be even bigger this year.
Schedule Highlights
The Kings of Tallinn isn't just about the Main Event as every day there is plenty of events to choose from. This is also a rare opportunity for players to enjoy poker variants outside of the popular no-limit hold'em with events featuring other poker games including pot-limit Omaha, pot-limit Omaha h/l, pineapple open-face Chinese, Sviten Special, H.O.R.S.E, and Soko.
The festival is very inclusive towards its partners with branded tournaments featured throughout the festival including the Optibet €220 Super Deep Hold'em on Feb. 19, the €220 PL Sviten by Svensk Poker on Feb. 21, the Hendon Mob €220 Championship on Feb. 21-22, the €60 Paf Queens of Tallinn, the Coolbet €440 Progressive Knockout Championship on Feb. 22-23, and the 32Red's €110 Hyper-Turbo version of the Main Event.
While each tournament is special, some of the tournaments provide a VIP experience to its player going over and beyond what is typically expected at an event.
One example of this is that players participating in the Kings of Tallinn €3,000 High Roller on Feb. 22-23 will be treated to a complimentary VIP dinner after Level 7.
Meanwhile, ladies that battle in the Paf Queens of Tallinn €60 Ladies-Only Event on Feb. 22. will be invited to an afternoon at the Hilton's luxurious spa on the house from 11 a.m. to 2 p.m. just before the event begins. This could be worth the small price of the tournament alone along with the chance to win some loot for those that cash.
Finally, the winner of the €110 Bounty Special - Hunt Them All on Feb. 21 will be awarded a ticket to the €330 Bounty Poker Tour Opener taking place in March.
2020 Kings of Tallinn Schedule
| Date | Time (EET) | Event # | Event | Buy-in | Guarantee |
| --- | --- | --- | --- | --- | --- |
| Feb. 17 | 7 p.m. | 1 | Hit & Run Satellite to the Kings €550 | €60 | Three Seats |
| | 10 p.m. | 2 | Freebuy Satellite to Main Event | €0 + €50 rebuys and add-on | One Seat Added |
| Feb. 18 | 4 p.m. | 3 | Freebuy Satellite to the Kings €550 | €0 + €20 rebuys and add-on | Two Seats |
| | 5 p.m. | 4 | Kings €550 Day 1a | €550 | |
| | 7 p.m. | 5 | Celebrty Event | €110 | |
| | 9 p.m. | 6 | Satellite to Main Event | €60 | Three Seats |
| | 11 p.m. | 7 | Hyper Turbo Knockout | €220 | |
| Feb. 19 | 1 p.m. | 8 | Optibet Super Deep Hold'em | €220 | |
| | 5 p.m. | 4 | Kings €550 Day 1b | €550 | |
| | 7 p.m. | 9 | Mega Satellite to Main Event | €110 | Ten Seats |
| | 9 p.m. | 4 | Kings €550 Turbo Day 1c | €550 | |
| | 9 p.m. | 10 | 4 Card PLO Hi/Lo | €330 | |
| | 11 p.m. | 11 | Super Satellite to Main Event | €110 | Five Seats |
| Feb. 20 | 11:30 a.m. | 12 | Freebuy satellite to Main Event | €0 + €50 rebuys and add-on | Two Seats |
| | 12 p.m. | 13 | Kings of Tallinn Main Event Day 1a | €1,100 | €500,000 |
| | 2 p.m. | 14 | Hit & run satellite to Main Event | €120 | Three Seats |
| | 5 p.m. | 15 | Satellite to Main Event Day 1b | €60 | Three Seats |
| | 9 p.m. | 16 | 4 Card PLO Knockout | €1,100 | |
| | 9 p.m. | 17 | 4 Card PLO Knockout | €110 | |
| | 9 p.m. | 4 | Kings €550 Final Day | | |
| | 9 p.m. | 13 | Kings of Tallinn Main Event Turbo Day 1b | €1,100 | |
| | 11 p.m. | 18 | Hyper Turbo | €220 | |
| Feb. 21 | 12 p.m. | 13 | Kings of Tallinn Main Event Day 2 | €1,100 | |
| | 3 p.m. | 19 | Satellite to €3K Highroller | €110 | Three Seats |
| | 3 p.m. | 20 | PL Sviten by Svensk Poker | €220 | |
| | 5 p.m. | 21 | The Hendon Mob Championship Day 1 | €220 | |
| | 5 p.m. | 22 | Open Face Chinese Poker | €550 | |
| | 7 p.m. | 23 | Hyper Satellite to €3K High Roller | €60 | Two Seats |
| | 9 p.m. | 24 | Knockout | €1,100 | |
| | 9 p.m. | 25 | Bounty Special - Hunt Them All | €110 | |
| | 11 p.m. | 26 | 4 Card PLO Hyper Turbo | €110 | |
| Feb. 22 | 11:30 a.m. | 27 | Freebuy Satellite to Event #28 | €0 + €20 rebuys and add-on | Seven Seats |
| | 12 p.m. | 21 | The Hendon Mob Championship Day 2 | | |
| | 12 p.m. | 13 | Kings of Tallinn Main Event Day 3 | | |
| | 1 p.m. | 28 | Hyper Turbo Deep Satellite to €3K Highroller | €165 | Two Seats |
| | 1 p.m. | 29 | H.O.R.S.E. | €330 | |
| | 2 p.m. | 30 | Paf Queens of Tallinn (Ladies Only) | €60 | |
| | 3 p.m. | 31 | Kings of Tallinn High Roller Day 1 | €3,000 | |
| | 3 p.m. | 32 | Olybet Special Day 1 | €110 | |
| | 5 p.m. | 33 | Soko - PL Five Card Stud | €110 | |
| | 7 p.m. | 34 | PL Omaha 4 & 5 Cards (ROE) Day 1 | €220 | |
| | 9 p.m. | 35 | Coolbet Progressive Knockout Championship Day 1 | €440 | |
| | 11 p.m. | 36 | Hyper Turbo Win The Button | €110 | |
| Feb. 23 | 12 p.m. | 37 | Estonian Poker 20 freezeout | | |
| | 12 p.m. | 13 | Kings of Tallinn Main Event Final Day | | |
| | 12 p.m. | 31 | Kings of Tallinn High Roller Final Day | | |
| | 12 p.m. | 32 | Olybet Special Final Day | | |
| | 12 p.m. | 34 | PL Omaha 4 & 5 Cards Final Day | | |
| | 12 p.m. | 35 | Coolbet Progressive Knockout Championship Final Day | | |
| | 3 p.m. | 38 | 32Red's Hyper-Turbo version of the Main Event | €110 | |
| | 5 p.m. | 39 | Super Hyper Turbo Freezeout | €110 | |
| | 8 p.m. | 40 | Estonian Poker Awards Gala | | |