King's Resort Reopens After Two-Month COVID-19 Closure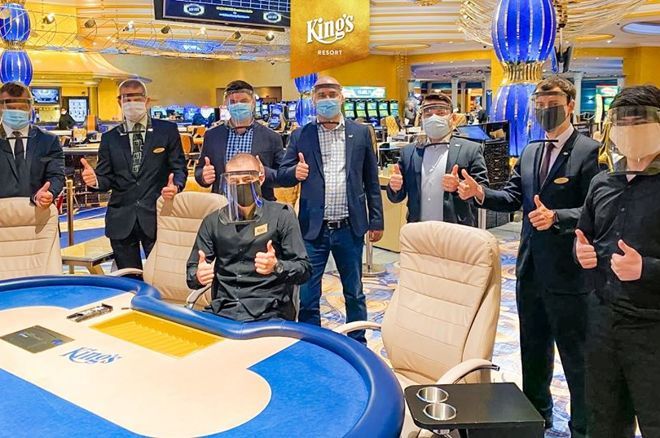 Table Of Contents
After being closed since March 13th, King's Resort Rozvadov as well as King's Casino Prague and the Admiral Casino, Rozvadov have reopened.
The venue previously announced that all Italian players would be banned "to prevent the spread of the coronavirus (COVID-19) infection," and the properties were fully closed less than two weeks later, following Czech government-issued restrictions.
However, after two months the venues reopened today, with roulette, blackjack and slots all available, as well as poker cash games. Tournaments will not be taking place, although officials hope that they will restart again soon. According to the announcement, the King's Resort hotel and restaurant will be still closed until further notice.
New King's Resort Safety Measures
A Facebook post states that hand sanitizers will be readily available for all guests alongside frequent disinfection of all areas.
Casino officials also published a set of safety measures on Facebook that King's Resort customers will need to adhere to.
Everyone needs to wear a face mask in all areas.
As soon as someone leaves a spot a delegated person will immediately proceed to disinfect this area prior to another player's use.
Face shields will be given to all employees and also will be at the reception in case someone needs to borrow it.
Food to order is not allowed anywhere inside the casino. If the guest wants to order food he/she needs to go outside, order it in delegated spot, which will be outside around 3 meters from the main entrance of the casino. There will be outside tables placed.
Food and beverage like canned drinks and food sealed in plastic bags will be available at the casino, where at a small charge, the guest will be able to take the food and consume it. After 14 days food and beverage restrictions will be dismissed.
Czech Republic Relaxes Lockdown Measures
According to the Guardian, the Czech deputy health minister announced last week that the mandatory wearing of face masks would stay in place until the end of June.
There has also been the lifting of restrictions on movement within the country, with groups of up to 10 people permitted to gather.
However, no immediate information has been made available on when foreign visitors would be allowed to re-enter the country.
"No Layoffs" Says Tsoukernik
It has previously been reported that King's Resort CEO Leon Tsoukernik told all employees that there would be no layoffs, with all employees able to receive full salary and stay home until at least September 1st.
King's employs over 600 staff, including hotel employees, poker staff, chefs, receptionists and cleaners.
Watch More!