Roger Hairabedian Wins First PLO High Roller in King's Resort Since Lockdown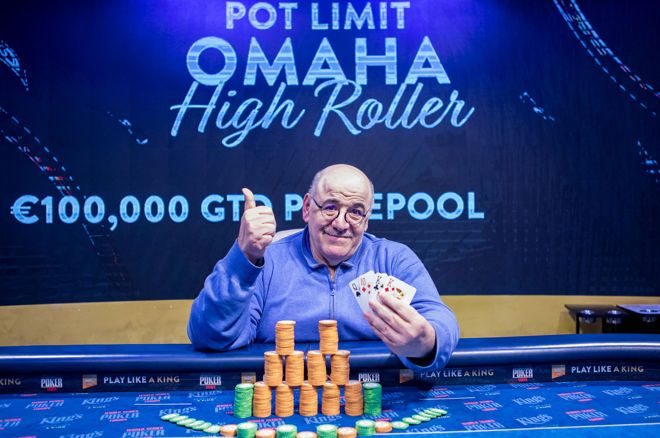 The first major live poker tournament on European soil after the COVID-19 outbreak has come to a conclusion at the King's Resort in Rozvadov, one of the biggest poker arenas of the continent and host of the World Series of Poker Europe throughout the last few years.
A total of 60 entries in the 2020 King's Resort €2,500 PLO High Roller boosted the prize pool to €128,250 and the top seven spots were paid. After a short-lived heads-up battle, it was French poker veteran and two-time WSOP bracelet winner Roger Hairabedian that defeated Christian Stratmeyer in heads-up to claim the top prize of €40,401 whereas Stratmeyer walked away with a payday of €29,176.
Among those to cash were also Eric Lescot, Harry Casagrande, and Jonas Kronwitter whereas King's regular "The Talk" ended up as the bubble boy.
King's Resort is Back! Poker Returns to Europe's Largest Cardroom
King's Resort €2,500 PLO High Roller Final Table Results
| Place | Winner | Country | Payout (in EUR) | Payout (in USD) |
| --- | --- | --- | --- | --- |
| 1 | Roger Hairabedian | France | € 40,401 | $45,249 |
| 2 | Christian Stratmeyer | Germany | € 29,176 | $32,677 |
| 3 | Eric Lescot | Belgium | € 18,596 | $20,828 |
| 4 | Harry Casagrande | Austria | € 14,107 | $15,800 |
| 5 | Andreas Bremer | Germany | € 10,901 | $12,209 |
| 6 | Jonas Kronwitter | Austria | € 8,336 | $9,336 |
| 7 | Ossama Khamis | Germany | € 6,733 | $7,541 |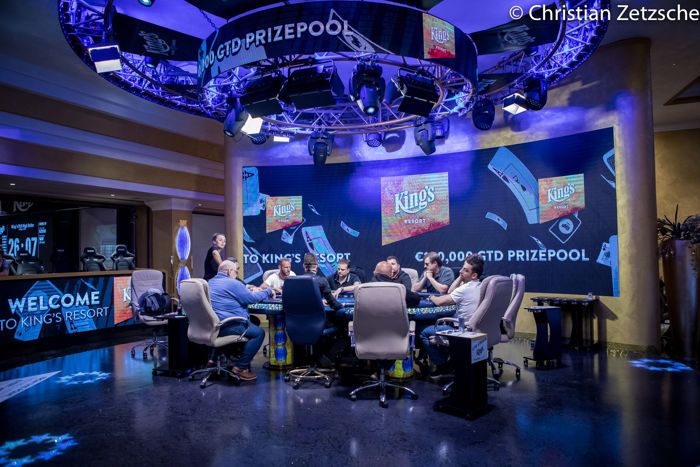 €100k Guarantee Easily Surpassed
Since Day 1 only played six levels of 30 minutes each, the late registration was available for another four levels on the final day and the new entries and re-entries kept on coming at a steady pace, easily surpassing the €100,000 guarantee set by King's and ended up with a €128,250 prize pool.
Day 1 chip leader Jan-Peter Jachtmann was still in the top spot but the former WSOP PLO bracelet winner dropped into the middle of the pack when his top pair ran smack dab into the top set of Hairabedian, which kickstarted the Frenchman's run that ultimately ended in victory.
Jachtmann's horrid run ended in 12th place when he flopped top pair and top kicker. Stratmeyer also flopped top pair but turned two pair to deal the final blow. Hairabedian then knocked out Saeed Rehman and Pedjman Hamie to enter the final table as the chip leader ahead of Stratmeyer.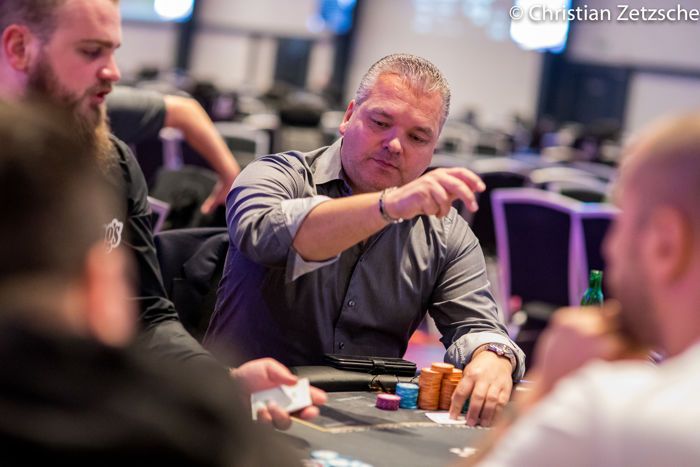 Hairabedian Runs Hot and Dominates the Final Table
Hassan Mattout was the shortest stack among the final nine and stood no chance. For "The Talk", the tournament and a lengthy massage ended on the money bubble when he defended out of the blinds and got it in holding a straight draw along with top two pair against Stratmeyer and Kronwitter, the latter had flopped a set and held up.
What followed was the Hairabedian show as he knocked out five of his final six contenders. Ossama Khamis ran with queens into his kings and Kronwitter could not find help with top and bottom pair against top two.
Andreas Bremer ran with top two into the top set of Stratmeyer and the rampage of Hairabedian continued when he rivered the nuts against Harry Casagrande and took the remaining chips of the Austrian shortly after. Lescot also fell victim to Hairabedian and the heads-up duel was almost over in the second hand. Stratmeyer scored a lucky double by cracking aces but it was only a short-lived hope.
Hairabedian rivered a full house against the trips of Stratmeyer to take a commanding lead once more and found kings a few hands later to flop a wrap and turn the nut straight in order to seal the victory.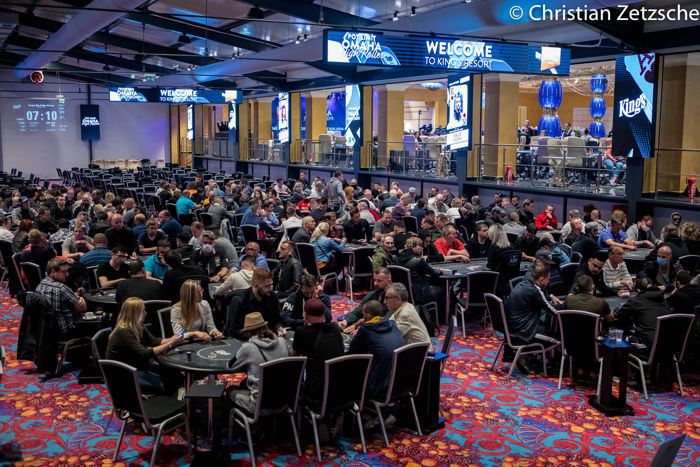 Plenty More to Come in King's Resort!
With players showing up in droves again and the big PLO High Roller smashing its guarantee, it's safe to say that poker is back at King's Resort! The next big event is just around the corner, with the Balkan Poker Circuit setting up shop from July 1-6. With a guaranteed prize pool of €200,000 and a Main Event buy-in of just €150, the Balkan Poker Circuit offers an affordable shot for everyone at major prizes.
Other highly anticipated events are to follow, such as the Bounty Hunter Days (July 9-12), the Benelux Classics (July 15-20), the German Poker Tour (July 23-27) and Deutsche Poker Tour (July 30 - August 2).
Interesting to note is that several tournaments have World Series of Poker Europe Main Event tickets added to the prize pool, indicating that the yet to be announced 2020 WSOPE, traditionally held in October, is still on tap in the near future.
For a detailed overview of all upcoming events, click the link below.
Check out the upcoming schedule at King's Resort!
The doors of King's Resort have been reopened! Check out the exciting schedule for June and July.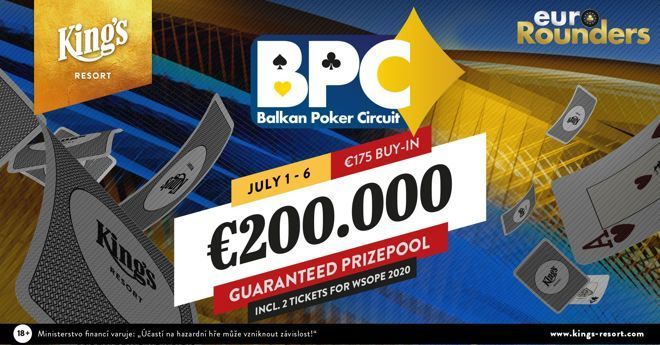 King's Resort FAQ
Since we understand many of you might have a lot of questions and worries about getting back to a casino to play poker, we worked with King's to get you some quick and helpful answers.
Will I have to wear a face mask if I play at King's?

No. While all the personnel will wear face masks and transparent face shields, the players are not required to.
Are chips and cards sanitized?

Yes. The casino introduced rigorous policies to sanitize the chips and the cards in use within its premises.
Can I stay at King's Resort?

Yes. The resort is open and fully functional.
Are the restaurant and buffet open?

Yes. King's world-famous restaurant and the free buffet are both open and fully functional.
Are the cash games running, too?

Yes. The cash games are back and continue to run around the clock as it used to be before the pandemic.
Is the casino floor open?

Yes. All the games on the casino floor are open and you can play roulette, blackjack, slots, and more should you wish to.
I am at King's and I am not feeling well. What should I do?

Please contact the casino staff as soon as possible and let them handle the issue for you.
That concludes PokerNews live updates from the €2,500 PLO High Roller at King's Resort in Rozvadov. Stay tuned for more exciting poker offerings from the Czech municipality!