Ultimate Guide to the Superstorm Main Event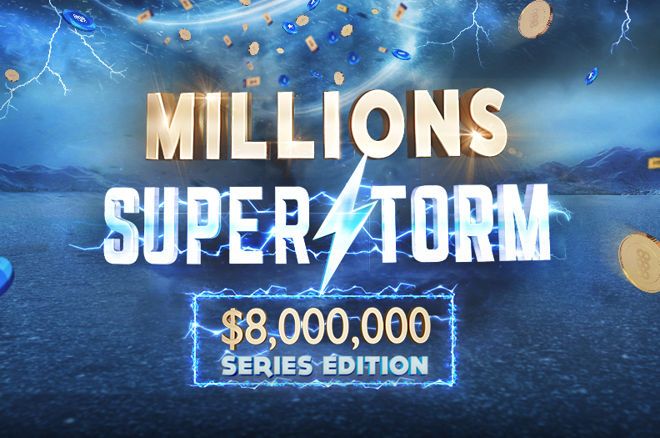 Poker players around the world are getting geared up for big Sunday at 888poker as Day 2 of the $1 million guaranteed Millions Superstorm $320 Main Event will kick off at 8 p.m. GMT on Oct. 11.
This event is the crown jewel of the 888Millions Superstorm that has been running for more than a month. The festival is the biggest ever to take place at 888poker with many players already winning big.
There is still plenty of time to get into the Main Event with three opening flights taking place every day until Day 2 begins.
PokerNews has prepared for you the ultimate guide to the Superstorm Main Event which will be helpful regardless of whether you bagged a seat to Day 2 or still plan to try.
In this guide to the Superstorm Main Event, you'll find:
An overview of Main Event
How to qualify (for FREE!)
Stategy tips from 888poker Ambassadors
And lots more...
Qualify to the Superstorm Main Event for FREE!
Everything You Need to Know About the Main Event
The Millions Superstorm Main Event guarantees a whopping $1 million for a $320 buy-in. The event is a two-day affair with many players already getting into the action thanks to 888poker hosting opening flights for more than a month.
The opening flights feature an amazing structure with players starting off with 10,000 in chips and blinds increasing every 20 minutes. The final two opening flights are turbo-charged affairs with quicker blind levels.
The action ends for each opening flight the sooner of the completion of 12 blind levels or when the field is down to 14 percent.
Day 2 will begin at 8 p.m. on Sunday, Oct. 11 and will feature a slightly faster structure of 15-minute blind levels. The action will play down to a winner, who will collect a healthy six-figure prize.
There are still plenty of chances to get in on the action with at least three opening flights every day from now until Sunday. Here's a look at the remaining opening flight schedule:
| Date | Time (GMT) | Blinds |
| --- | --- | --- |
| Oct. 9 | 4 p.m. | 20 min. |
| | 7 p.m. | 20 min. |
| | 10 p.m. | 20 min. |
| Oct. 10 | 4 p.m. | 20 min. |
| | 7 p.m. | 20 min. |
| | 10 p.m. | 20 min. |
| Oct. 11 | 3 p.m. | 20 min. |
| | 5 p.m. | 10 min. |
| | 6 p.m. | 8 min. |
Follow all the latest from the 888 Millions Superstorm - LIVE!
The PokerNews Live Reporting team is reporting the biggest Millions Superstorm events. Don't miss a beat!
888Millions Superstorm Main Event Update
The opening flights for the Superstorm Main Event have thus far attracted a whopping 2,286 entrants (including 228 inflight re-entries) as of Friday morning.
A total of 353 players and counting have thus far virtually bagged a stack with many more to come. Sweden's "AsaNisse4" amassed a stack of 229,262 last weekend and thus far is the chip leader entering Day 2.
The top ten on the leaderboard remained unchanged from the past two days. Here is a look:
| Place | Player | Country | Chips |
| --- | --- | --- | --- |
| 1 | AsaNisse4 | Sweden | 229,262 |
| 2 | vitola99 | Brazil | 227,527 |
| 3 | VadimKalanta | Kazakhstan | 194,118 |
| 4 | gremistaAAKs | Brazil | 187,700 |
| 5 | baurjant | Kazakhstan | 184,589 |
| 6 | Belz3bu7 | Romania | 177,843 |
| 7 | Maedhros11 | Russia | 165,155 |
| 8 | Kzzzon | Sweden | 164,971 |
| 9 | PlumpySouyon | Malta | 162,319 |
| 10 | bigMEway | Ireland | 161,630 |
How to Qualify to the Superstorm Main Event for FREE!
Some players with big bankrolls will buy directly into the Superstorm Main Event and maybe even fire multiple bullets without a thought.
For many others — maybe even you — the $320 buy-in will prove to be too high even with at least a $1 million guaranteed prize pool on the line.
888poker has your back and is hosting tons of direct qualifiers costing a much more affordable $30. If this is still too much, you can play feeder tournaments to these satellites starting at just $0.01.
We imagine you can spare a few pennies to take your chances in feeder tournaments but you don't even need to spend that!
Simply log into 888poker every day for your free spin on the Daily Spinner, where you can win a freeroll satellite ticket that awards seats to the Main Event along with many other great prizes.
Don't worry if the wheel doesn't land on a freeroll ticket as you can try again another day. In addition, you can also earn yourself a freeroll ticket by completing one of the following easy-to-complete challenges.
Wager at least $5 in sports events with minimum odds of 1.5 or higher.
Bet at least $5 in casino play.
Entering at least $3 worth of tournaments including BLAST (re-entries don't count towards requirements).
Win a cash game hand that reaches at least a flop with queen-jack at $0.02/$0.05 NLHE.
Time is running out on your chance to get into the Superstorm Main Event. Head to 888poker for your free chance to play in this historic event.
Strategy from 888poker Ambassadors
It is one thing to play but another to be prepared. PokerNews recommends you check out the tips from 888poker Ambassadors Chris Moorman, Sofia Lovgren, and Vivian Saliba to make sure you are ready for battle with your 'A' game.
Check out the links below for some free tips!
Follow the Action at PokerNews
The renowned PokerNews Live Reporting Team will be providing a full report of the action from beginning to end of Day 2 at the 888Millions Superstorm Live Reporting hub.
Be sure to check out the action from beginning to end whether you are playing or were unable to find a virtual bag into Day 2.
Need an Account?
The Superstorm Main Event is your chance to hit it big. The best part is that you can get into the event for free, but, of course, you will need an account to do so.
If you don't already have one, we have even better news for you as our readers are treated to a welcome package far greater than most new players receive thanks to the special relationship we enjoy with 888poker.
Simply download 888poker through PokerNews and you will be awarded an $88 bonus (£20 in the UK) without making a deposit.
Once you are ready to make your first deposit, it will be matched in the form of a bonus up to $888, or more than twice as much advertised on the site.