Top Stories of 2020, #4: High Profile Cheating Scandals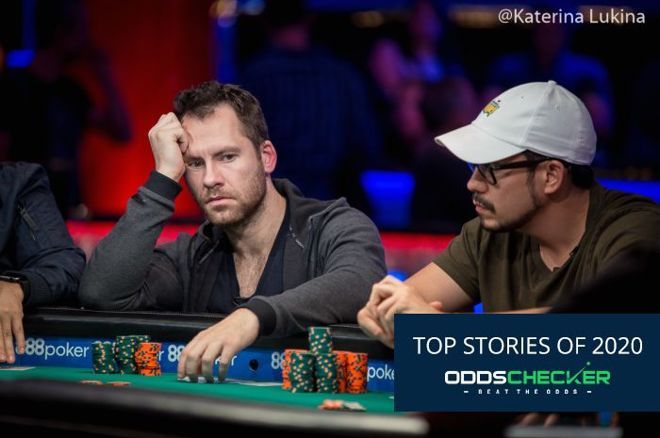 This year's Top Stories are brought to you by Oddschecker US.
Visit OddsChecker to get instant access to the latest odds, tips and exclusive offers thanks to their all-inclusive sports-betting portal.
Whether you like football, basketball, baseball, hockey, soccer and more, OddsChecker is your one-stop-shop to get always the best odds. Check out Oddschecker US today!
---
Cheating takes place in all walks of life. Students plagiarize essays, sportspeople and teams cheat (here's looking at you NFL's "deflategate"), and cheating in gambling circles is also quite common.
Whenever there's money on the line, some unscrupulous people are willing to do anything to get their hands on it, including cheating.
The poker world isn't free of cheating, although it's a lot safer and fairer than it once was. The Mike Postle saga is a shining example, as are the use of bots online. Online poker sites continually improve their anti-cheating protocols in an attempt to stamp out collusion, ghosting, and the use of bots. Some sites, such as partypoker, regularly publish figures showing how many bot accounts have been caught and how much money they're distributing back to players affected by the cheaters.
There are many forms of cheating, so we asked one of the most stand-up poker players in the community, Jamie Kerstetter, what she thinks constitutes cheating when it comes to poker.
"This question is really broad," said Kerstetter, "and cheating can be anything from not telling your opponent he peels his cards too high to the PotRipper scandal and superusing." Ultimately, cheating is "gaining an unfair advantage over opponents through dishonesty."
PPPoker Updates Its Security Protocols
Popular poker app PPPoker launched in 2016 but gained plenty of traction during 2020 with people confined to their homes during government lockdowns designed to stem the spread of the COVID-19 virus.
In March, PPPoker made it abundantly clear it takes cheating and deception seriously. It claims to monitor tables 24/7 and uses more than 80 unique key indicators to detect and prevent bots from using its platform.
Daniel "Jungleman" Cates Caught Ghosting in High Stakes Cash Games
It was a couple of months later that the first online poker cheating scandal of 2020 broke. Bill Perkins sent a handful of cryptic tweets claiming cheating in high stakes cash games.
Cheating scandal in poker going on that would make the Mike Postle scandal look like a church service. Really hard… https://t.co/fsxVttmI0B

— Bill Perkins (Guy) (@bp22)
Perkins claimed the ongoing scandal "would make the Mike Postle scandal look like a church service."
Dozens of replies to Perkins tried to figure out what was going on and who those involved were. Recent addition to the GGPoker stable, Dan Bilzerian, who else, lifted the lid in a now-deleted tweet.
"This c**ksucker Sina Taleb cheated me, Bill Perkins and others outta money on Fun ocean poker app by having Daniel Cates play on his account."
Fun Ocean is a poker app where people play for play money but settle the games with real money away from the tables. Such measures are used in countries where online poker is not readily available.
Cates issued a long non-apology on his own Twitter account.
To be clear, I started playing with Sina (his last name is not Taleb, for the record) on May 8th and ultimately played very few sessions, none of which were against Dan Bilzerian as claimed.

I played very few hands against Bill Perkins, who sat in a game I understood was rampant with professionals who were ghosting. I thought since many on the site were using pros to play for them (which was clear by the uniquely high level of play) at the time it felt acceptable for me to be playing. Unfortunately Bill got caught in the crossfire and I'm very sorry for that.

While I don't think it's fair that I've been singled out for something many were much more guilty of, I accept that as a role model for the poker community my punishment should be disproportionate compared to a normal player. I hold myself to a high standard of ethics and aspire to be devoid of inequity, but I still make mistakes and am sorry for my actions. I will do my best to behave better in the future.

I'd also like to give gratitude to my friends and the people that supported me on the internet and other communications. Your efforts were vital to mitigating this situation and I appreciate your concern for me. Special thanks to Nick Schulman who contacted me to make sure I was ok and started the #Freejungle movement. If anyone else believes in my integrity and that I should not be lambasted over the internet, I would appreciate any support and will appreciate it especially if I know you.
Prominent pros Shaun Deeb and Grant Hinkle called out Cates, with Deeb accusing him of "choosing equity and hourly over morality and ethics."
Cates issued a second apology stating he thinks multi-accounting is wrong and vowing to find a way to make things right.
To be clear, I think multi accounting is wrong even if others are doing it, and while it is condoned the first step… https://t.co/9ONvqpOebE

— Daniel Cates (@junglemandan)
Fedor Kruse Crushes But Uses Real Time Assistance
The cheating of Fedor Kruse came to light in mid-September and it certainly set tongues wagging across the poker community.
Kruse, a former Call of Duty video game streamer, transitioned to poker around 2015. By 2019, Kruse was a regular at NL100 ($0.50/$1) and breaking even at NL200 ($1/$2) with a lot of Kruze's attention being on tournament poker.
Despite not being a big winner in his games, Kruse soared though the stakes and was seen playing as high as $200/$400 on GGPoker. This drew suspicion from his housemates and they did some digging into Kruse's meteoric rise to the "nosebleeds".
Those same housemates took to the Two Plus Two forums to publish their findings, which ultimately outed Kruse as a cheater.
The evidence presented quickly and undeniably showed Kruze was using "solvers" in real time while playing cash games or probably tournaments, too. This Real Time Assistant (RTA) allowed Kruze to input hand information into the solver which would then run and let Kruze know the perfect way to play the hand, including exact bet sizes that were Game Theory Optimal (GTO).
It's still possible to lose while using RTA but using it gave Kruse a massive advantage and made winning more likely. Even if it only gave Kruse a small edge, it equated to a lot of money when playing in $5/$10 and higher games. Kruse won more than $90,000 playing with the "dream machine" making decisions for him.
GGPoker responded by altering its terms and conditions to allow them to permanently ban and confiscate the funds of anyone found to be using RTA software.
The site also release a statement in the form of a blog article that revealed it had upgraded its detection methods in regards to RTA. These new methods made it possible to identify some GGPoker players who were suspected of using RTA while playing on the site.
Forty accounts were banned and fund confiscated. Some $1,175,305 was taken from 13 of those now banned accounts while a further 40 accounts were issued warnings.
What Steps Can We Take To Stop Cheating?
It's unlikely we'll ever stop cheating from happening but we can make it more difficult for cheaters to operate and do so for any significant period of time. Hiring former professional players is one step Kerstetter suggests would help stop cheating.
"Hire some retired poker pros full time to work for site security and pore over hand histories looking for collusion and bots.
We as a community can help by reporting anything suspicious to the online poker site's security teams. Sites take cheating extremely seriously and investigate all reports, regardless of how little they initially seem.
Kerstetter suggests the poker community does have some responsibility to help stop cheating in our amazing game.
"We all need to have longer memories. We forgive and forget way too much and allow bad people to prey on the community time and time again."
---

Oddschecker US is 100% free to use. Get the latest odds from some of the most trusted brands in the industry, with promotions and betting tips to help you pick winners!
---